GROWTH SPURT

The wind industry is quickly growing up and so are wind turbines. That's because they can generate more energy by reaching higher where the winds are stronger. In fact, by raising the height of existing turbines, wind farm operators could increase their output by up to 30%. Building taller turbines hasn't been easy. They can be hard to transport and expensive to install — but every challenge can also be an opportunity. GE Renewable Energy, together with two innovative European companies, is aiming to 3D-print a solution.

Concrete gains: GE is teaming up with LafargeHolcim, a global leader in building materials, and COBOD, which is developing ways to 3D-print structures from concrete. Together they plan to use 3D printing and high-performance concrete to manufacture wind turbine bases on-site that could add 80 meters or more to the turbines' height. What might that look like? COBOD came up with a system that uses a printhead running on an elevated track — like a magic marker with a tip the size of a milk jug. Line by line, the tip releases concrete (a special blend developed by LafargeHolcim) through a print nozzle as it follows its programmed course. "It's an automated construction factory on wheels that we have, and we bring it to the site," said Henrik Lund-Nielsen, COBOD's founder and general manager.

Learn more about the collaboration — and the structures it could produce — here.

SPINNING GIANT

Last fall, a towering structure rose above the Port of Rotterdam: a prototype of the Haliade-X 12 MW, the world's most powerful offshore wind turbine operating today. Developed by GE Renewable Energy and hailed by Time magazine as one of 2019's best inventions, the turbine was set to undergo testing that would move it toward installation worldwide — specifically, GE Renewable Energy was seeking a type certificate, a permit that would allow the company to start supplying the machine to customers by the second half of 2021. Now the spinning giant is getting closer to making a big step on its journey to market: GE Renewable Energy announced Thursday that the wind turbine has been granted a provisional type certificate from the independent global certification body DNV-GL.

Offshore and on track: Provisional type certification marks a milestone that allows GE to bring the wind turbine closer from prototype to serial production. Customers are already lining up: The Haliade-X 12 MW is slated for two massive offshore wind farms off the U.S. East Coast developed by Danish industry pioneer Ørsted, and it's also a key piece of Dogger Bank, the world's largest offshore wind project, planned for Europe's North Sea. Under these early agreements, Haliade-X technology could power more than 5 million homes in the U.S. and the U.K. The provisional certification, said John Lavelle, CEO of offshore wind at GE Renewable Energy, "confirms the robustness of our Haliade-X 12 MW design and gives certainty to our current and future customers who believe in the attributes of our platform."

Learn more here.
MOBILE APP

As passengers begin to return to commercial flights — and as the aviation industry seeks to recover from the economic distress wrought by the COVID-19 pandemic — health and safety are paramount concerns. GE Aviation has introduced a mobile app that uses blockchain technology to help passengers feel secure as they take to the skies. Here's how it works.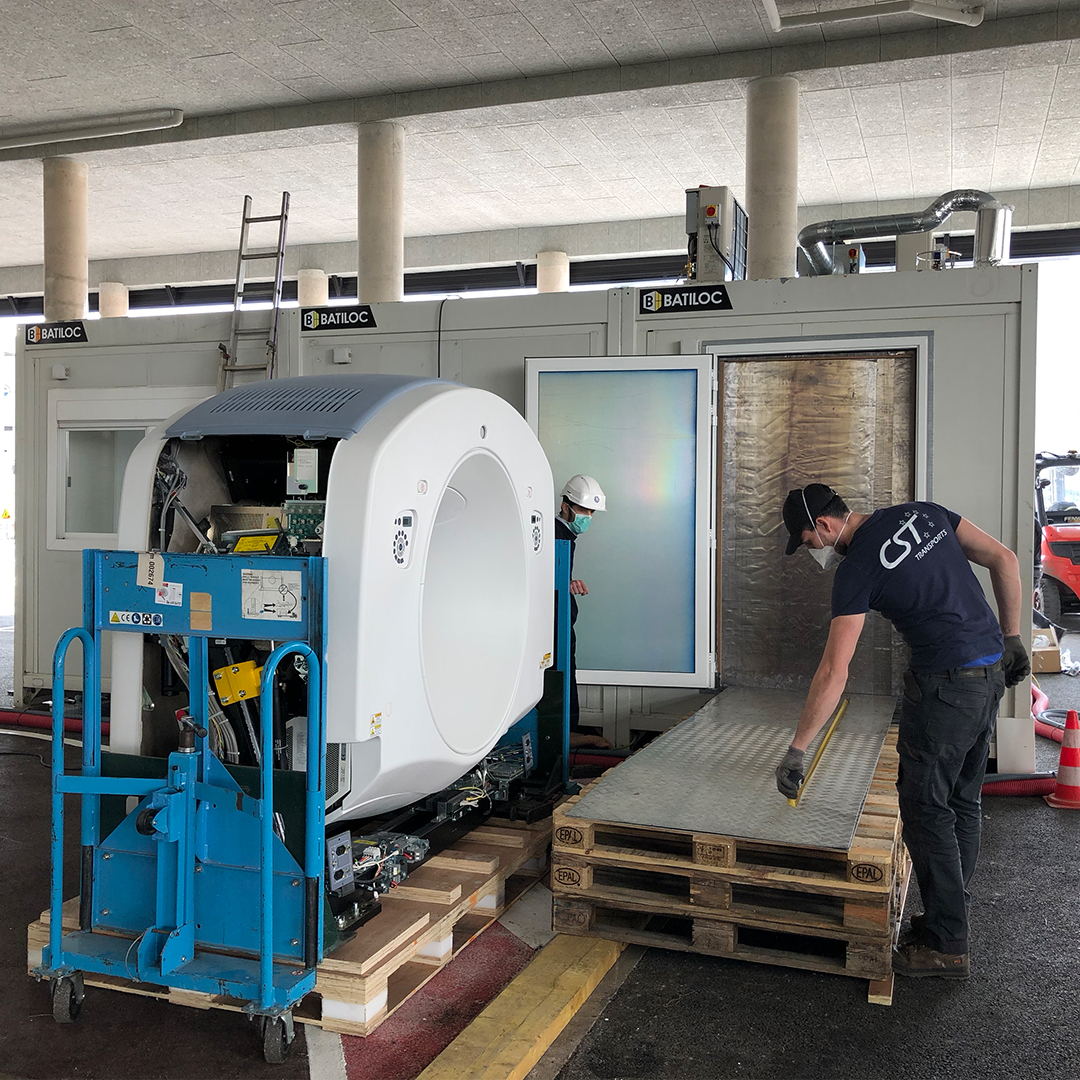 Preparing for a wave of coronavirus patients, a French hospital needed a new CT scanner in 10 days. GE Healthcare had just the thing.
— QUOTE OF THE DAY —
"3D concrete printing has advanced significantly over the last five years. We are committed to taking full advantage of this technology both from the design flexibility it allows as well as for the logistic simplification it enables on such massive components."

— Matteo Bellucci, advanced manufacturing technology leader for GE Renewable Energy
Quote: GE Reports. Images: GE Renewable Energy.