The aviation industry has weathered severe turbulence before — consider the oil crises in the 1970s and 9/11 — but the COVID-19 pandemic has inflicted damage of a different magnitude. The number of passengers per year, on a steep climb for the last decade, has plummeted so dramatically in recent months that it looks like someone fell asleep plotting the graph: In 2020, the number of worldwide passengers will drop by anywhere from 2.3 billion to 3.1 billion — between 40% and 53% of seats offered by airlines — erasing $300 billion to $400 billion in their revenues, according to estimates in a June 5 report from the International Civil Aviation Organization.
As planes are once again getting ready to taxi down the runway, the industry is enlisting powerful new technologies like blockchain to help passengers feel safe and get to their destinations as soon as possible.
Take, for example, a new mobile application developed by GE Aviation with TE-FOOD, a company that uses blockchain to track goods moving through the food supply chain. The aviation app is using blockchain to help monitor whether planes, crews and passengers have cleared specific health and cleanliness checks before takeoff. The solution, enabled by Microsoft Azure, is available now, and demonstrations are underway with airlines, airports and industry groups.
"GE Aviation's business model is predicated on airlines flying GE engines," says David Havera, general manager of GE Aviation's blockchain solutions. "Therefore we are doing everything we can to get passengers back into the air as soon as possible."
Blockchain technology is the highly secure, record-keeping framework beneath cryptocurrencies like Bitcoin, but it has myriad other applications, too. With blockchain, companies can store and trace a virtually infinite number of digital records, as if stringing together unique chains of building blocks. Within the new app, the blockchain uses encryption and private keys to help protect passengers' and airline employees' personal identities and medical records, while letting airlines share that information around the globe — helping already-screened travelers avoid delays.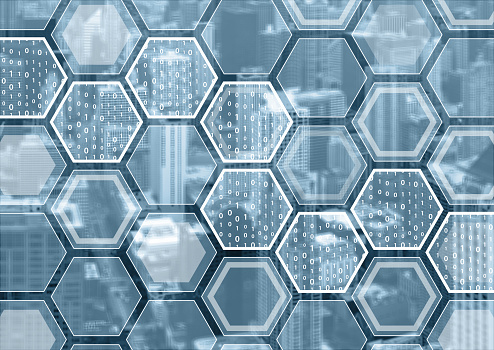 As dizzying as it sounds, health certification on a grand scale is not unlike tracking millions of airplane components and updating their maintenance records — skills GE has honed for decades. Airlines and passengers won't have to learn many new tricks, either. The flight check-in process using the app isn't much different than current preboarding procedures; better yet, the app's interface and database are flexible, so as testing science improves and safety protocols change, the app can adapt, too. Says Scott Ridge, GE Aviation's global head of partners and alliances: "We're not changing the process, we're just digitally enabling it."
Say a passenger wants to fly from New York to Europe next month with a participating airline. She could download the app from the Android or Apple store, scan in her passport barcode and create her own quick-response (QR) code — one of those unique blotches of small black-and-white squares that store information only electronic scanners can read. From there, she simply follows the airline's instructions for adding any required medical-clearance documentation, either by having a doctor (recommended by the app) scan medical-test results to her QR code, or by self-declaring her own health status. (As things stand, not all airlines use the same safety protocols.) Finally, an airline employee scans her app to complete the boarding process before sending her to her seat — at which point she can scan her tray table's QR code to make sure it was cleaned since the previous flight.
The health-certification initiative combines GE's data and analytics expertise, Microsoft Azure's cloud-computing infrastructure and TE-FOOD's blockchain traceability tools, which helped mitigate the spread of African swine fever in 2019, for instance.
But there is a grander vision here. The platform could include hotel chains, on-demand car services and other players throughout the travel ecosystem — ultimately helping empower customers to inspect any objects they might come into contact with on their journeys, right down to their hotel room's television remote. "Our definition of 'health' is much broader," Havera says. "We want to de-risk the whole travel process while making it as easy as a few QR-code scans. Our goal is to not only turn around the aviation industry but also reignite hotels, ride-sharing services and the entire travel experience."
It's an audacious goal that, if achieved, could help guard entire industries against any future pandemic waves. For now, though, airlines need any lift they can find — and fast. "We're in active conversations with a dozen airlines and a bunch of airports," says Ridge. "We have to get people flying again."
Top image credit: Getty Images
Categories