When she was a little girl, every Friday for six years of her childhood in Columbus, Ohio, Devon Shepherd's family would get in their minivan and drive to the airport to watch planes take off and land. Shepherd marveled at how amazing they were. What makes them fly? she often wondered.
Her fascination was, in a way, the genesis of what turned into a 20-year career at GE Aerospace. "I think I really enjoy aerospace because what I'm doing now is helping make some of those same types of memories for people like my family who enjoy watching planes take off and land. It's amazing," says Shepherd, a manufacturing programs leader in GE Aerospace's commercial business. It's one of many jobs she has held at GE, from test operations in Peebles, Ohio, to working on composite components in Baltimore.
But it all started with a GE co-op. Or six of them, actually. Through multiple internships, not only was she able to dip her toe into aviation, but she had a chance to decide if GE Aerospace was the right fit for her.
"I found it was a way for me to interview the company and the culture," Shepherd says. "And I ended up falling in love with GE. Twenty years later, you can say I've done a lot during my career here," she says.
It's perhaps no surprise that Shepherd attributes a lot of her success to the community and bonds she was able to forge from mentorship programs such as the National Society of Black Engineers, the Minority Engineering Office at the University of Cincinnati, and the African American Forum (AAF), an employee resource group at GE.
Shepherd has been a member of AAF since she started her GE career and currently serves as the logistics leader at the Cincinnati chapter. She loves the support system AAF provides, and it's her hope that more leaders in AAF take on larger roles within GE Aerospace to attract more diverse talent into the business and showcase their skills. Shepherd also loves participating in community service projects with AAF, especially volunteering with Next Engineers, a college and career readiness program to increase the diversity of young people in the engineering field. But one of her favorite activities within AAF is attending Summits. "It's a great way to interact with colleagues across GE. The networking that occurs there is rejuvenating and inspiring to me; it encourages me to do my best in life and at GE," Shepherd says.
These support groups helped her learn and grow as an engineer during her time in college and beyond. Shepherd recalls how, after graduation, they helped her prep for final interviews to get into the Operations Management Leadership Program (OMLP), a professional development program, to strengthen her leadership skills.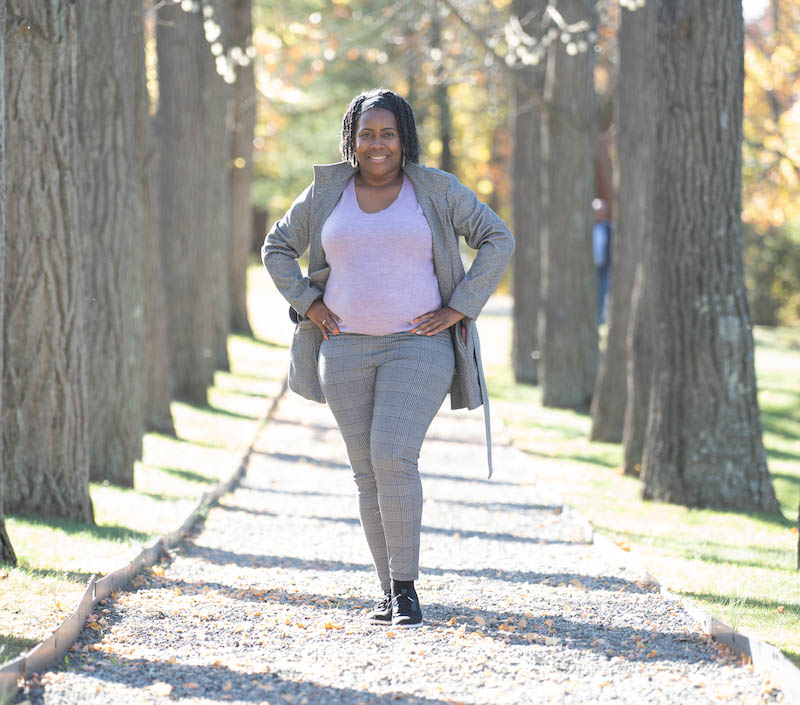 "I have to say one of the big reasons why I graduated was because of GE's mentorship programs. The African American Forum hosted the program, so I had a nice mentor through that. And the National Society of Black Engineers was also a good support group to help me learn and grow through college," Shepherd says. "It was just the continuous feeling of home and family, feeling connected."
Thanks to these programs, Shepherd developed a deeper connection with herself and her community, while also learning what diversity, equity, and inclusion (DEI) is all about. For her, DEI is directly connected to GE Aerospace's strategy to create the future of flight.
"GE Aerospace builds engines that connect the world. And those connections help drive diversity. We want to make sure we're connecting all people, lifting them up, and bringing them home safely."
Shepherd explains that for continuous career growth, establishing a network and continuously working on your craft are essential. And thanks to her AAF network, Shepherd also felt empowered to show up as her authentic self at work. From embracing her natural hair and wearing bright and expressive colors to letting her personality come through, Shepherd continues to shine as a Black woman leading a STEM career.
"One day it kind of like clicked. I am not going to be that person who feels like I'm putting on two faces. I'm going to be the same Devon I am here as I am at home," Shepherd says. "I think people respect you when you're authentic to them, because then they can trust you. Being authentic to yourself allows people to see the real you and allows people to trust the real you and not the made-up version."
Now, after a decades-long career in aviation that started with plane spotting at the John Glenn Columbus International Airport in 1989, Shepherd has a hard time even picking her favorite program or engine that she's worked on, but she admits to having a top three — the LM2500, the T700, and the CFM LEAP.*
*The LEAP engine is a product of CFM International, a 50-50 joint company between GE and Safran Aircraft Engines.
Categories
tags