Hillsborough County on Florida's Gulf Coast is a perfect example for understanding how Florida became one of the fastest-growing states in the U.S. Encompassing the Tampa Bay metro area, it grew from a population of less than 1 million in 2000 to close to 1.5 million in 2020. And over the next 30 years, the county is projected to be the nation's third-largest gainer in terms of population, with 600,000 more new residents coming. One thing they'll surely need when they settle down is electricity.
But Florida is also no stranger to extreme weather, and the utility serving the area, Tampa Electric Company (TECO), has already started working on plans to make sure that increased demand won't derail its plans to manage carbon emissions, a key factor contributing to climate change. It announced this week that after 50 years of operating the local coal-burning Big Bend Station power plant, it has completed the first phase of switching it to gas.
Phasing out coal and replacing it with natural-gas-fired generators can reduce CO2 emissions by up to 67%. "Coal-to-gas switching by retiring existing coal-fired capacity and replacing it with new, high-efficiency combined-cycle capacity offers good potential to combat climate change, and we are honored to support our customers like TECO in this transition," said Eric Gray, president of GE Gas Power in the Americas region.
Big Bend will be using two 7HA.02 gas turbines from GE in a combined-cycle arrangement. This power-plant engineering routes waste heat from a gas turbine to a nearby steam turbine, to generate extra power. The Big Bend plant will initially be a simple-cycle plant — meaning it will use just the gas turbines to produce electricity, but combined-cycle operation is targeted to begin in late 2022. This can produce up to 50% more electricity from the same fuel.
The 1,090-megawatt Big Bend plant is one of three electric-generating power plants in TECO's portfolio, which serves more than 800,000 customers. Its HA gas turbines — short for "high-efficiency, air-cooled" — are among the world's most powerful and efficient gas turbines. To engineer them, GE applied the latest advances in materials science and turbine engineering. More than 130 units have been ordered by customers in 20 countries.
Power plants with gas turbines not only use fuel with lower carbon emissions, they can also be more efficient at generating electricity. Coal-fired plants have a maximum efficiency — the measure of how well they convert fuel to power — of about 47%. But since the introduction of GE's HA technology in 2014, combined-cycle power plants have surpassed 60% efficiency for the first time. A plant in France equipped with the first GE 9HA model passed 62% in 2016, followed soon after by a 7HA-equipped plant in Japan that pushed beyond 63% efficiency.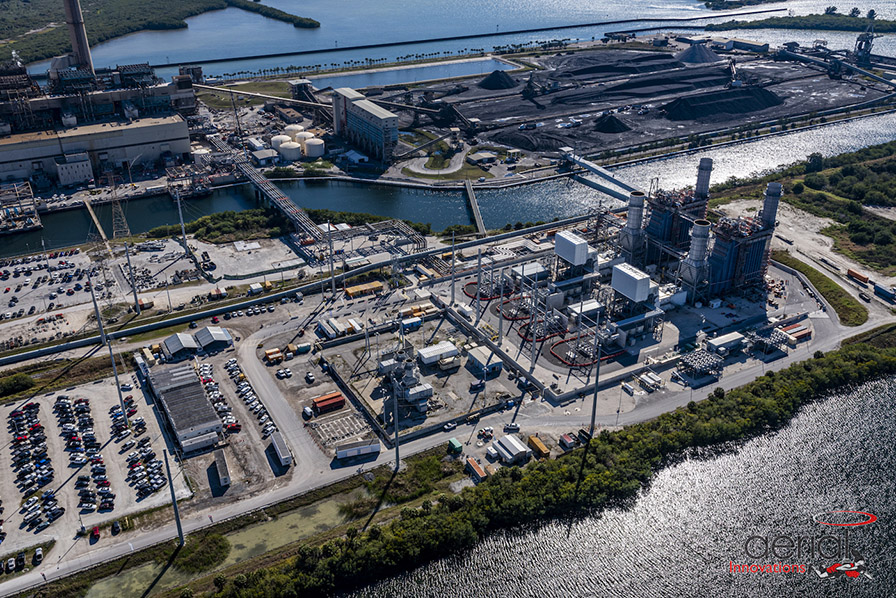 Besides efficiency gains and carbon reduction, the gas-fired plants can also reduce the emissions of mercury, nitrogen oxides, sulfur oxides, and other pollutants, while also using less water than coal plants.
But the switch from coal to natural gas can be just the beginning. GE gas turbines can also burn fuel mixes of natural gas with hydrogen. The company's H-class, F-class, B/E-class and aeroderivative gas turbines are all capable of running on different levels of H2. It's important to remember that actual hydrogen levels may vary based on the gas turbine model, combustion system and overall fuel consumption, but engineers expect to transition to 100% hydrogen in at least some gas turbine models over the next decade.
Hydrogen does not produce any carbon emission when it burns, but it can lead to emissions during production.. To learn more about using hydrogen as a fuel in gas turbines, watch this video from GE's "fuel guy," Jeff Goldmeer.
The TECO plant will also make use of GE's digital diagnostic system to support efficient operation. The system uses billions of data points, which are collected from sensors throughout the facility and analyzed at GE's Monitoring & Diagnostics (M&D) Center in Atlanta, to spot problems at a plant early, so they can be solved sooner and thus help save the operator money.
tags