Last October, GE Aviation closed the door on an era as employees sent the most powerful version of GE's storied CF6 engine to China Airlines. The delivery was an emotional one, for good reason: It was the last CF6-80E1 engine the company produced.
The CF6 is no ordinary jet engine. GE produced more than 8,500 of them for 250 airlines in 87 countries, going back to its launch in 1971. Among the many passenger and cargo planes it powers is the U.S. president's Air Force One Boeing 747.
Yet it is hardly time to write the CF6 obituary. For one thing, GE still makes another variant of the CF6: the widely popular CF6-80C2. And in some form or fashion, the engines and their parts will be around for quite some time. GE expects to keep many CF6 engines flying in their existing jets until 2040, reaping decades of service revenue and a family of happy customers along the way. In other cases, their still-useful components will be stripped and used for maintaining the engines remaining in service. And, in the latest twist, GE is buying back the engines from airlines that no longer need them, especially those hit hard by the COVID pandemic, and selling or leasing them to freighter companies and other commercial operators that are booming for the same reason.
"We've seen during the pandemic that the demand for cargo operators to fly and create more capacity has undergone immense growth," says Horacio Repetto, an executive responsible for used serviceable materials (USM) for GE Aviation Services, which provides material solutions for the maintenance and overhaul of commercial jet engines. "We've been operating north of 120% of the demand for this segment that we had back in 2019, prior to the pandemic. With that in mind, cargo operators have been at the center of focus, really to support them and make sure that they have the right capacity to provide to the consumers — really, all of us — the goods that we need."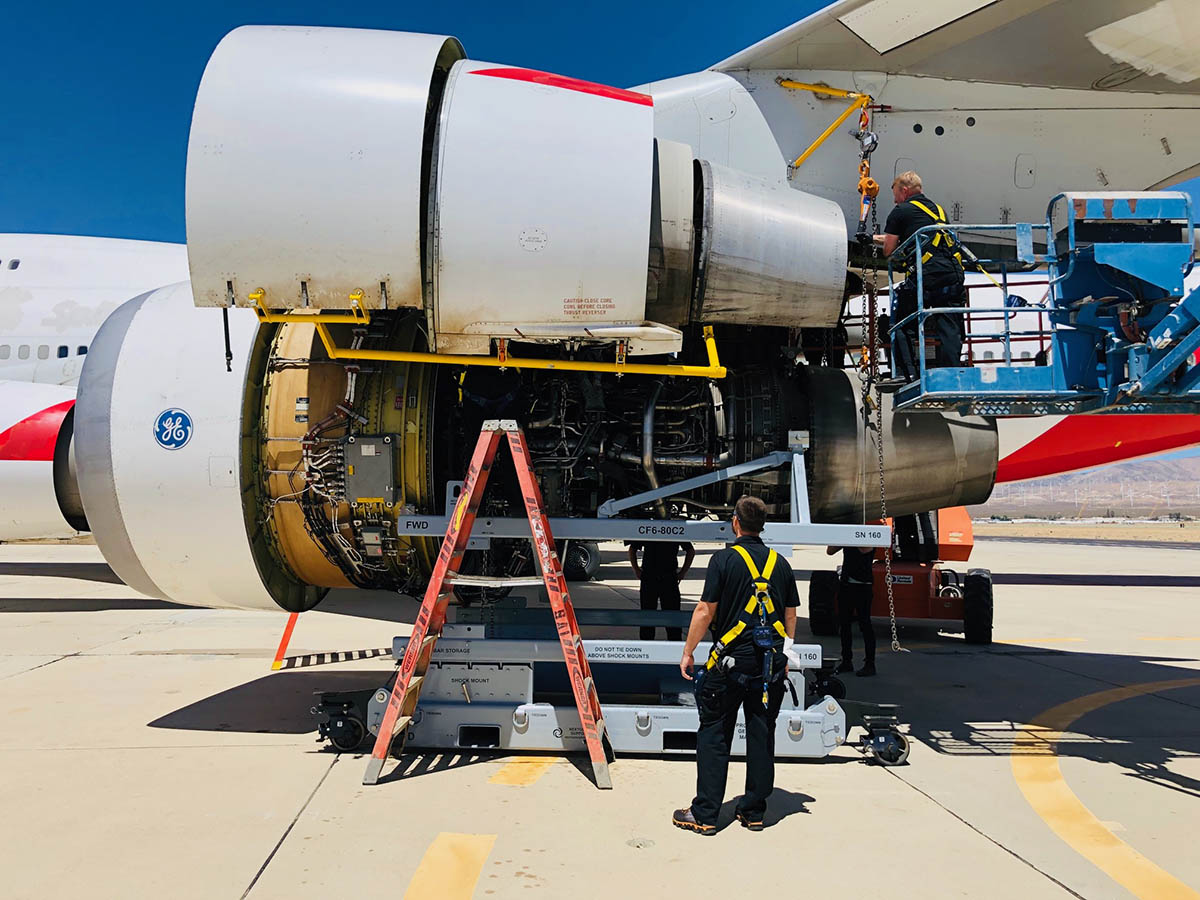 Even before the pandemic, Boeing projected that air cargo traffic would double over the next 20 years, requiring the world's freighter fleet to grow from approximately 1,870 to 3,260 freighters. More than 60% of the new freighters are expected to be passenger-to-freighter conversions.
But the services business is not just helping the industry. It is also an important source of income for GE Aviation and GE. In 2020, GE Aviation revenue from selling jet engines and other equipment generated $8.6 billion. Services, which include Materials Solutions, brought in $13.6 billion. With thousands of CF6 engines in the air and years of operations ahead, Repetto and his team are helping to make GE Aviation's bottom line grow.
An example of the strategy could be seen last year in California. A crew from GE Aviation's Materials business unit traveled to the Mojave Air and Space Port to remove four CF6 engines from a Boeing 747 acquired from a large airline that had kept it mothballed in the arid desert air. Technicians inspect the engines; if they are deemed serviceable, they will either be sold or leased to an existing operator. If inspections reveal conditions that make the engines unserviceable, the parts will be harvested, repaired and deployed in the aftermarket for engines requiring maintenance. The engine and the landing gear together represent as much as 80% of the value of the jettisoned aircraft. Most of the rest — the wing, the tail and the fuselage — is just metal for recycling.
A key component in succeeding in the jet engine overhaul and service business is determining which engines can keep flying and which have valuable parts inside. Repetto and colleagues have at their disposal the perfect crystal ball. GE Aviation monitors its engines from production to flight through its TrueChoice suite of engine services. It monitors how frequently an engine is in the air, where it's been flying — desert sand and pollution, for example, can accelerate wear and tear — how many times it's been serviced and how much "green time" it has left, meaning how many remaining takeoffs and landings before it requires servicing. An overhauled engine can deliver performance similar to a new one.
The pandemic supercharged conversions of passenger jets to cargo carriers. As a result, established airlines, as well as relatively new entrants, have been snapping up jets like Boeing 767s and Airbus A330s and turning them into freighters. Mike Kauffman,  former general manager for the CF6 program at GE Aviation who now leads sourcing, says that the CF6-80E1, the variant GE just stopped making, "provides freighter operators with thrust flexibility along with better performance retention, lower fuel consumption, outstanding reliability and longer time on wing than other A330 power plants." He says that "with 67% part commonality with the CF6-80C2 engine, the CF6 engine that is still in production, freight operators have direct access to new spare parts along with GE Aviation's used serviceable material." Given all this, he says, the CF6 "will continue to serve the next generation of A330 converted freighter operators."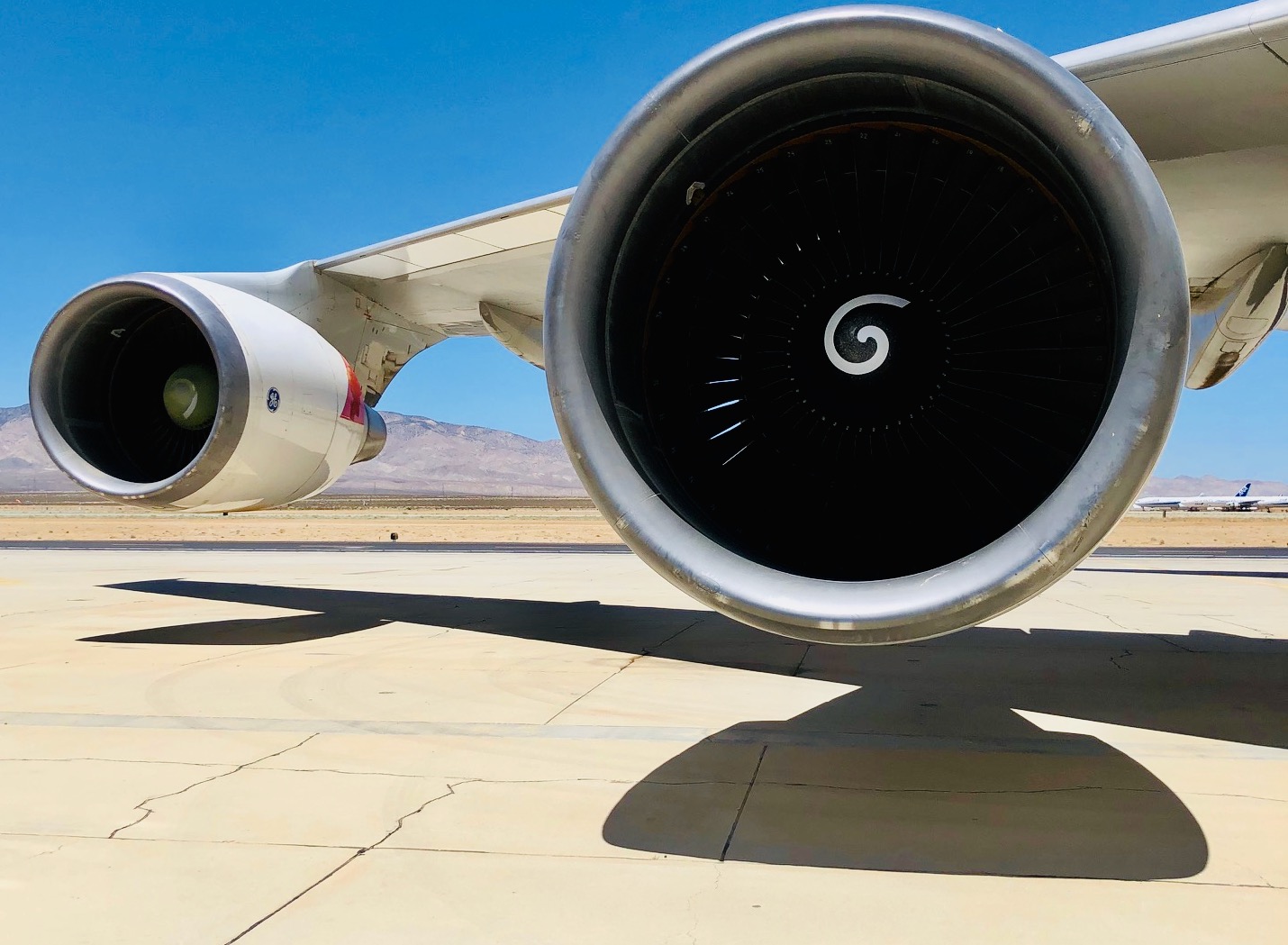 Parts or engines like those removed from the 747 in Mojave undergo a long journey before they come back to life in another aircraft and engine. They get loaded on a truck and travel to jet engine shops like BP Aerospace, just outside the Dallas Fort Worth International Airport. Certified technicians inspect them and report to GE any issues with the engines and whether they can be repaired, says Mike Walsh, BP Aero's chief operating officer. "We are a hospital shop," Walsh says. "We focus on light to heavy repairs involving changing turbine blades and combustion liners."
Walsh comes from a family of aviation enthusiasts — his father is BP Aero's CEO and used to work for GE Aviation. He says BP Aero, which is licensed by the Federal Aviation Administration to overhaul engines and repair engine parts, can handle as many as a dozen GE engines a month. If Walsh's workers cannot repair the engine, it goes to a teardown station, where workers remove valuable components that can be reused.
Repetto's office is just a short ride from BP Aero. It's located next to a large warehouse filled to the roof with crates holding turbine blades, shafts, combustors, nozzles and other jet engine parts. The unit has an even larger storage space in Kansas, in proximity to one of GE's large maintenance and repair facilities. "We help airlines and owners of GE and CFM engines continue to operate by providing the services solutions for them to make it more reliable, safer and more cost-effective to continue flying their engines forward," he says.
CFM International is a 50-50 joint company between GE and Safran Aircraft Engines. It makes some of the most popular engines for single-aisle planes from the Boeing 737 and Airbus A320 families. Some of these planes are also being converted to freighters.
Megan Butler, senior materials management leader on Repetto's team, notes that cargo operators are looking for used material because they are not flying as often and their flight legs are shorter. At the same time, she says, it's important not to overlook GE's emphasis on quality. "Not only are you getting a part at a cost-competitive value, but you're also maintaining the value of your asset by coming to GE, buying a part that's quality-certified, knowing that it was repaired correctly, designed to operate in the original engine configuration and to the utmost level of quality standards."
In short, Butler says, "CF6 has been a huge success story for GE Aviation in terms of how long it's been flying and how reliable the engine has been."
For Repetto, the sky is the limit. He says that GE Aviation is "fully committed to supporting the growing mature fleet of engines through its cost-effective TrueChoice services solutions" for engines such as the CF6, the GE90 that powers many Boeing 777s, the CF34 engines that serve on smaller jets and the CFM56, in partnership with Safran and CFM International.
"When somebody's made a choice to invest in a GE or CFM engine, it comes with the support of GE and CFM over the life cycle of that asset," Repetto says. "We are supporting our customers during the entire duration of that investment to make sure that it has the value our customers expect at the beginning of the acquisition, in the middle of the operation through maintenance and services, and then on the back end when it comes to the end of life of that asset to continue to provide that owner value, what we call the residual value of that asset, by being able to harvest in this case used material. We strive to meet the customer's mission of having an engine that is safe, reliable and having an engine that is cost-effective and efficient."
Categories
tags