Metal 3D printing is forecast by the CSIRO to provide opportunities for Australia at every stage of the manufacturing value chain, from ore to innovative design. At GE 3D printing is known as the  "engineer's dream", a "new, unlimited dimension" in manufacturing. And yet, says, Professor Chun Wang, head of the University of New South Wales' School of Mechanical and Manufacturing Engineering (MME), "One barrier to wider uptake is that we don't have enough engineers out there familiar with this type of technology. There aren't enough people who know what is possible."
UNSW recently became the only tertiary institution outside the US to be presented with one of eight $350,000 advanced Concept Laser Mlab cusing 200R metal laser printers up for grabs in the first year of GE's Additive Education Program. The company aims to accelerate global adoption of additive manufacturing by gifting US$10 million worth of 3D printing technology to schools, colleges and universities over five years.

"This machine isn't here by accident," said new GE Australia CEO, Max York, who presided over the ribbon-cutting ceremony. He told the dozens of gathered professors, lecturers and researchers from UNSW's faculties of Engineering, Medicine and beyond, "You are world leaders in research and teaching, and this technology finds its way here because of the reputation you have globally, and the impact you can have in a disruptive manufacturing technique."

Professor Wang and Dr Xiaopeng Li of MME engineered the school's winning application for an Mlab, drawing on the reach of their faculty (11,500 undergraduate and postgraduate students in Engineering) and school (2,500 students in MME alone); the historical, current and future strength of their research; and a compelling plan for how they will use the machine.

More than 250 colleges and universities around the world entered the competitive fray, and the final evaluation of contenders was carried out on anonymised versions of their applications, to eliminate any possible bias.

Three of the GE team attending the presentation, including Max York, and Adam Watterson from GE Aviation, are alumni of UNSW. Tom Gleeson, the newly appointed general manager of global sales for GE Additive, achieved both his Bachelor of Science and MBA at the University, and joked, "Just as well the selection process was finalised before Max and I began our current roles, or this might have looked suspicious!"

Gleeson elaborated on the impetus behind the gift, saying, "GE is committed to growing the additive industry. 3D manufacturing represents the next industrial revolution, but it's early days. It will take dedicated partners across the globe to make that happen."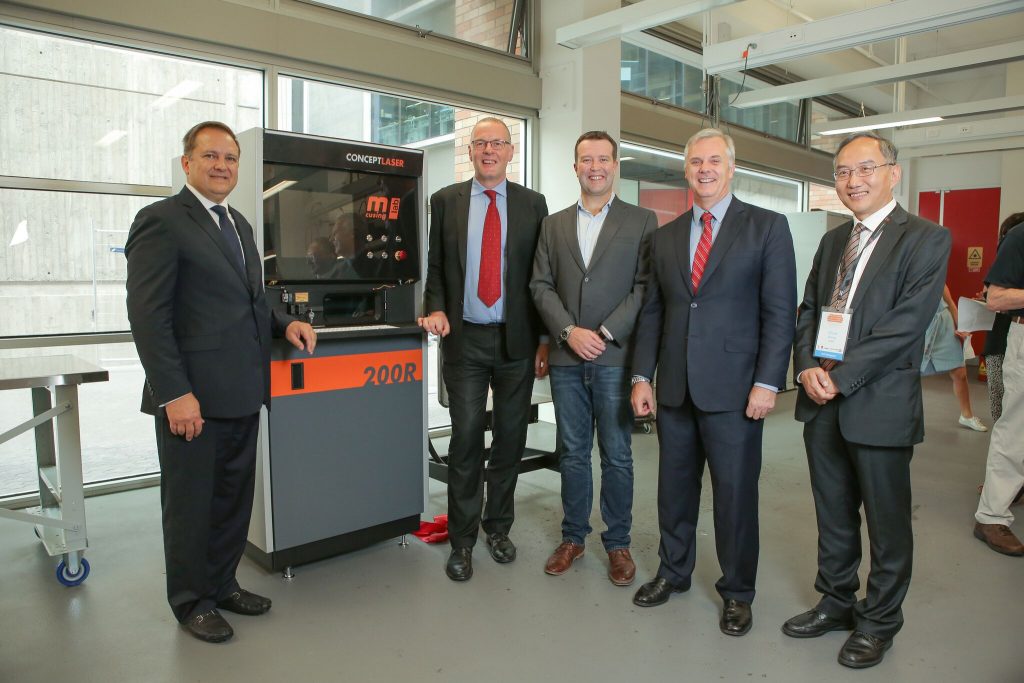 Defence, Science and Technology Group. The UNSW team is also partnering with Stanford University to investigate nano-structure and micro-scale defects in critical products such as medical devices and aviation components. "Our proposal," says Wang, "is to look at whether one can, in real time, while you're printing the component, inspect the quality of the build layer by layer. Then you can choose to terminate the build if you identify a gross defect, without wasting further materials and having to carry out quality-assurance testing later."

He posits that 3D printers could variously use two or three lasers: "one for building, one for microstructure control and modification and another for quality assurance".

Dr Li's projects include deploying the Mlab in the development and validation of new materials for use in 3D printing; and to design simulations of 3D printing processes that enable greater understanding and subsequent improvements in manufacturing — without using more than a few hundred milligrams of expensive raw materials.

Such research has potential benefits for a partner such as GE, which has controlling interests in Concept Laser, the German company that designs and makes Mlab and other 3D printers, and in Swedish Arcam AB, inventor and manufacturer of electron-beam additive machines.

Among MME's interdisciplinary collaborations is the research and development of advanced medical implants, which Professor Wang identifies as a growing export opportunity for Australia. First off the metal-powder manufacturing bed is likely to be a spinal-fusion device, developed with the Prince of Wales Hospital, to assist with stabilising damaged vertebrae.

Such devices, which mimic porous bone structure, were envisioned to support and to mesh with bone growth — and are virtually impossible to manufacture by traditional methods. Even the current 3D-printed versions, made from titanium, or titanium-nickel-alloy, are yet to be perfected in strength and bone integration. "3D printing opens new frontiers in allowing us to print these subtle microstructures," says Wang. "We're looking to use the Mlab machine to design and optimise this spinal fusion device and carry out clinical trials."

Professor Wang envisages Australia ultimately as an exporter of additive-engineering know-how, "If we develop in-country novel technologies in terms of processes that deliver better properties, and new technology to interrogate 3D structures for quality assurance, these can be exported as engineering services.

With undergrad and postgrad students, MME researchers and collaborators all thinking additive-plus-plus, the titanium dust will never settle in UNSW's latest-tech Mlab 3D printer.

GE is set to open its second round of applications, inviting universities to put revolutionary 3D thinking into practice, in the first quarter of 2018. For more details, watch this space.

"We want a pipeline of engineering talent that have additive in their DNA. This education program is our way of supporting that goal," said Mohammad Ehteshami, Vice President of GE Additive.
tags