In Steven Spielberg's latest film, The Fabelmans, the director brings it all back home with a largely fact-based portrayal of his upbringing in New Jersey, Arizona, and Northern California. Burt Fabelman, as many GE history buffs could tell you, is based on the very real Arnold Spielberg, Steven's father, who worked for the company in Phoenix in the late 1950s and early 1960s, where he developed one of the first mainframe computers and helped pave the way for the programming of the BASIC computer language, which ushered in personal computing.
The movie has already taken home a number of prestigious awards and on Sunday will be up for seven Academy Awards, including Best Picture, Best Director, and Best Screenplay (by Tony Kushner and Spielberg).
GE and the work that Burt does there are referenced at several points in the film, but the elder Spielberg, who passed away in 2020, didn't live to see the affectionate portrayal of himself.
What follows is a reprint of GE Reports' 2016 profile of Arnold Spielberg.
~
From Thomas Edison to former President Ronald Reagan and novelist Kurt Vonnegut, GE has employed a number of luminaries since its founding 124 years ago. One famous name missing from this list was Spielberg.
Long before GE started connecting machines to the Industrial Internet, one Arnold Spielberg helped revolutionize computing when he designed the GE-225 mainframe computer in the late 1950s. The machine allowed a team of Dartmouth University students and researchers to develop the BASIC programming language, an easy-to-use coding tool that quickly spread and ushered in the era of personal computers. Bill Gates, Paul Allen, Steve Wozniak, and Steve Jobs all used the language when they started building their digital empires.

"I remember visiting the plant when Dad was working on the GE-225," Arnold's son, the Hollywood director Steven Spielberg, told GE Reports. "I walked through rooms that were so bright, I recall it hurting my eyes. Dad explained how his computer was expected to perform, but the language of computer science in those days was like Greek to me. It all seemed very exciting, but it was very much out of my reach until the 1980s, when I realized what pioneers like my dad had created were now the things I could not live without."

The Dartmouth team ran BASIC, or Beginners' All-Purpose Symbolic Instruction Code, on the GE-225 for the first time a half century ago, on May 1, 1964.

Arnold Spielberg, [who passed away in 2020 at age 103], was fascinated with electronics from an early age. "It was sort of a way of life for me, because I started playing around with radios when I was about 8 or 9 years old," he told Anne Frantilla, a historian from the Charles Babbage Institute at the University of Minnesota.

During World War II, he served as the communications chief of a U.S. bomb squadron in India, and later started making early vacuum tube computers at RCA Corporation. GE engineer Homer R. "Barney" Oldfield hired Spielberg to set up GE's Industrial Computer Department in Phoenix, Arizona, in 1957.

The department's name, however, was a ruse. Unlike Oldfield, Ralph Cordiner, then GE chairman and CEO, didn't want to make business computers. "Every time a plan was sent to him that mentioned going into business computers, he would write 'No' across it and send it back," Arnold Spielberg told Frantilla. Cordiner apparently believed that an industrial company should make products for industry.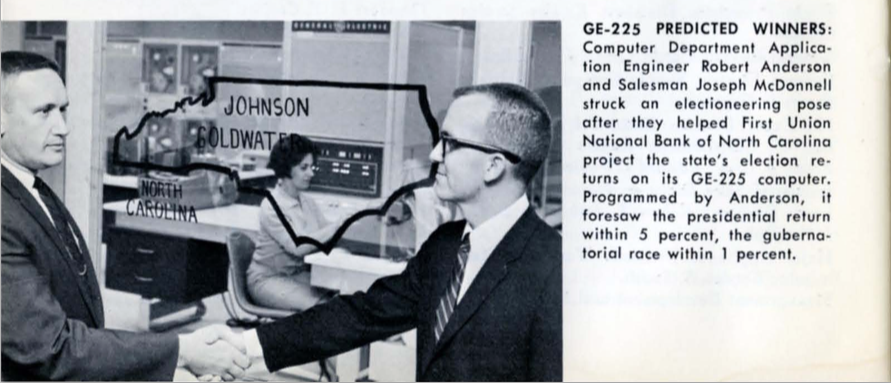 Still, Oldfield forged ahead without Cordiner's blessing. Spielberg and his colleague Charles Propster, whom he brought from RCA, designed the GE-225 in 1959. It was a 20-bit computer that filled an entire room and contained 1,000 circuit boards, 10,000 transistors, and 20,000 diodes. It stored data on disks, magnetic tapes, punch cards, and paper tapes. It also allowed operators sitting at up to 11 external terminals to access the memory independently. The possibility of this embryonic form of personal computing led the Dartmouth team to develop BASIC.
By the time Cordiner found out what the team was doing, it was too late. They already had Bank of America as a customer. "He came out to attend the dedication ceremonies and promptly fired Barney Oldfield right after the ceremony for violating his rules," Arnold Spielberg told Frantilla. "He gave the company 18 months to get out of the business."
It took longer than that. The GE-225, which cost $250,000, was a hit, and the marketing team described early orders as a "landslide." The business sold dozens of them to customers and also to other GE units. "The GE-225 can add 30,000 six-digit numbers in one second and can calculate the ages of every man, woman and child in Schenectady in 5 seconds," wrote the Schenectady Works News, a GE newspaper. One machine working at the First Union National Bank in North Carolina predicted the results of the 1964 Johnson-Goldwater presidential race within 5 percentage points, reported the GE Monogram magazine. The Cleveland Browns football team used a GE-225 to manage season ticket sales. "Who knows," quipped the Browns' president, Art Modell, in 1966, "there might come a time when computers will help call the next play."

Arnold Spielberg left GE in 1963, the same year Dartmouth's "BASIC team" traveled to Arizona to learn how to program the equipment. GE sold the computer division to Honeywell in 1970. The IEEE Computer Society recognized Spielberg as a computer pioneer in 2006 for his "contribution to real-time data acquisition and recording that significantly contributed to the definition of modern feedback and control processes."

[GE eventually] carried out Cordiner's vision of industrial computing. The company developed Predix, an open-cloud-based software platform for the Industrial Internet. Companies of all kinds are now using it to write industrial applications and make their machines and factories run better.
tags