Before Kurt Vonnegut Jr. wrote the bestsellers "Slaughterhouse Five" and "Cat's Cradle," he lived near Schenectady, New York, and worked as a GE publicist. According to Vonnegut's biographer Charles J. Shields, he was hired in 1947 as part of GE's drive "to get some real journalists on board to hunt for stories at the Schenectady Works and keep a steady drumbeat of good news issuing from the plant." Writes Shields:

"Thus it happened that Kurt received a call in late August from George W. Griffin Jr., a General Electric public relations executive. Griffin explained that [Vonnegut's brother] Bernard had recommended his younger brother as the kind of man they might be looking for: someone with a science background who was also a reporter. Would he be interested in interviewing for a job in Schenectady?"

Vonnegut told the scholar Robert K. Musil that "the job required my visiting the scientists and talking to them and asking them what they were up to. Every so often a good story would come out of it."

Vonnegut said that the plant in Schenectady inspired him write his first novel, "Player Piano." Shields writes that after Vonnegut submitted the first draft, Kurt asked his editor a favor and refrain from touting the book, which deals with a dystopian world run by machines, "as a satire of one of the world's largest corporations," or Bernard's career "might suffer through guilt by association."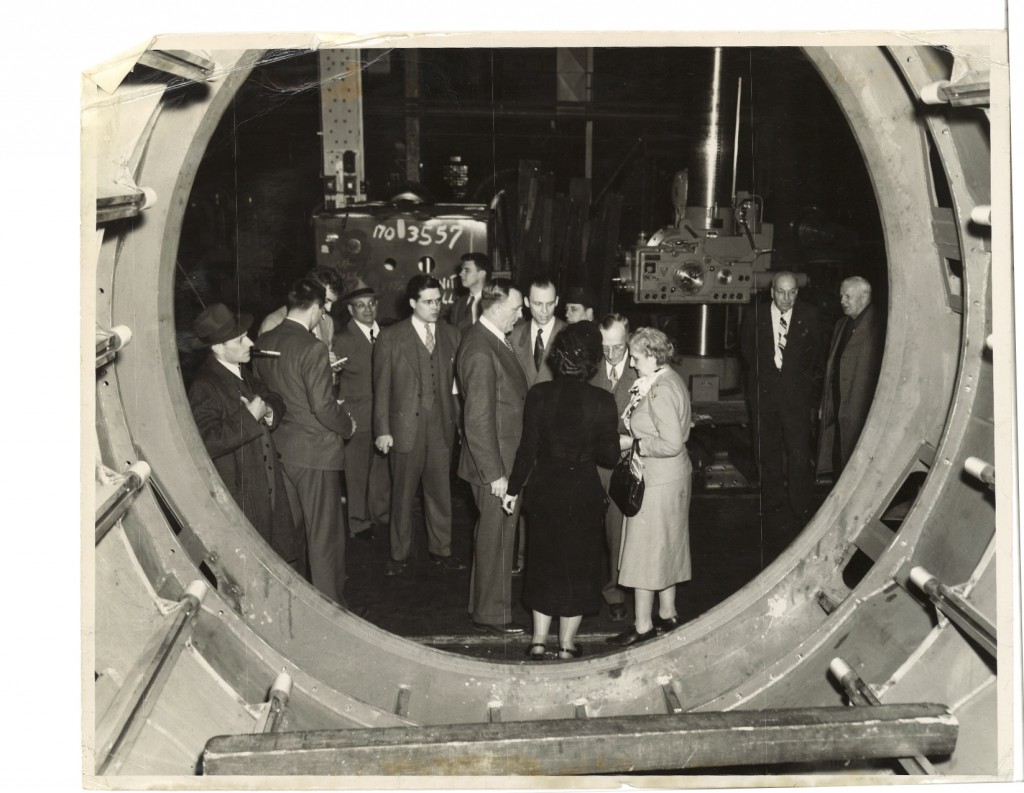 Kurt Vonnegut, third from left, is taking notes during a VIP tour of GE's Schenectady plant. The photo was preserved by Mary Robinson. Her father, Ollie M. Lyon Jr., was Vonnegut's close friend and colleague in the GE PR department. He is the man in the center in the three-piece suit. Image credit: Mary Robinson

It did not. In fact, Vonnegut based a lead character in the novel "Cat's Cradle" on Dr. Irving Langmuir, Bernard's boss at GE and the first scientist in private industry to win a Nobel Prize. Langmuir and Bernard Vonnegut worked on techniques designed to control the weather and the team succeeded in starting artificial rainfall and snowfall.

"Cat's Cradle's" central plot device is a form of frozen water called Ice-9, which stays solid even at warm temperatures. Vonnegut told George Plimpton, who interviewed him for the Paris Review, that the idea for the substance came from Langmuir. He said that when the writer H.G. Wells visited Schenectady, "Langmuir thought he might entertain Wells with an idea for a science-fiction – about a form of ice that was stable at room temperature. Wells was uninterested, or at least never used the idea. And then Wells died, and then, finally, Langmuir died. I thought to myself: 'Finders, keepers – the idea is mine."

Vonnegut, who stayed at GE until 1950, died in 2007.
tags