In March, Helen Parry was delighted when a brand-new Senographe Pristina™ 3D mammography system arrived at Royal Perth Hospital in Perth, Western Australia. Parry is the hospital's chief medical imaging technologist, and part of her role is to procure imaging equipment for the hospital's Breast Assessment Center. She carefully watched her team set up the machine — the first to allow women to control their own breast compression under the supervision of a technologist — and determine that everything was ready to start follow-up examinations of patients who had been referred for further imaging workup following abnormal screening mammograms. There are often as many as 30 of these cases per day.
But this spring — autumn in Australia — setting up the machine was just the first step to making it available to patients. In response to the coronavirus outbreak, the state of Western Australia limited breast screening services. The government also prohibited simple elective procedures to save personal protective equipment for healthcare workers fighting COVID-19. Lockdown restrictions prevented product specialists from coming to the hospital for the scheduled weeklong training session. Though she wasn't due for her biennial mammogram until the end of the year, Parry volunteered to be the first screening patient. "It seemed pretty straightforward," says the 57-year-old. "I went back to my office and never thought of it again, having been through the process before."
A little over a week later, she received an unexpected visit from her doctor. A suspicious tiny spot had appeared on her mammogram, and the doctors wanted to investigate further with more X-rays and an ultrasound and biopsy. As Parry spent several nerve-wracking days awaiting her results, it dawned on her: "I had to stop being the chief radiographer and become the patient." A small favor to her staff had suddenly morphed into a life-altering moment.
The biopsy confirmed that Parry did indeed have breast cancer. However, because her medical team caught the tumor at such an early stage, her prognosis was positive. Not only was the lesion small but the cancer had not spread to her lymph node glands, which Parry describes as a "superhighway for spreading things through your body."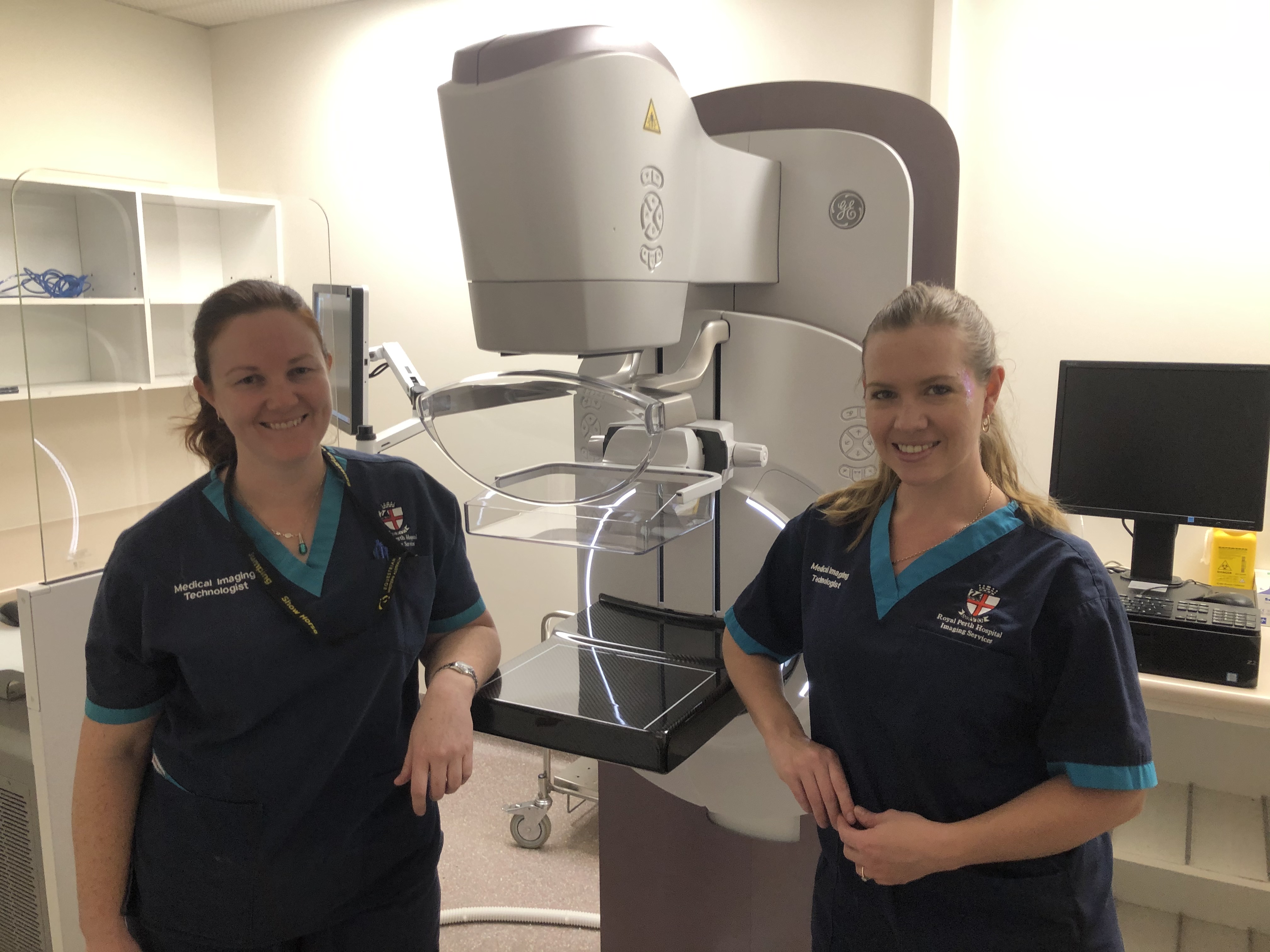 To treat her illness, in May her doctors performed a lumpectomy — removing the tumor and surrounding tissue rather than the whole breast — and gave her radiation therapy. Because her tumor was so small, Parry's oncologist could forego the traditional method of administering radiation after her surgery, and instead delivered the treatment intraoperatively, which means inserting a radiation source into her open incision for a 20-minute duration during surgery. "I was only the fourth person in our state who had had this new treatment," she says. "I think I would have been happier if I were 44th, as I was a little hesitant." Her treatment now consists of daily doses of estrogen-lowering medication to reduce recurrence.
Parry says she is deeply grateful for the early detection and, with professional and personal experience on her side, urges other women to get screened regularly — particularly in Australia, where all women over age 50 can receive free mammograms every two years. "To me it's a complete no-brainer," she says. "Because the outcomes are so good with early detection, why would you not?" Across the Pacific, early detection helped avert the death of nearly 400,000 women in the United States from 1989 to 2017, according to the American Cancer Society.
Still, Parry notes that since the onset of the pandemic, mammogram detections have dropped by 40% in Australia. "You and I both know that breast cancer has not gone away," she says. "It's just that people are afraid of the risk of COVID-19." And while she fully appreciates people's hesitancy since screening restrictions were lifted in June, she points out that there is also danger in neglecting other health concerns. "We've got everything in place to keep you safe while you are here," she says. "We are health professionals. This is our job, and this is what we are good at."
Categories
tags