The suburb of Villejuif in the south of Paris will never rival the Eiffel Tower as a destination site. Yet every day the brightly lit waiting rooms and cavernous hallways of the Gustave Roussy clinic located here fill with hundreds of visitors. Some of them have traveled thousand of miles in pursuit of hope.
Since it opened 70 years ago, the Gustave Roussy Cancer Center has grown into Europe's top cancer hospital and one of the leading cancer clinics in the world. The 3,000 doctors and staff working here include specialists in dealing with rare and complex tumors. Others, like radiologist Corinne Balleyguier, are developing new fast ways to diagnose and treat cancer. "Sometimes there are images that are hard to read and these women do not know whether they have cancer or not," she said during a visit last September. "The uncertainty can be nerve-wracking and we want to reduce it as much as possible."

Dr. Balleyguier, who is attending this week at the annual meeting of the Radiological Society of North America (RSNA) in Chicago, the radiological industry's top global gathering and trade show, says that in the past many women had to wait as long as two months for a result. "This is too long," she said. "The clock is ticking and we have to move as quickly as possible and start treatment early."

That's why she and her colleagues designed the "One Stop Clinic." This daylong series of diagnostic steps enables most women with abnormal findings and possible breast cancer lesions to arrive in the morning and leave with a result and a treatment plan in the evening.

Gustave Roussy's arsenal of advanced imaging machines includes GE's latest digital mammography system, Senographe Pristina. GE just received FDA approval for the machine and Pristina is on display at RSNA for the first time in the U.S. (You can see our Periscope with Dr. Balleyguier talking about the machine from Chicago here.)


Above: Dr. Balleyguier next to GE's Senographe Pristina at RSNA in Chicago this week. Image credit: GE Reports. Top Image: The Gustave Roussy Cancer Center in Paris has grown into Europe's top cancer hospital and one of the leading cancer clinics in the world. Image credit: Getty Images

The idea for the One Stop Clinic goes back to 2004 when Dr. Balleyguier and Suzette Delaloge, associate professor of medical oncology and head of the breast cancer department at Gustave Roussy, started looking for ways to speed up diagnosis. At that time, almost 50,000 women were being diagnosed with breast cancer every year in France alone. "We started seeing younger patients with dense breasts and more complex lesions," Dr. Balleyguier said. "We wanted to develop a multidisciplinary approach that would deliver high-quality care and reduce the time between screenings, primary evaluations deemed positive and diagnosis." Dr. Delaloge says that at the time nothing like that existed, "or at least not on a scale as large as we were planning."

After a decade of fine-tuning and evolution, the clinic now takes over several examination rooms and doctors' offices on the ground floor of Gustave Roussy's new pavilion every Monday. "On that day we are completely dedicated to the new patients," Dr. Balleyguier says. "We don't see anyone else."

The women — usually between 20 and 30 of them — start arriving around 8 a.m. and file into a bright waiting room. A coordinating nurse divides them into three groups based of the findings in their referrals and schedules them to see three different specialists for examination and screening.

The most serious cases go straight to an oncologist who can outline a treatment plan. Women with suspicious lesions smaller than 10 millimeters first visit a surgeon who typically carries out a series of tests. The final group visits a radiologist for a consultation.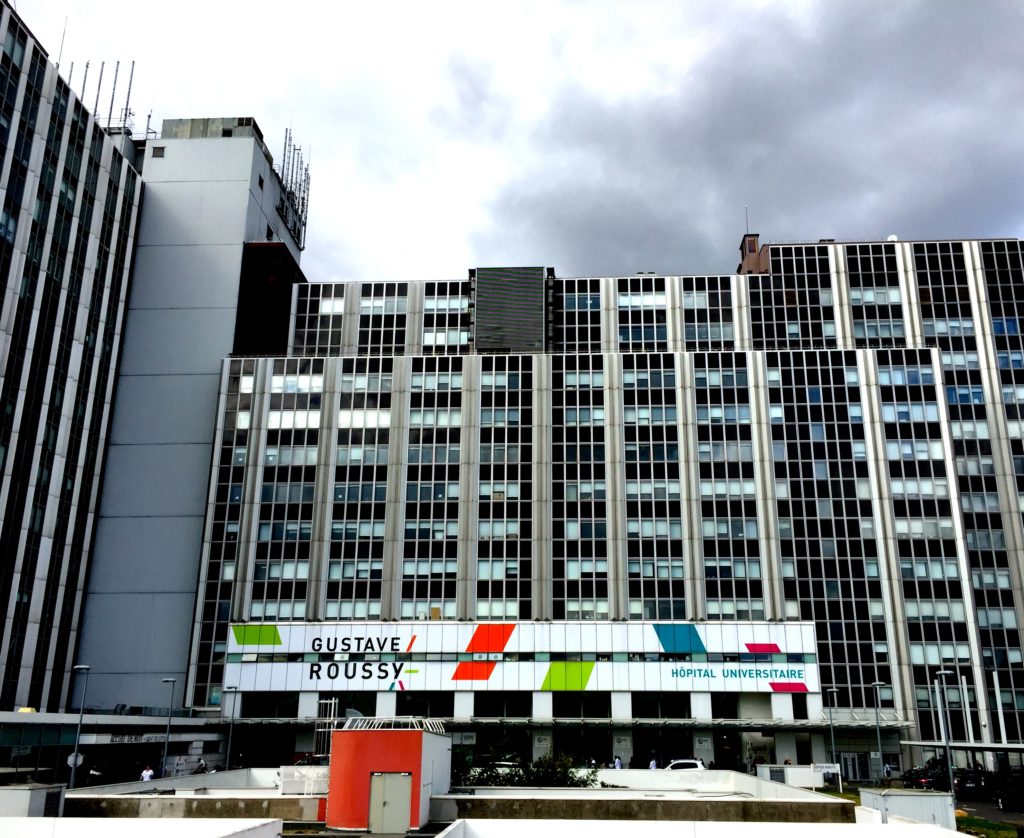 "The results are remarkable and truly unlike anything we've seen happening anywhere else in the world," says Gustave Roussy's Dr. Delaloge. Image credit: GE Reports

Jean-Baptiste Brunet, who has been working at Gustave Roussy for five years, is one of technicians who carry out the imaging on Mondays. Brunet has been working with GE engineers to develop Pristina and now operates the machine. "It's a long day," he says. "We tried to make the experience as pleasant as possible."

The hospital painted the room that houses the Pristina a warm fuchsia, and music plays in the background. The machine itself has an easily accessible carbon-fiber breast examination tray devoid of sharp angles. It also enables women to use a remote control to manage breast compression on their own, a first in the industry.* Because the designers replaced traditional handles with hand rests, women go through the six-minute screening without tensing their muscles, which could affect image quality. "We know that if one woman has had a bad experience with mammography, she will communicate that to her peers," says Aurelie Boudier, global creative director for brand and design language at GE Healthcare's Global Design Centre in Buc, near Paris. "The reverse is also true. If a woman has a positive experience, and her fears are addressed and the procedure is made as agreeable as possible, she will spread a positive message among her peers and come back for future screenings."

Brunet says the patients he sees usually come with a mammography or an ultrasound finding. "The doctor tells us she sees something in a part of the breast and we typically use CESM [contrast-enhanced spectral mammography] to complete the diagnosis," he says. "If we find something, then the patient goes straight to biopsy."

At the end of the day, the doctors invite the patients for a final consultation to discuss the diagnosis and plan their treatment. "The results are remarkable and truly unlike anything we've seen happening anywhere else in the world," says Dr. Delaloge.

Since 2004, the One Stop Clinic has seen more than 11,000 patients and more than 75 percent of them have received a diagnosis on the same day, according to an independent study. Says Dr. Delaloge: The majority of patients who come to our facility don't have to worry about false positives or callbacks which, as you know, are an issue in breast cancer diagnostics."
Categories
tags