Papua New Guinea is an important country for GE, which opened its Port Moresby office in July 2014 in order to play a bigger role in the development of the PNG economy, and to help bring global energy, water treatment and healthcare to its population. As Belinda Shaw, chief financial officer of GE Australia, New Zealand and Papua New Guinea, told GEreports earlier this year: "We're investing time and effort into trying to help the country work through what it needs. We're focusing on outcomes for PNG, as opposed to just selling them equipment."
In February 2016, two young Papua New Guineans began a two-year graduate engineering program with GE.

Target: PNG

Every graduate-training program is hunting for the best and the brightest to bring into their company. But with PNG high on the agenda for GE in the region, it was decided to create an even more finely targeted program, to bring PNG nationals into GE. "I started connecting with the universities and found out there were a lot of Papua New Guinean students in Brisbane and Sydney," says Stuart Clark, talent-acquisition partner and university-relations manager for GE Australia, New Zealand and PNG. "So we started putting some flyers out." Ahead lay many months of figuring out how the program would work from an immigration perspective, but in the meantime it was encouraging that applications were coming through. (GE also has plans to bring on PNG student interns later this year.)

"We want to go back and help build our nation"

The chosen two were Michael Brownjohn, 24, and Joshua Watinga, 25, both civil-engineering graduates from Queensland University of Technology. They both grew up in Port Moresby and went to the same high school there, though Brownjohn came to Brisbane, where he boarded for years 11 and 12. "My dad thought it would be easier to transition to uni from there," he says.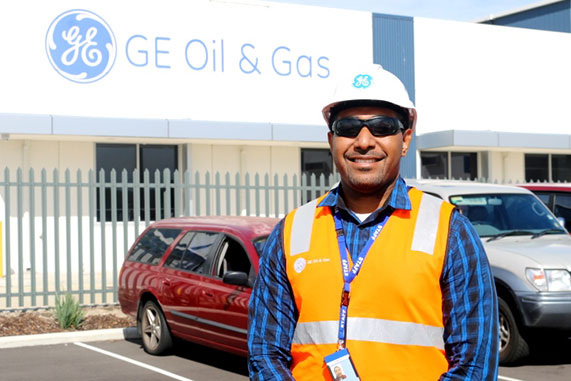 Watinga's family comes from Mount Hagen in PNG's famed Western Highlands, and also Milne Bay. Brownjohn's family is from the Sepik region, "though my father is actually British, but grew up in PNG since he was 20", and, he adds, is more Papua New Guinean than British. Brownjohn also added a masters of project management to his resumé after finishing his civil engineering degree. "I had some spare time," he says with quiet understatement.

Brownjohn and Watinga have kicked off their training at GE's technology and learning complex in Jandakot. "The whole goal of this program is to figure out what we're good at and from there they'll develop us … depending on how well we do with a particular task," says Brownjohn. "We work for GE Oil & Gas in the Turbomachinery Solutions Department," says Watinga, "so we deal with turbines and all the things that GE can provide to an LNG plant. They've assigned us each to two different projects. Michael's going to Gorgon LNG, and I'm on Wheatstone LNG."

"The overall goal is to become a manager, but to have that engineering understanding of the project as well," says Brownjohn. "They're training us in engineering project management," adds Watinga. "We always wanted to finish uni and go back and help build our nation, and this is what we're going to do."

"A vast experience in a short time"

Ali Badreddine is project director for GE Oil & Gas on the Chevron Gorgon and Wheatstone projects, and he's also mentoring the two PNG graduates. As he describes his plan for them, it's clear that they've fallen on their feet way beyond being the successful applicants and finding a great share house where their meals are included in their rent.

Badreddine, an 11-year GE veteran, has the approach that every new recruit would wish for, in any profession. "I don't like to see people waste 10 years doing something ... when we can help them in a couple of years," he says. "We're getting fantastic people in from this new generation, very intelligent and not only from an academic perspective but they've got emotional intelligence, good characters and personalities and you can see they're going to be future leaders, and that makes me proud to have them come into a company like GE, because we build them and create great leaders for all the businesses."

He's devising a program for Watinga and Brownjohn that will both fast-track and broaden their skills. "They're bright lads … we have very high hopes for them," says Badreddine. "Even though the project is called the graduate engineering program, I'm not sticking to engineering, because when they go back to PNG, they're going to be a part of a small, young group, and they need to understand how to deal with customers, quality management, project management, how to analyse and resolve engineering issues, contractual issues. It could even be sales or marketing; it could be anything. I'm trying to give them a vast experience in a short time, understanding how these things come together and how the jigsaw is put together."

To reveal the many puzzle pieces in just two years, Badreddine says his approach is, "to put them in the deep end, but I don't leave them to drown. They have to swim, and they have to survive, and it teaches them a lot." That means going on-site for the Chevron LNG projects and working on the more corporate side of the operation, too. "I bring them into the city to have customer meetings, conference calls and face-to-face meetings," says Badreddine, "so they get the hang of dealing with an international oil company. They'll have very bright futures."

"We know what needs to be done"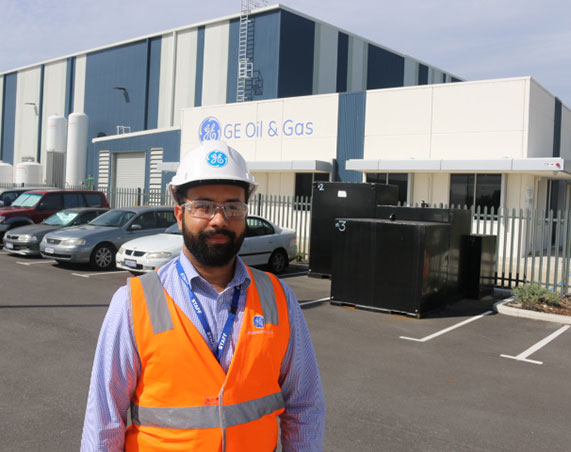 "Our generation has the task of helping our country," says Brownjohn. PNG, he adds, is a young nation "and there have been mistakes and there are challenges to overcome. People like Josh and I, with the help of GE, can help push the country forward … with healthcare, power and water and oil and gas. It's good that companies like GE are investing in the younger generation. That's where the future lies."

Watinga echoes his colleague, and adds some sombre historical context. "When our parents were our age, growing up, their systems were way better than what we have now, because they had a more colonial influence," he says. "As Papua New Guinea has gained control of running its own country, those services have deteriorated ... and we were the ones who grew up during the degrading of these services and systems. We know what needs to be done, and as a young generation with that drive and that zeal ... we can improve people's lives back there in PNG for the next generations to come. Going back to PNG to do that with a company like GE puts us in a position of improving our country."

Neither man resiles from the fact that they have both an opportunity and a duty ahead of them. "A company like GE covers a lot of areas—power and water, healthcare, oil and gas, aviation—these are things that are going to be big in PNG ... to develop the country," says Brownjohn. "For us to be here to help drive that is quite a privilege, really. Quite an honour."
tags