Steam Turbine upgrade project supported NTPC's Ramagundam Power Plant Unit 1&3 with average -9.9% improvement in turbine heat rate, turbine life extension by 20 years and average +3.8% points improvement in thermal efficiency of both the units.
The upgraded units will support 2.12 lakhs Metric Ton/year potential annual savings in coal consumption for the Power Plant.
The project reduces 2.34 lakhs Metric Ton/year CO2 emissions for the area and is aligned with the government's aim of Net Zero 2070.
New Delhi, India, 30 November 2022: GE Power India Limited (GEPIL) and its affiliates in consortium with NGSL today announced milestone results achieved from its steam turbine renovation and modernization project at NTPC's Ramagundam, Super Thermal Power Station, 3X200 MW unit 1&3, completed in 2021 and 2022, respectively. The plant is located at Ramagundam, Telangana.
This is first of NTPC's energy efficient Steam Turbine project carried out and the team was able to deliver better than the agreed contractual commitments on output and performance, setting a new best-in-class performance benchmark for the heat rate for these units. Following the success of units 1&3, the team is now gearing up for installation and commissioning of unit 2.
The combined additional 20 MW output generated from both units will provide electricity to approximately 44,100 Indian houses. The reduction in CO2 emissions is equivalent to *141,200 cars taken off the roads.
Supporting the 'Make in India' initiative by the government of India, some parts of the project requirements were fulfilled locally from India, including LP turbine manufacturing, and supply by the GE facility in Sanand, Gujarat and sourcing of critical auxiliary components from various vendors in India.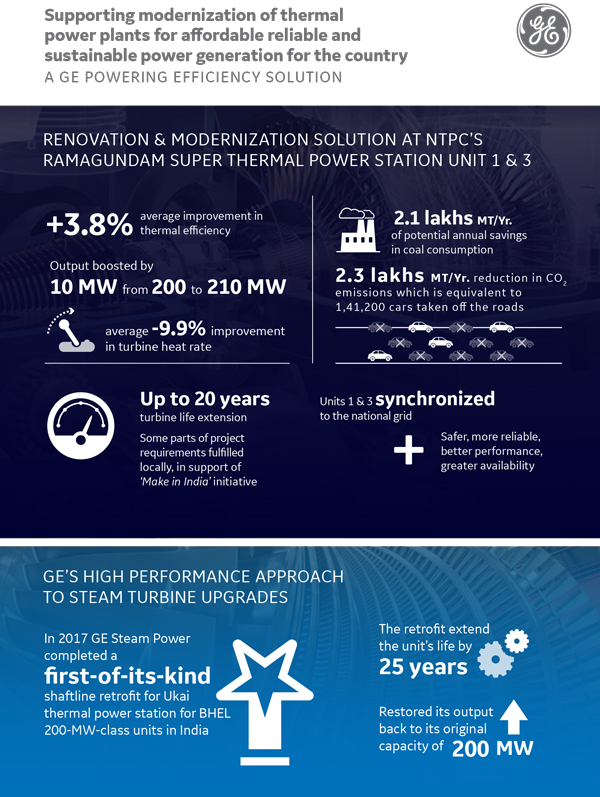 Prashant Jain, RGM - GE Steam Power and MD - GE Power India Limited said, "I am very proud of the team who delivered over and above the agreed results to the customer. This project supports the decarbonization story of India with solutions aided by more efficient and flexible power generation solutions. Upgrade projects like these are aimed at increasing power, efficiency and reliability while also reducing emissions and will better position the country to meet future energy demands".
In 2017, GE Steam Power completed a first-of-its-kind Steam Turbine shaft line retrofit for Ukai thermal power station for BHEL 200-MW-class units in India, aimed at increasing power, efficiency, and reliability while also reducing emissions. Not only did the retrofit extend the unit's life by 25 years, but also restored its output back to its original capacity of 200 MW.
About GE Power India Limited
GE Power India Limited (GEPIL) which is part of GE Steam Power is one of the leading players in the Indian power generation equipment market. Hydro and Gas business are also housed in GEPIL in addition to Steam Power. Today, with the expansion of economy, globalization, innovation, amidst political and economic challenges, GEPIL has successfully partnered in the modernization and growth of Indian infrastructure. It has a countrywide presence of sales offices and workshops. GEPIL's manufacturing unit located in Durgapur, West Bengal and Noida. GEPIL continues to offer a comprehensive portfolio of power generation solutions with a focus on emissions control and services portfolio providing sustainable, affordable and reliable electricity: https://www.ge.com/in/ge-power-india-limited
About NGSL
NTPC GE Power Services Pvt. Ltd. a 50: 50 Joint Venture Company formed through the partnership of two leading Companies, NTPC Limited, and GE Power India Limited established in 1999. NGSL is a leader in executing retrofit solutions for coal based thermal power stations in India. NGSL provides cost effective, technologically advanced and environmentally friendly engineering solutions along with world class EPC services to customers enabling them to generate clean and efficient power. NGSL with its diversified portfolio is also executing KPI driven O&Ms (3000MW) & EPC for renewable projects. NGSL's aims to achieve profitable growth with the timely implementation of innovative and flexible solutions.
*Calculated as per Corporate Average Fuel Efficiency (CAFE) Norms for emission of CO2 emission for 2021-2022
For media inquiries, please contact:
Debanjali Chakraborty
Communications Leader
GE Steam Power & GE Power India Limited (GEPIL)
[email protected]
---
business unit