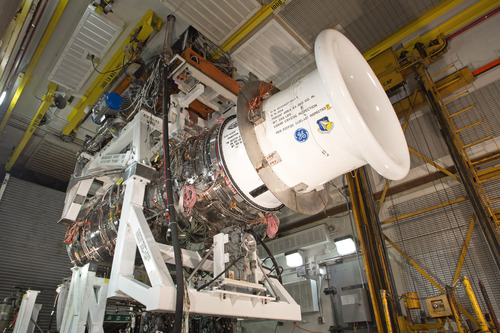 Categories
tags
People have been using ceramics to store food, drink tea, and tile their homes for millennia. But GE engineers recently upped the ante and started putting high-grade ceramics inside jet engines.
Their version is a light super material that combines silicon with ceramic-coated silicon carbide fibers. It is tough enough to take the heat and forces inside a roaring jet engine and outperform even the most advanced alloys, and light enough to shave hundreds of pounds off a jet engine. "We are pushing ahead in materials technology, which gives us the ability to make jet engines lighter, run them hotter, and cool them less," says GE Aviation manufacturing executive Michael Kauffman. "As result, we can make the engines, and the planes they'll power, more efficient and cheaper to operate."
GE is said today that it would invest $125 million and build a new 125,000 square-foot advanced manufacturing plant in Asheville, N.C., to make parts from the new material, called ceramic matrix composites, or CMCs.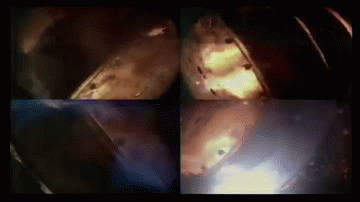 A hot oven "burns out" polymers and leaves a porous lattice made from ceramic-coated silicon carbide fibers in the shape of the desired part. Top image: Parts from ceramic composites will serve inside next-generation jet engines like the LEAP.
The first products will be stationary high pressure turbine parts for the next-generation LEAP jet engine manufactured by CFM International, a joint venture between GE Aviation and France's Safran. But CMCs, which weigh a third of metal alloys, could also find applications as light-weight turbine blades, rotors, and other parts. "When you start thinking about design, the weight savings multiplier effect is much more than three to one," Kauffman says. "Your nickel-based superalloy turbine disc does not have to be so beefy to carry all those light blades, and you can slim down the bearings and other parts too because of a smaller centrifugal force. It's just basic physics."
Engineers at GE Global Research and GE Aviation's pilot-scale production facility in Delaware developed the material over the last 20 years. They also designed the machines that manufacture CMCs. Pending final approval from the state of North Carolina, the Asheville facility would be the first of its kind in jet propulsion.
GE plans to use the Delaware facility to apply the highly engineered ceramic coatings onto silicon carbide fibers and then incorporate the fibers into flexible sheets together with polymers and other composite matrix materials. Workers in North Carolina will then cut the sheets into shapes, put them inside molds and compact them in giant pressure cookers called autoclaves, which make the parts take their form.
The parts then travel inside a hot oven that "burns out" the polymers and leaves a porous lattice made from the ceramic-coated silicon carbide fibers in the shape of the desired part.
The workers then melt silicon on top of the lattice and let the silicon wick its way into the shell's nooks and crannies. "The ceramic coating the fiber is the secret sauce," Kauffman says. "It allows us to use a relatively simple process to get really good infiltration."
Finally, the workers will use hard diamond grinders to get the desired part dimensions. "We often use ceramics as metal cutters, so we had to go to one step beyond, to diamond," Kauffman says. "This is a new process. We generally don't cut anything as hard as CMCs."
The company completed design freeze on the first two versions of the LEAP engine in June 2012. The first full LEAP engine, a LEAP-1A for the Airbus A320neo, is on schedule to begin ground testing in September of this year.
Boeing estimates that the world aircraft fleet will double in size over the next 20 years to some 40,000 planes. Much of the growth will come from single-aisle next-gen planes like the A320neo, Boeing's the 737 MAX, and COMAC's C919, the LEAP's target market. CMCs will also serve inside the new GE9X engine selected by Boeing for its future 777X aircraft program.
Southwest, Lion Air, AirAsia, Virgin America, Quantas and dozens of other airlines have already placed orders for more than 4,500 LEAP engines.
GE estimates that the new plant, along with plant and equipment upgrades across GE's facilities in North Carolina, could create 240 new jobs by 2017.
Categories
tags
Subscribe to Ceramic Matrix Composites