The United States became truly united on May 10, 1869, when two locomotives, one belonging to Union Pacific and the other to Central Pacific, drew nose-to-nose at Promontory Summit in Utah. Central Pacific boss (and Stanford University founder) Leland Stanford stepped into the space between them and drove one last golden spike into the ground, thus joining the rails of the First Transcontinental Railroad.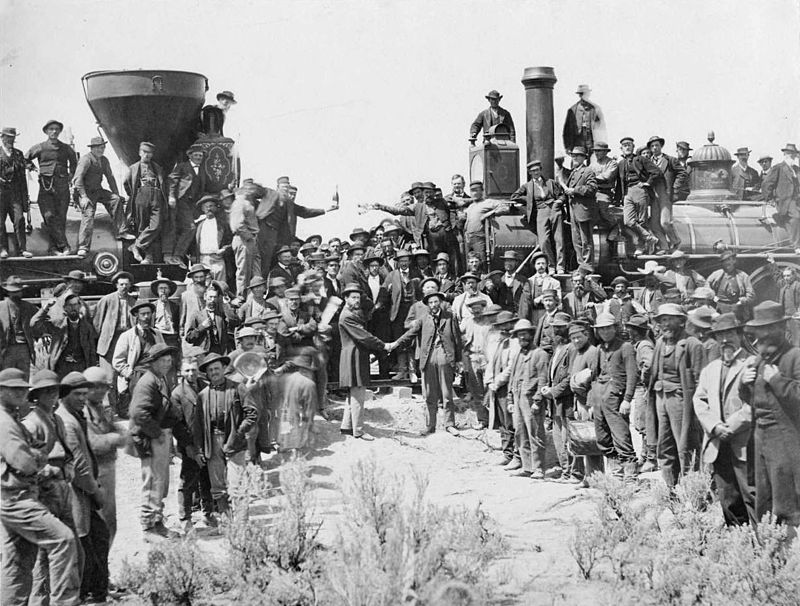 They've got a golden spike. The scene at Promontory Summit on May 10, 1869. Source: National Archives

In 2008, Amtrak began celebrating the anniversary as National Train Day, and the company will be holding events at dozens of train stations around the country this Saturday.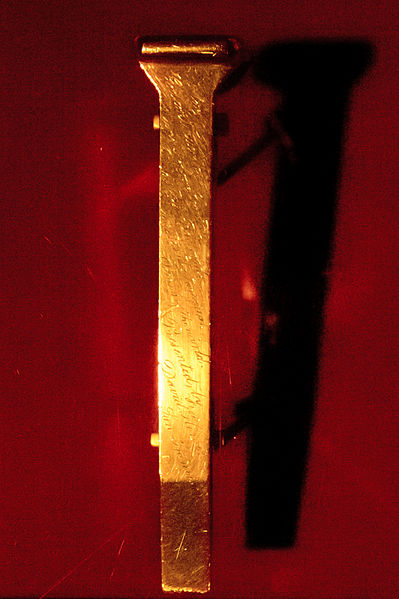 The original golden spike is now on display at the Cantor Arts Museum at Stanford University. Image credit: Wjenning

GE has been in the train business since the First Transcontinental Railroad days, and most of Amtrak's long-haul passenger trains today are powered by locomotives that GE custom-designed for the railroad.

On May 13, 1880, GE founder Thomas Edison ran his first electric locomotive on a 500-yard long test track in Menlo Park, N.J. Last year, GE unveiled the world's first locomotive that meets the EPA's stringent Tier 4 emission standards that will kick in on January 1, 2015.

Take a walk with us through GE's railroad history.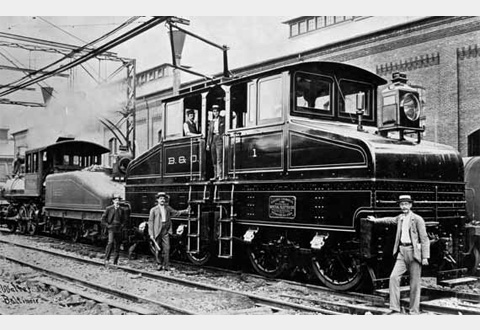 world's largest electric locomotive. It weighed 90 tons.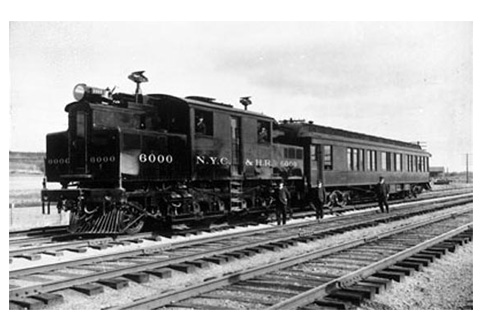 In 1908, GE supplied 30 gearless electric locomotives to New York Central Rail Road. A pair of these 2,800-horsepower machines could haul the heaviest loads of the day.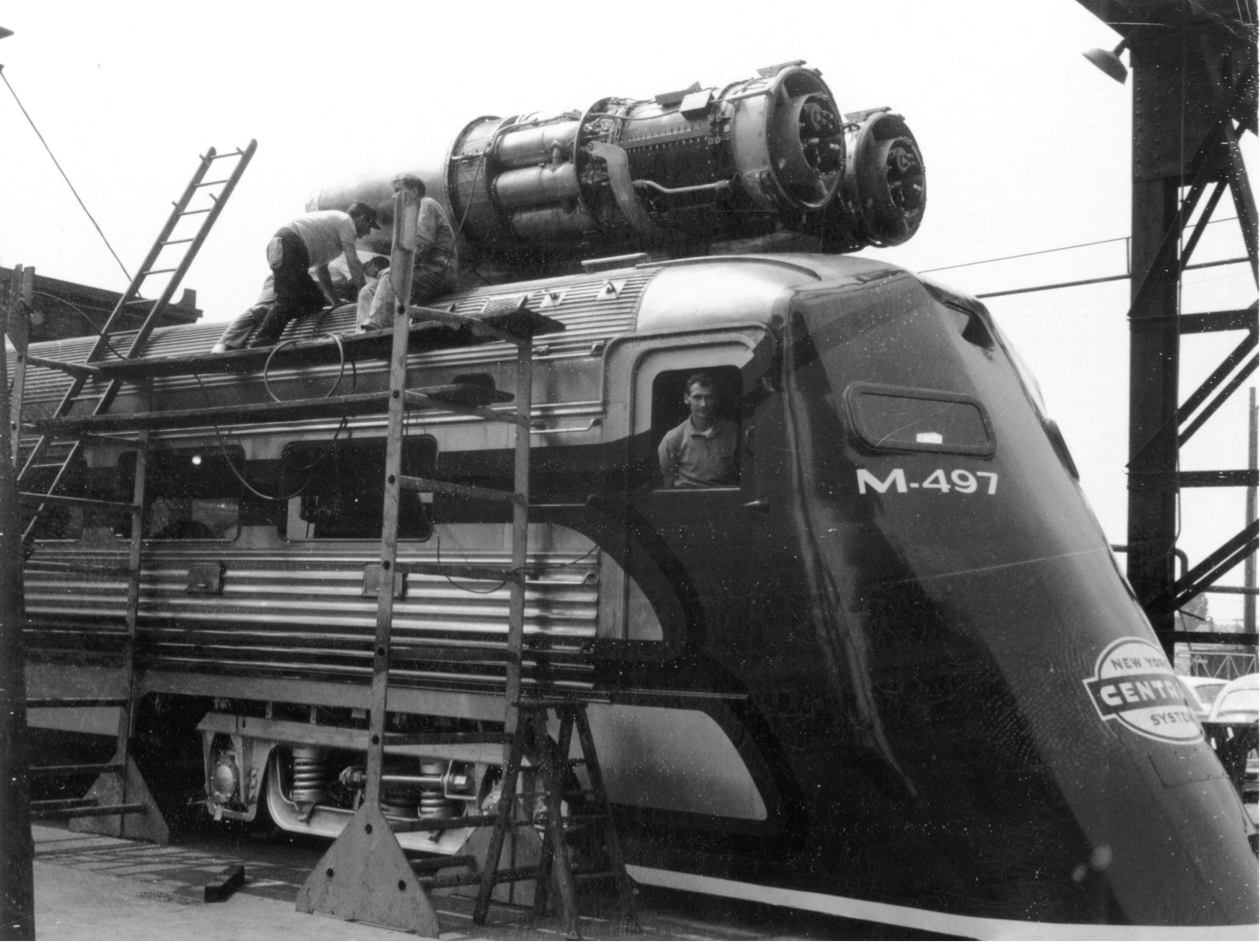 In 1966, New York Central engineer Don Wetzel (looking out of the driver's cabin in 1966 above and also below in 2014) attached two GE jet engines to the top of a commuter car and sped down a straight section of Ohio track at 183 mph, setting a world record for self-propelled trains recognized by Guinness World Records. No train in North America has gone faster since.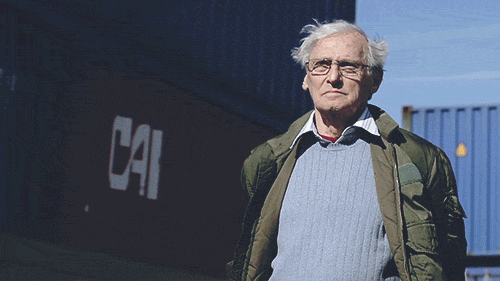 developed for Amtrak the GE Genesis locomotive. "At the time, France and Germany were already building futuristic-looking trains and that was what Amtrak was seeking," said GE's Bob Parisi, who helped design the locomotive. Mark Murphy, who runs Amtrak's long-distance routes, said that without the locomotive, "our network of 15 long-haul trains providing service to small towns and big cities across America would not be possible." 


In 2003, GE started building the Evolution Series locomotives. They are the most efficient locomotives GE has produced to date. If every train was powered by them, the result would equal to taking 48 million cars off the road every year, measured by smog-producing pollutants.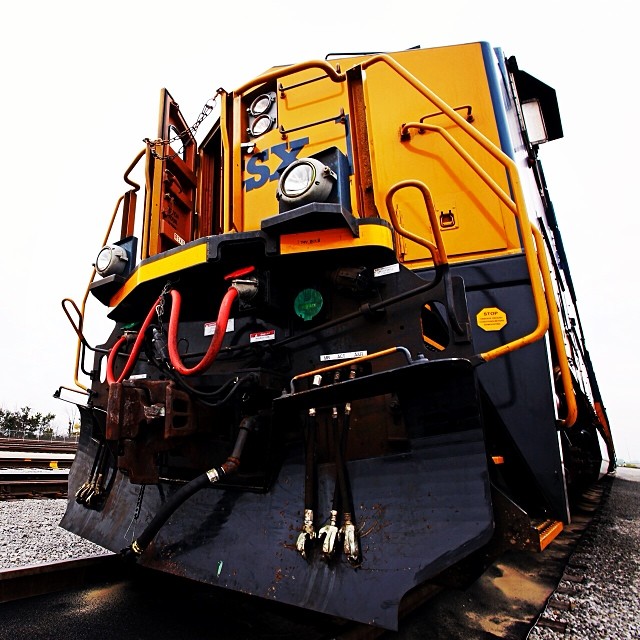 Besides being strong enough to pull the equivalent of 170 Boeing 747 jetliners, Evolution Series locomotives also carry 250 sensors and enough processing power to crunch 150,000 data points per minute.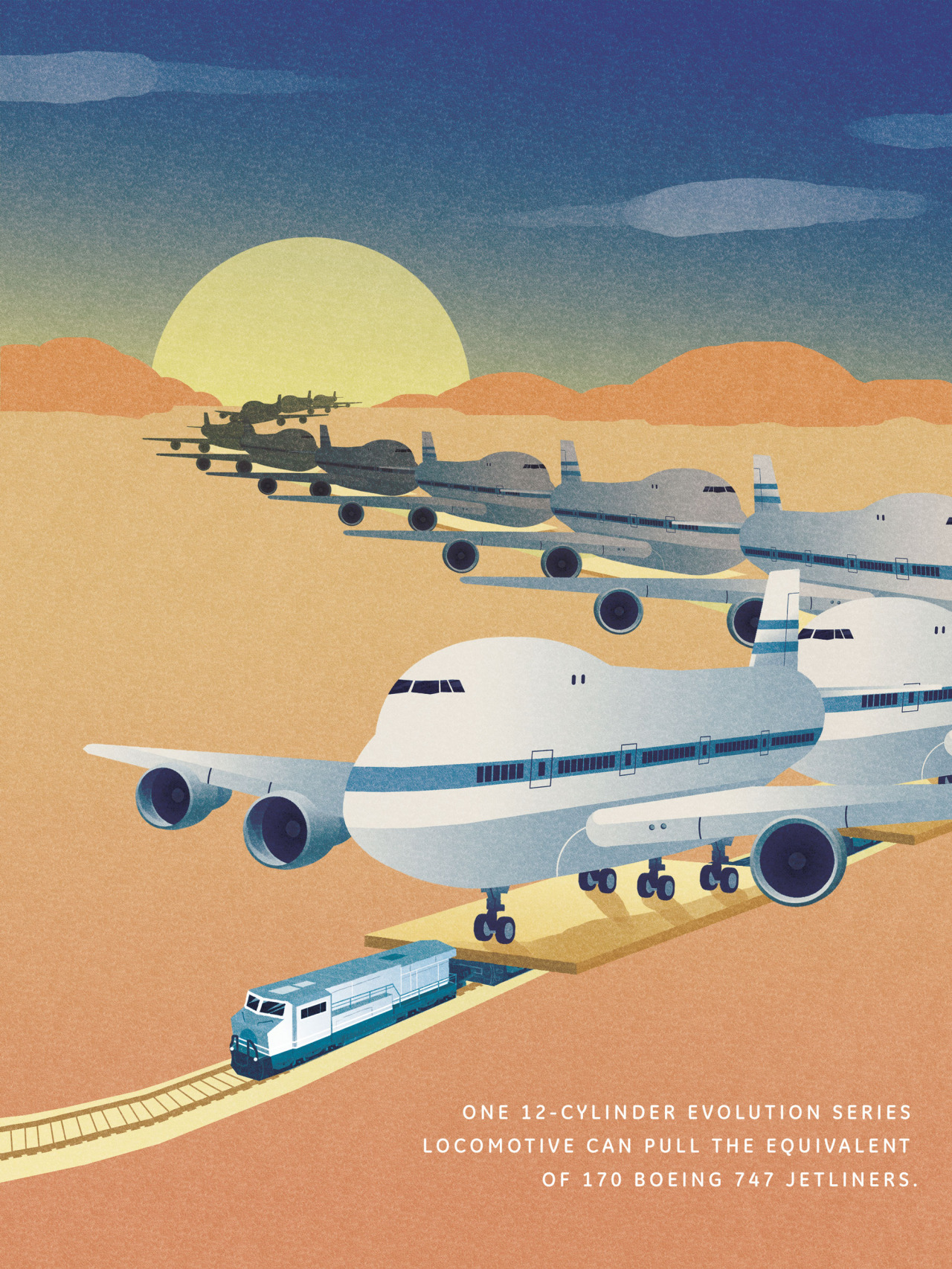 Customers like CSX connect their Evolution Series locomotives to the Industrial Internet with Trip Optimizer, a GE software system that analyzes everything from train length, weight and the number of locomotives to track grades and speed restrictions. Suneil Kuthiala, director of advanced engineering at CSX Transportation, explains that grades and rolling hills, for example, are opportunities to save fuel. "By using the kinetic energy of the train itself, you are actually not hitting the gas anymore," he says. "The energy of the train itself is cresting those hills."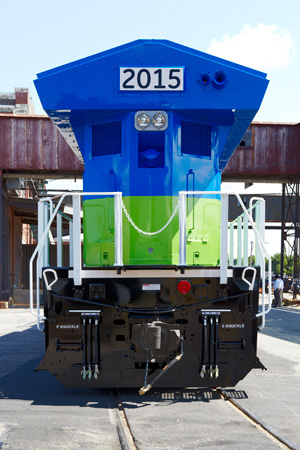 GE has invested more than $600 million to develop the world's first Tier 4 locomotive. A set of Tier 4 diesel locomotives is now undergoing endurance tests inside a GE locomotive plant.




GE is also working with CSX to retrofit Evolution Series locomotives to allow them to use liquefied natural gas (LNG) as fuel. "LNG technology has the potential to offer one of the most significant developments in railroading since the transition to diesel in the 1950's," said CSX Chief Operating Officer Oscar Munoz. Strategically located LNG plants could potentially reduce U.S. diesel use by up to 30 percent, according to the recent Age of Gas paper.
Categories
tags
Amtrak's Texas Eagle train runs south from Chicago to San Antonio and then west to Los Angeles. In early March, it has picked up for the return journey a load of bloggers, entrepreneurs and social media influencers headed for the SXSW Interactive festival in Austin, Texas. The idea was to spread the word about long-distance train travel and blog and tweet at #AmtrakLIVE during the 33-hour journey. "AmtrakLIVE had amazing scenery, engaging collaboration and the opportunity to explore and be inspired," said Julia Quinn, Amtrak's social media director. "It was all part of the Amtrak long-distance experience."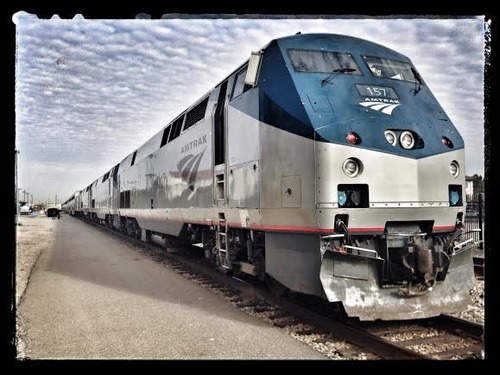 Three GE Genesis locomotives pulled the Amtrak "SXSW special" from L.A. to Austin. The bloggers occupied two carriages at the end of the train filled with ordinary travelers.
The Texas Eagle, like most American long-haul passenger trains, is powered by a GE Genesis locomotive. GE engineers built the machines for Amtrak in the 1990s, and they remain the staple of train travel outside the electrified northeast corridor. "It's a terrific locomotive, it's essentially what ties the country together," says Mark Murphy, who runs Amtrak's long-distance routes. "Without it, our network of 15 long-haul trains providing service to small town and big cities across America would not be possible."
The Genesis was conceived when Amtrak started looking for a new generation of passenger locomotives that could pull longer trains at higher speeds. "At the time, France and Germany were already building futuristic-looking trains and that was what Amtrak was seeking," says GE's Bob Parisi, who helped design the locomotive.
Parisi went to Europe and came back with a design solution called monocoque, where the outer structure carries most of the weight, kind of like an egg shell. This design was key to the Genesis since the locomotive weighs more than 268,000 pounds but has just four axles. It is also relatively small, since it must sneak through snug, century-old tunnels in the northeast. "Fitting all that weight in was by far and away the largest challenge," Parisi says.
The team came up with a sleek locomotive that sports a short bullet nose and can go as fast as 110 mph. Murphy says that Amtrak can run the diesel locomotives "in a pinch" even on the electrified route between Washington, D.C., and Boston.
The locomotive's 4,250 horsepower engine provides the train with "head-end power" used for lighting, heating, AC, cooking and, of course, WiFi for blogging.
The Genesis is using fully computerized diagnostics that allow the engineer to monitor the system and simplify maintenance and repair.
GE built several hundred of the locomotives. They helped Amtrak carry 31.6 million passengers last year, the most in the company's history. 2013 was Amtrak's 10th record ridership year in 11 years.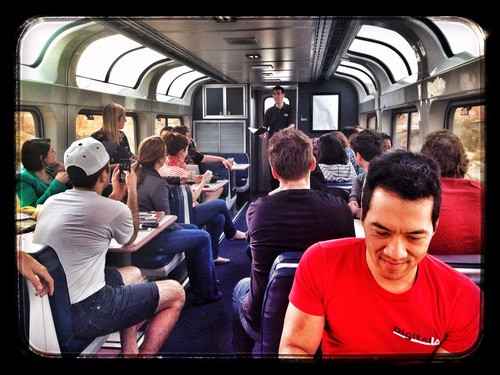 Social media influencers like Digital LA's Kevin Winston (front right) and BJ Mendelson (presenting) were aboard.
Amtrak calculates that rail travel is 17 percent more efficient than air travel and 34 more efficient than car travel. The company has cut diesel use by 6 percent over the last decade and it's been looking for new ways to reduce the use of petroleum products.
In 2010, for example, the railroad retrofitted a GE P32-8 locomotive so that it burned a 20 percent biodiesel mix made from beef tallow. It ran on the Heartland Flyer route between Oklahoma City and Fort Worth, Texas. The beef-powered train earned Amtrak a spot on Time's list of the 50 best inventions in that year.
Says Murphy: "We are constantly working with the engineers to make the locomotives as green as they can be."
tags
If you are reading this on a railroad platform while waiting to board a train home for Thanksgiving, pay good attention to your train's locomotive. In the early 1990s, engineers at GE Transportation designed the P42 Genesis diesel-electric locomotive for Amtrak, and the streamlined, low-profile engine remains a workhorse of the system. It can travel as fast as 110mph and pull 16 Amtrak Superliner coaches. GE manufactured more than 300 of them for Amtrak, Metro North and Via Rail.
In 2013, Amtrak trains carried 31.6 million passengers, the most in its history. It was Amtrak's 10th record ridership year in 11 years. Amtrak's Chief Mechanical Officer Mario Bergeron talked to GE Reports managing editor Tomas Kellner about the locomotives and Thanksgiving travel.
Thanksgiving is Amtrak's busiest time of the year. This Capitol Limited train pulled by three P42 locomotives is leaving Chicago for Washington, D.C.
Tomas Kellner: Congratulations on your record year. How does Thanksgiving travel fit in the numbers?
Mario Bergeron: Thanksgiving is the busiest travel period of the year for Amtrak. We're preparing for the influx in riders by adding capacity throughout our busiest corridors, including the Northeast Corridor, the Chicago hub, the Pacific Northwest and in California.
TK: Where do you see the heaviest traffic?
MB: The Northeast Corridor, which runs between Boston and Washington, D.C., is our busiest route. During the most recent fiscal year, Amtrak served 11.4 million passengers there.
TK: What role do GE locomotives play during Thanksgiving?
MB: GE's diesel-electric P42 Genesis locomotives are the workhorse of our system outside of the Northeast Corridor, which runs electric locomotives. For passengers traveling on short and long-distance trains this holiday, those are the locomotives that will get them to their loved ones.
Amtrak has enjoyed a long standing and healthy partnership with GE. These high-horsepower diesel-electric locomotives are essential to Amtrak in fulfilling its mission and meeting our passengers' mobility needs in a timely manner.
TK: What trains do they pull?
MB: The train routes span the entire country. They power the Capitol Limited between Chicago and Washington, D.C., the Cardinal between Chicago and New York, the California Zephyr, which runs from Chicago to San Francisco, and many others. The P42 Genesis locomotives pull single and bi-level passenger and baggage cars. This Thanksgiving, they'll be transporting people in coach, sleeper, dining and lounge cars, including our observation cars with floor-to-ceiling windows.
TK: I saw that one of the locomotives is painted in red, white and blue.
MB: We painted it those colors to commemorate the 50th anniversary of the Vietnam War. It also says on the side "America's Railroad Salutes Our Veterans." It travels around the country to support our veterans hiring initiative. We've made a corporate commitment to ensure 25 percent of our new hires are veterans by 2015.
Happy Thanksgiving and thank you for your time.
tags
Subscribe to Amtrak