Manufacturing is a notoriously finicky business. But smaller machine shops dependent on a handful of local customers in a single industry are particularly vulnerable to the whims of economic downturns. Since finding new work can be costly and time-consuming, some have been hoping for an Uber-like service for manufacturing.
The Maryland-based company Xometry recently developed that very model. Its software engineers have created a platform that connects businesses with a network of 2,500 manufacturers. Now a machine shop like Billet Studio — a specialist in computer numerical controlled machining located in Austin, Texas — can grow its customer base by logging onto Xometry's website and submitting bids for new projects. "Xometry functions as our sales-and-marketing arm, making it easy for us to take on work without the cost and hassle of quoting jobs," says co-owner Nick Aydelotte.

For companies on the other side of the equation — there are 10,000 members seeking manufacturing capacity — instant access to thousands of producers can be a lifesaver. In 2016 Ryan Lambert, an engineer who makes equipment for BMW's production lines in South Carolina, was struggling to find a supplier that could combine 3D printing with other traditional manufacturing techniques. He went to Xometry, uploaded his 3D CAD files and instantly received a list of quotes, delivery dates and full analysis of what type of manufacturing works best. "I use Xometry because it offers all the major manufacturing processes within one interface and takes care of fulfillment, so I don't need to juggle suppliers," Lambert says.

Xometry's network includes manufacturers with 13 different capabilities, including injection molding, CNC machining and additive manufacturing. Accessible via website or as an add-in to design software like Solidworks, the platform runs each project request through a series of algorithms to find the perfect match. "If a supplier is really strong at working with aluminum, we don't want to waste his time bidding on a job with steel," explains Xometry CEO Randy Altschuler. "Our platform doesn't only ensure that manufacturers get work, but that they get the right work." The right work sometimes comes from a completely new industry, he says, thus unlocking the door to a new line of business — and revenue — for a manufacturer.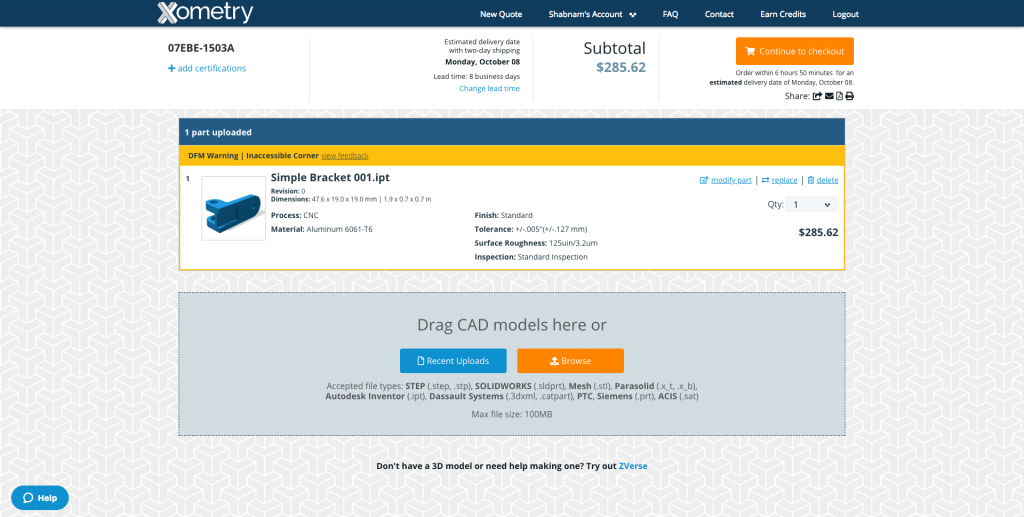 Categories
tags