Women in the aviation industry are among the most passionate people on the planet about their work. Like Keren Rambow, GE Aviation's regional general manager for the South Pacific, they want more girls to see the runway to opportunity in careers that span piloting, logistics, engineering, airport operations and more.
This year Cessnock Aerodrome is hosting Girls in Aviation Day, an internationally celebrated event that connects girls aged 8 to 17 with aviation experiences to inspire participation.



Start the morning on September 22 with breakfast in a hangar full of the coolest vintage aircraft. Lea Vesic is your guide on a program of guest speakers, workshops, industry networking and a tarmac tour that includes getting to know an Australian Defence Force aircraft.

Vesic is head of corporate partnerships and community outreach for the Australian chapter of Women in Aviation International (WAI). She became hooked on aviation in high school after an introduction-to-flying experience that led her to study Aviation Management at the University of New South Wales, and then gain her commercial pilot's license. Various roles, including as a demonstrator pilot of flight simulators and a private jet broker in Europe and Hong Kong, eventually saw her touch down in Canberra with a determination to change persistent sexist attitudes in and around aviation, and invite girls in!

With her WAI involvement and her day job at Recreational Aviation Australia, Vesic is perfectly placed to start conversations and "drive social change". She says although one of the biggest obstacles to girls participating in aviation is that they don't see enough female role models, another is that children, girls and boys, aren't introduced to a wide enough range of career opportunities when they're very young.

"I'd love everyone to get involved in aviation, because I love it," she says, "but it's more important that kids find their passion and pursue that." If a little girl sees a female pilot, or engineer or air traffic controller, says Vesic, she'll at least have those careers in mind as possibilities.

GE's Rambow, started her career in aviation studying high-energy astrophysics and electrical engineering with the Australian Defence Force Academy, and has traveled the world as an avionics expert with the Royal Australian Air Force. She says you don't need to be best in class at maths to pursue such a career — "I wasn't, I just worked hard."

Military aircraft are "so cool", says Rambow, "especially the avionics that enable them. And working with the RAAF you have incredible opportunities to fly around in all different kinds of aircraft." Like Vesic, Rambow is an activist for more girls seeing their future in aviation, talking at schools, and events and mentoring young women at GE.

In the lead up to Girls in Aviation Day, GE Reports talks to four other influencers and game changers in the air field.

Jade Esler, private pilot, Year 11 student, Merici College, Canberra
Jade Esler, now 17, has been flying as a passenger since she was one year old when her dad, Ben Esler was clocking up the experience for his private pilot's licence (PPL) and would take her up with him. She started taking the controls when she was 13 (with an instructor beside her), flew her first solo on the day of her 15th birthday, got her recreational pilot's license on the day of her 16th birthday and would have scored a youngest-pilot trifecta by gaining her PPL on her 17th birthday, but she says, "it was snowing and with gale-force winds, so I couldn't go up". She passed the test a few weeks later. "I can control a lot of things, but not the weather," she laughs.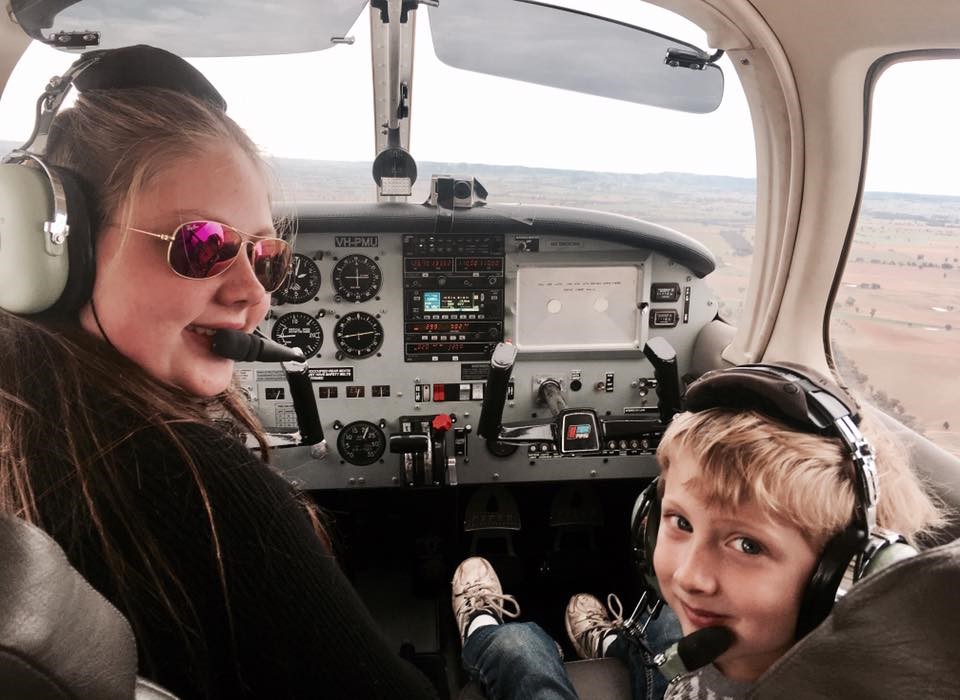 "It's funny when I land after a flight and my seven-year-old brother, Hunter, and I get out of the plane. Everyone looks at us very confused, as if to say, 'Isn't there someone else in there?'," says Jade Esler.

Esler has had to be organised to fund her own flying lessons, and do well in exams both in aviation and at school. Since the age of 13 she has paid for her flying by baking cupcakes — tens of thousands of them — through The Sugar Bite, the business she set up for the purpose.

Her plan, after the HSC next year, is to take a gap year hopefully get her commercial license and gain some experience on jobs flying in the outback, before embarking on a double degree in Languages and International Relations, at ANU in Canberra. Then she'll head over to Europe, to gain the specific qualifications required to fly the northern skies and apply for work as a pilot with budget airlines such as EasyJet, which she says "does an incredible job with lots of young, upcoming pilots".

"Being an airline pilot in Europe would be the best of all my worlds. I'd get to travel and use my language skills. And to fly and get paid for it is a completely novel concept for me!" says Esler.

Having a passion for flying is essential she says, "because it's expensive and it's difficult". Studying maths at a high level and physics has been helpful, and "being young and used to trying to understand things, has been an advantage." Among the incredible rewards, Esler says, is, "a real sense of freedom, especially when you're up there on your own", and the satisfaction of problem solving when your instructor cuts your engines and says, "Pick a paddock. Where will you land?"

Professor Gabriel Lodewijks, head of School of Aviation, UNSW

"We live in the 21st century and inequality should be in the past, but it's not. It's not something that will sort itself out by nature — you have to be active and do something about it," says Gabriel Lodewijks who has been head of UNSW's School of Aviation for the past 18 months. He gives his own number on the School website, inviting discussion of any gender, diversity and LGBTIQ issues because he wants to ensure equal opportunity in aviation studies.

He says the balance of young men and women is levelling across the faculty, with women making up one-third of students in the Bachelor of Aviation Flying strand and the Bachelor of Aviation Management already at 50% female students.

Lodewijks emphasises the wide range of opportunities in aviation, saying it's not just about those 640,000 new pilots the international industry will need in the coming two decades, although, he adds, "We're never going to get those numbers unless women consider flying as a career."

The very fact of this huge industry need he says, implies large numbers of roles as flying instructors, airline managers, freight logistics experts, and innovators in automation.

Lodewijks is himself researching how to improve the customer experience of automated check-in procedures which he says have not quite been designed for intuitive use and seamless functioning; and one of his students is developing a sensor system to detect pilot fatigue.

Shelby Tillett, Virgin Australia cadet pilot, Adelaide

Halfway through high school, the flying bug bit Shelby Tillett hard. "For as long as I can remember, I've loved watching and travelling on planes," says Tillett, now 19. "But growing up I didn't know anyone who worked as a pilot, so becoming one didn't cross my mind until later. I've considered countless career paths, but have never felt the same passion for anything as much as I do for aviation." After high school, Tillett started her Bachelor of Aviation at Griffith University in Brisbane. "It was fantastic for making connections, not only with pilots but other professionals involved in other aspects of aviation," she says. It was also where she found out about Virgin Australia's Cadet Pilot program.


"I was certain I had no shot at gaining a spot," says Tillett. She's super smart but she was wrong on that score: she's almost at the end of the 54-week course at Flight Training Adelaide, in Parafield, South Australia.

The cadet program has been running since 2012 and this May Virgin Australia announced that future intakes would target a 50/50 gender split. Virgin Australia Group Executive People, Lucinda Gemmell said: "In what's typically a male-dominated area of the industry, we're encouraging more females to consider aviation as a career … Globally, just 3% of pilots are women. Our previous pilot cadetships have had up to 50% females so we're confident we can reach this target this year." Applications have now closed for courses starting in January and June 2019. At the end of training, cadets graduate with a commercial pilot licence and are offered roles as certified First and Second Officers with Virgin Australia.

Shelby Tillett has some tips for young girls with their eyes on the sky. "Find a flying school near you and book a TIF (Trial Introductory Flight), and a few lessons if you can afford it, to ensure that this is what you're truly passionate about," she says. "Talk to as many people involved with the industry as you can to learn more about aviation and make connections. There are countless ways to get into aviation … if you remain focused on your goals, the sky really is the limit."

Captain Lisa Norman, Qantas pilot and Manager, B787-9 Introduction Flight Operations

She was the captain chosen to pilot the Qantas Boeing 787 Dreamliner on the first non-stop flight from Perth to London in March this year, but when Lisa Norman left school, she had no clue of what she wanted to "do or be", she says. "I knew I wanted to save the world and cure cancer but I didn't know how. I thought about being a doctor and did some work experience at the Royal Children's Hospital in Melbourne, but let's just say I wasn't very good at the sight of blood."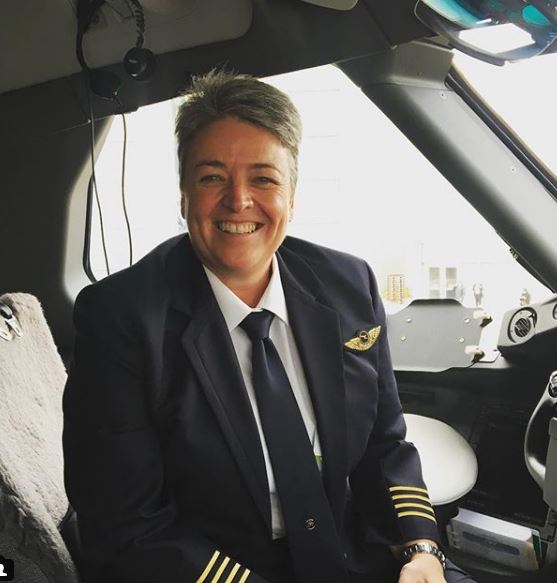 Captain Lisa Norman in a Boeing 787 cockpit.

Norman deferred to do a Bachelor of Microbiology and, working in a laboratory near a local airport, loved watching the light aircraft and thought maybe she'd fly as a hobby some day. Her uncle was an Ansett captain and with him she got to "see the jets up close and smell the jet fuel". Her best friend eventually told her "you are so hooked up on flying, you should do it as a career", and that was the moment her mental landing gear locked into place. "I said to myself 'I'm going to have a go!', so I wouldn't always wonder 'what if' when I'm 65."

Today "Captain Lisa" is something of a global aviation rock star following the history-making flight, and she relishes every moment of it. "I love the four-dimensional aspect of flying through space and the sense of freedom you get, and I love the challenge and the responsibility of being a captain," she says. "I love flying passengers home or on holidays, or to be reunited with loved ones. I have the best office view in the world; the different colours of the sunrise and sunsets—and the stars are unlike anything else."

Norman urges young women dreaming of a career in aviation to just do it. "More than anything, follow what most inspires you—you will be good at it and genuinely enjoy it!"

Her practical tips:

tags