Germany's huge new offshore wind farm Merkur is an awesome sight in its own right. But it's also a great illustration of why GE's decision to combine its Renewable Energy business with its Grid Solutions unit, announced today, makes a lot of sense.
Sitting in the slate-colored, choppy waters of the North Sea, Merkur's 66 huge Haliade wind turbines, made by GE, will have the capacity to generate 396 megawatts when the farm will be commissioned this year. That's enough to supply 500,000 European households.
These homes will receive Merkur's electricity through a state-of-the-art electrical superhighway in the form of a high-voltage direct current (HVDC) cable. This HVDC cable starts inside an 18,000-ton, cathedral-size yellow converter station in the middle of the sea and runs for 80 kilometers underwater. Once it reaches the shore, it extends another 80 underground kilometers before terminating at an inland converter facility. HVDC is far more efficient than more typical alternating current transmission over such distances.
Together, the wind farm and the transmission equipment will help Germany reach its goal of generating 80 percent of its electricity from renewable sources by 2050. But the technology also shows the power of GE's new, combined Renewable Energy business. With rotors that span 150 meters, the Haliade wind turbines were built by GE Renewable Energy and its wind blade subsidiary, LM Wind Power. The converters and the HVDC technology came from GE Grid Solutions.
Now those technologies will live under the same roof.  With more than 35,000 wind turbines installed globally, the vast majority on land, GE is already one of the world's leading turbine suppliers. The consolidated GE Renewable Energy will boast a streamlined portfolio containing all of GE's wind projects and tech — both onshore and offshore — as well as hydro, grid assets, and hybrid renewables including solar and storage systems. It also includes the manifold digital solutions that back up GE engineering worldwide. "With this move, GE Renewable Energy will have the most diverse renewable energy portfolio in the industry, offering customers the wide range of products and services they need to seamlessly bring green electrons to the grid from one fully integrated business," said Jerome Pecresse, CEO of GE Renewable Energy.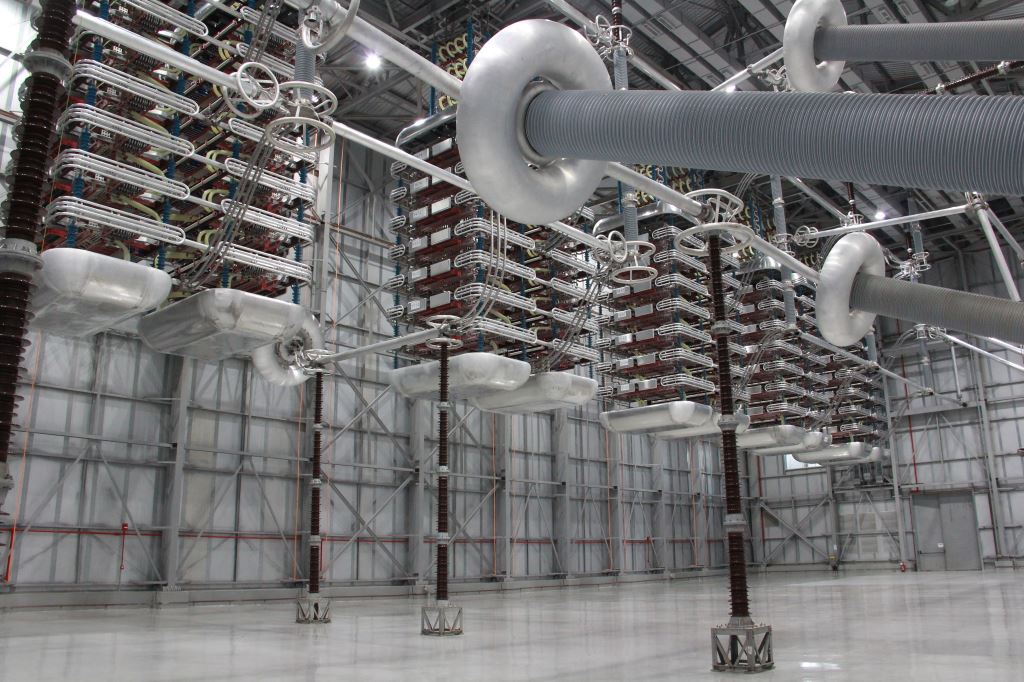 HVDC convertor station in Brazil. HVDC is far more efficient than more typical alternating current transmission over long distances. Image credit: GE Grid Solutions. 
These technologies are already powering a number of projects, besides Merkur. The hydroelectric unit, for example, has built turbines for a 1,000-megawatt pumped-storage plant burrowed deep inside an Alpine massif. Fit for a Bond villain, the subterranean facility will allow the Swiss utility Axpo to efficiently store energy from renewables and other sources. In New York, GE Solar is helping Schenectady County boost its generation capacity from photovoltaic panels, thereby reducing emissions. In India, GE engineers combined a solar and a wind farm into a seamless hybrid, and the team is now looking to add batteries to the system. And in Ireland, the business already paired up an onshore wind farm with batteries to supply a Microsoft Corp. data center more efficiently and sustainably.
"Onshore Wind is our core, and we win or lose locally," Pecresse said. "The goal is to provide our Onshore Wind region leaders and their teams with a simpler structure, and more authority and accountability that enable us to compete and execute better locally."
With more than 40,000 employees and over $16 billion in revenue, the new structure will give the business the size and scale it needs to expand, GE said. Renewables are the fastest-growing energy market. More than two-thirds of global net electricity capacity growth, amounting to 178 gigawatts, came from renewable energy in 2017, according to the International Energy Agency.
Categories
tags