The rural health clinic in Kimalamisale, Tanzania, sits at the end of a rutted sandy road some 160 miles from the nearest large town. Although the brightly colored concrete structure serves thousands of villagers living in the surrounding savannah, it has no electricity and its main healthcare equipment consists of a stethoscope, weighing scales and a blood pressure machine.
The clinic is a snapshot of the challenges facing Africa – 60 percent of Africans live without electricity, and although the continent bears a quarter of the global disease burden, healthcare spending is just 1 percent of the world's total, according to a recent report by McKinsey.
But the prognosis is improving. Governments across the region are investing in healthcare infrastructure and reforms. South Africa has committed to building 43 hospitals and 213 clinics over the next five years as part of its National Health Insurance System. Nigeria will receive its first 1,000 bed hospital through the Dangote Foundation in the coming years. (For more information on electrification look here)
It's not an easy fix. Experience has shown that what works in American hospitals won't work in Africa. At least 40 percent of hospital equipment in Africa is out of service because of lack of spare parts and training for healthcare professionals. This compares with just 1 percent of equipment in high-income countries. "Hospitals are not hotels," says C.J. DeAngelo, a healthcare technology planner with GE Healthcare. "They are highly technical, designed buildings that live and breathe."
DeAngelo has been working with African healthcare providers for several years. He says that focusing on the basics like infection control, patient safety, training and staffing is a good way to start.
DeAngelo says that new African hospitals are using natural cross ventilation, secluded wards and an effective triage system to help reduce the spread of infectious diseases such as tuberculosis. He says that simple measures like having a hand washing station no more than 20 meters away anywhere in the hospital help prevent hospital acquired infections.
In Kimalamisale things started changing in 2012, when a trained nurse arrived with a pocket-size ultrasound machine called Vscan. Her visit was part of a research study designed to test innovations that will help speed up governmental efforts to meet the United Nation's millennium development goals in Africa. The study was developed by Tanzania's Ifakara Health Institute in partnership with GE's healthymagination campaign.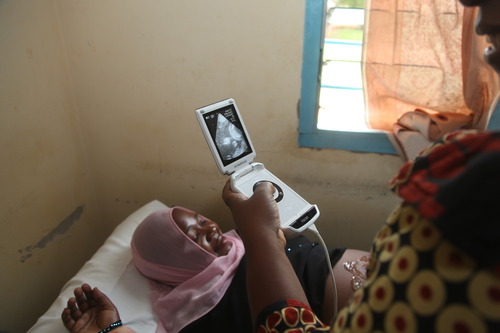 A nurse midwife is using a Vscan to image a pregnant woman in Tanzania. Top Image: Devotha Mathias Chizima traveled to the Kisarawe District Hospital for her ultrasound scan.
Ifakara trained a total of 14 nurse midwives in ultrasound scanning. They fanned out across the Kisarawe district, population 230,000 of which 28 percent are women of reproductive age, to five rural clinics like the one in Kimalamisale, and also to a district hospital. "Newborn and maternal health is the most critical health issue in Africa, ahead of malaria or AIDS," says Janeen Uzzell, director of healthcare programs for healthymagination in Africa.
In Tanzania, hemorrhage, obstructed labor, sepsis and other pregnancy complications cause 454 maternal deaths per 100,000 live births. That's more than three times higher than U.N. goals.
The rural clinics in Tanzania rely on solar panels for electricity, lack telephone service, and have bad roads and no ambulances. But the team developed a system for charging the Vscans with solar power. Kallol Mukherji, GE program manager in Tanzania, says that he was initially surprised when the women in Tanzania showed no emotional reaction to the images on the ultrasound screen. "They thought that we uploaded the picture beforehand," he says. "They did not believe that you could actually see your baby before it's born through a device."
"We don't just have a product," Uzzell says. "We have a visualization tool that can help change maternal and newborn health in Africa."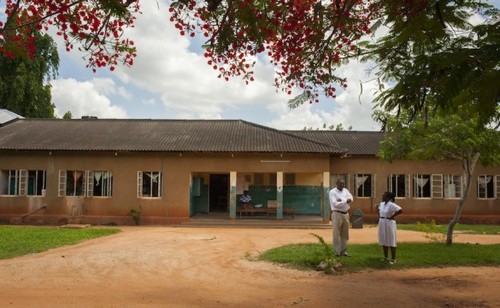 The Kisarawe District Hospital in Tanzania. Some 40 percent of equipment at African hospitals is not working because of lack of technicians and spare parts. GE Foundation, along with Engineering World Health and Duke University's Developing World Healthcare Technology Laboratory, will invest $1.5 million in a biomedical equipment technician training program in Nigeria to fix broken machines.

Categories
tags