Beyond the several thousands of U.S. companies that benefit directly from Ex-Im financing, the Bank is critical to tens of thousands of smaller companies that supply goods and services to large exporters.


In a hearing of the House Financial Services Committee earlier this month on the future of the U.S. Export-Import Bank (Ex-Im), a number of conservative lawmakers made reference to "What is Seen and What is Unseen," an essay by the 19th century French political economist Frederic Bastiat.

While they were attempting to draw attention to Ex-Im's supposed unwitting victims, one of the bank's unwitting beneficiaries made a surprise appearance as a witness.

As the Chamber has often pointed out, Ex-Im – whose charter expires Tuesday – is critical to the small- and medium-size exporters that account for nearly 90 percent of its transactions. The Bank supports more than 150,000 American jobs at 3,000 companies that export.

In addition to these direct beneficiaries, tens of thousands of smaller companies that supply goods and services to large exporters also benefit from Ex-Im's activities. GE has more than 30,000 small and medium-size suppliers, and Boeing has more than 14,000.

In an effort to highlight a small but successful exporter that hasn't used Ex-Im's services, Chairman Jeb Hensarling's staff invited Rachael Cox, vice president of business development for Conway Machine Inc. in Conway, Arkansas, as a witness.

Cox expressed well-earned pride about the business success and job creation achieved by her company. Established in 1972 as a tool and die shop, Conway Machine has proven nimble — in the best tradition of American entrepreneurship — in reinventing itself. As the firm'swebsite reports, "By 1980, the tool and die division had been eliminated, and Conway Machine had begun its rise to be one of the leading worldwide manufacturers of aftermarket parts for the folding carton industry."

However, committee staff were apparently unaware that as a supplier to Galley Support Innovations — which in turn is a supplier of Boeing, Gulfstream and other large aerospace manufacturers — Conway Machine is a beneficiary of Ex-Im's activities as well.

As Congressman Denny Heck of Washington diplomatically pointed out, Conway Machine is among the many American companies that take part in complex global value chains: They buy materials, parts, and components and add value as they assemble and contribute their own innovations to finished products. When big companies export — in this instance, using Ex-Im — these smaller firms hitch a ride and share in the benefits.

This back and forth in a congressional hearing shows that the real world has a way of intruding on economic theory that must be taken into account.

Contemplating Ex-Im's role, Stan Veuger, a resident scholar at the American Enterprise Institute (AEI) whose academic research focuses on political economy and applied microeconomics, asks: "Why would the federal government want to engage in those kinds of activities [i.e., export credit]? Because the world is not one frictionless credit market."

Faced with the reality that every major trading nation has an Export-Import Bank of its own, the United States has in its own version "a federal-government program of at most negligible cost that helps exporters compete with foreign firms, in foreign markets, on, yes, a level playing field," he adds.

Veuger warns against the "utopian views of some libertarians, who believe that a fallen world can make do with the Garden of Eden's governing institutions" — and without Ex-Im.

With the succinctness of Twitter, former Congressional Budget Office Director Douglas Holtz-Eakin has tweeted much the same thing: "I'd love to live in a world where we don't need @EximBankUS. But this is not that world." We agree.

(Top image: Courtesy of Thinkstock)

This piece first appeared on the U.S. Chamber of Commerce blog.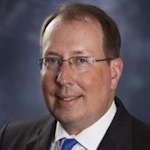 tags