Scott Latham spent 35 years working at GE's Appliance Park in Louisville, Kentucky. "Thirty-four of those years were spent phasing out products," the plant manager says.
But this year is different. In February GE started building GeoSpring hybrid water heaters at a new $38 million plant in Louisville, the first new GE factory in the city since 1957. Tomorrow, it will open another plant making high-tech refrigerators. "GE has invested in us and the city of Louisville," operations manager Scott Douthett says. "The company is committed to building new innovative products in America." His colleague, team leader Geoffrey Henderson, agrees. "Reviving American manufacturing isn't going to be decided by the government," he says. "It's going to be decided by companies like GE."

The new plant is part of a $1 billion drive to bring new appliance lines to the U.S. and open 1,300 new jobs at GE plants in Louisville, Bloomington, Indiana, and Decatur, Alabama.

Like the GeoSpring line, the new factory is using Lean manufacturing methods to cut waste and boost quality. "We pulled out all the stops to stay competitive," says Lean leader Chet Innamorati. "We used people across the park, if they had tooling background, regardless of product line, we pulled them in," adds design engineer Berny Klaus.

Klaus' colleague Mike Hillerich, whose father and grandfather also worked for GE, says that "the rebirth here is really exciting. I like the idea of working here another twenty-plus years and retiring."

Everyone in Louisville seems to be eager to see the plant open. "Our mindset has to be faster, faster, faster," says Scott Shaver, the leader of the refrigerator project. "Sure it's scary, there are lots of things to figure out. But it's so exciting. When we start seeing those refrigerators come chugging down the line, it will be a rush."

GE Chairman and Chief Executive Jeff Immelt will be on hand when the plant opens on Tuesday. Be sure to follow our coverage. In the meantime watch our time-lapse video chronicling the construction of the new plant.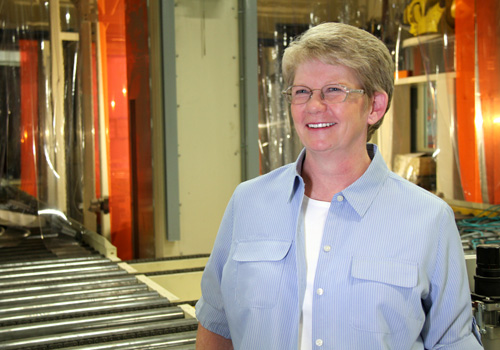 Debbie Patton, team leader: "I realized I had to make changes and become more competitive. Employees have to change and the company has to change in order to continue to grow and bring jobs back. It's a wonderful opportunity for GE and its employees. Maybe someday my grandkids will be able to work here."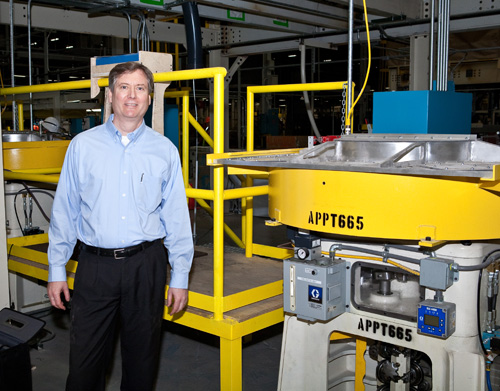 Scott Shaver, mission 1 leader: "In my 28-year career, it's always been about survival." But Shaver now sees a much more positive future. His son also wants to work at GE. "That seems possible now. Very possible."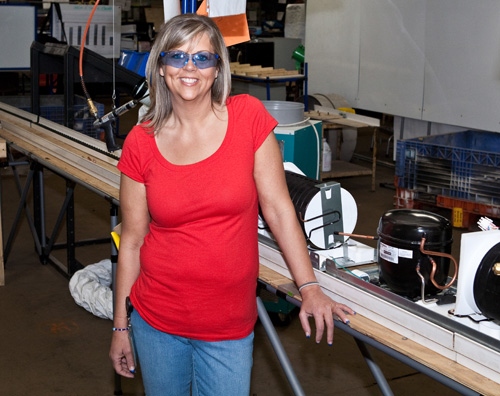 Cindy Luckett, team leader: "I'm excited because I get to be part of the change. I'll be the change."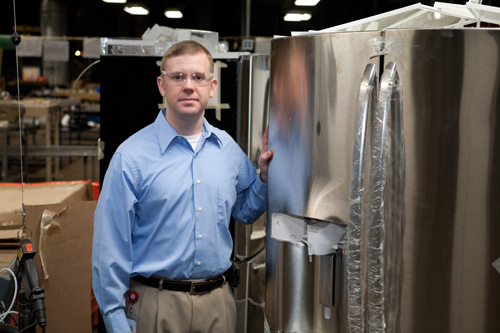 Berny Klaus, lead design engineer and U.S. Army veteran: "While deployed, I could step back and see what my unit and I were doing for our country. Now I am here and doing something at GE on the same scale. That's pretty amazing."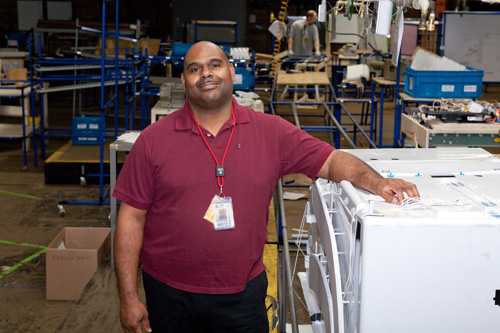 Geoffrey K. Henderson, team leader: "I'm learning 13 jobs in my section so when my team members come in, I can train them and if they have problems, I can jump in and help them."
Chet Innamorati, Lean leader: "In addition to jobs in the factory, this means American supplier jobs for parts and service. We're going to assemble an awesome product in the U.S."
tags