Mighty 5 or MITI-V is not the name of a new team of superheroes, rather it is the acronym for Malaysia, India, Thailand, Indonesia and Vietnam – five nations predicted to be among the 15-most competitive manufacturing countries in the world by 2020.
This prediction is based on the 2016 Global Manufacturing Competitiveness Index (GMCI) report published by Deloitte Touche Tohmatsu, and the US Council on Competitiveness. According the report, by 2020 MITI-V represents a potential "new China" in terms of low- cost labor, agile manufacturing capabilities, favorable demographic profiles, market and economic growth.

MITI-V nations also share a desire to fast track their Industrial Internet of Things (IIoT) or Industry 4.0 readiness through government, and private sector programs. Across ASEAN in fact, 4.0-focused spending is expected to grow in value by 35% from US$1.6bn in 2015 to reach US$7.35 by 2020.

Trends driving this, as well as innovative enterprise case studies, proof-of-concepts and R&D across Asia were showcased at the Internet of Things World Asia summit held in Singapore in early October.

Among the more than 2,500 tech professionals attending the event was Alvin Ng, the General Manager ASEAN for GE Digital. In addition to participating in a panel discussion – "Identifying Core Process Efficiencies Driven by IIoT" and a round table - "Developing Strategies for IIoT," Alvin spoke with GE Reports to share his insights from the sessions.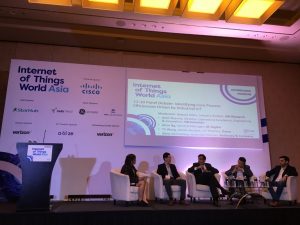 tags