Dari luar tidak ada yang tampak berbeda pada pesawat Boeing 737 MAX 8 yang dioperasikan oleh United Airlines dalam penerbangan dari bandara O'Hare, Chicago, menuju Reagan National Airport, Washington, dengan 115 penumpang kemarin. Namun, pesawat itu sedang mengukir sejarah. Pasalnya, pesawat tersebut merupakan penerbangan komersial berpenumpang pertama yang menggunakan 100% bahan bakar berkelanjutan atau sustainable aviation fuel (SAF) siap pakai pada salah satu dari dua mesinnya.
"Penerbangan berbahan bakar SAF pada hari ini bukan saja menjadi sebuah tonggak sejarah yang penting dalam upaya untuk melakukan dekarbonisasi dalam industri penerbangan, namun dengan adanya peningkatan komitmen di kalangan industri untuk memproduksi dan membeli bahan bakar alternatif, maka saat ini kita tengah memperlihatkan kepada perusahaan-perusahaan lain cara untuk bersama-sama memberi dampak yang besar dan signifikan serta berperan dalam menanggapi tantangan terbesar dalam kehidupan kita," kata CEO United Scott Kirby yang juga berada dalam penerbangan tersebut.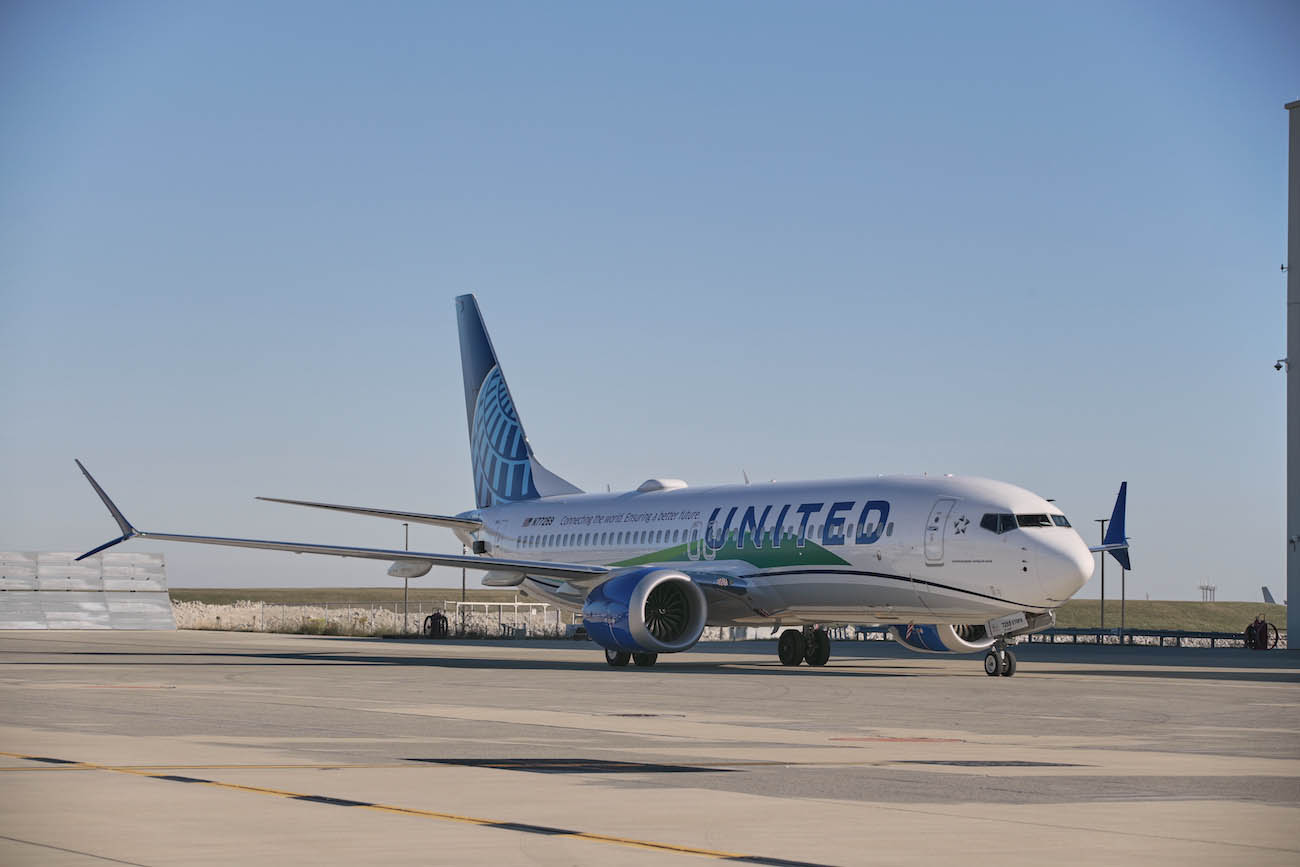 Pada penerbangan itu juga ada CEO GE Aviation John Slattery. Pesawat tersebut menggunakan sepasang mesin LEAP-1B buatan CFM International yang merupakan perusahaan patungan 50-50 antara GE dan Safran Aircraft Engines. GE juga tengah melakukan penelitian tentang penggunaan SAF pada mesin-mesin buatannya. Sejumlah penerbangan yang dioperasikan oleh Etihad Airways dan British Airways baru-baru ini menggunakan bahan bakar dengan campuran SAF. GE Aviation juga sedang bekerja sama dengan Emirates dalam sejumlah rencana untuk melakukan uji coba penggunaan 100% SAF di tahun 2022.
Saat ini, berbagai standar internasional yang mengikuti proses yang dikembangkan oleh ASTM International, yakni perusahaan yang mengembangkan standar-standar teknis, mengizinkan maskapai untuk menggunakan bahan bakar dengan campuran 50% SAF dalam penerbangan komersial. Jadi pada penerbangan demonstrasi ini, United menjalankan salah satu dari dua mesin pesawat tersebut dengan avtur jet biasa, sedangkan satu mesin lainnya dijalankan dengan SAF 100% - sekitar 500 galon di setiap mesin.
SAF yang digunakan di pesawat itu sifatnya siap pakai, artinya dapat digunakan untuk menggantikan avtur Jet A dan Jet A-1 tanpa membutuhkan adanya modifikasi pada mesin atau struktur mekanis (airframes) pada pesawat. Hal inilah yang membuat SAF dapat digunakan pada armada pesawat komersial yang ada saat ini dan dengan memakai infrastruktur distribusi dan penyimpanan bahan bakar pesawat yang ada. "Molekul-molekul ini tidak tahu berasal dari mana," kata Gurhan Andac, engineering leader di GE Aviation yang menangani bahan bakar pesawat dan bahan-bahan tambahan, tentang perbedaan – atau tidak adanya perbedaan – antara SAF dan avtur biasa. Andac yang juga menumpang penerbangan United tersebut telah berperan penting dalam melakukan penelitian biofuel dan bahan bakar sintetis untuk mesin dan dalam mempromosikan penggunaan bahan bakar-bahan bakar tersebut. Dia juga memimpin sebuah gugus tugas internasional yang bertanggung jawab dalam mengembangkan spesifikasi industri terstandar yang mendukung adopsi 100% SAF.
Uji coba SAF produksi GE Aviation dilakukan antara lain dalam beberapa uji coba penerbangan perdana: demonstrasi penerbangan komersial pertama yang menggunakan SAF (2008), penerbangan trans-atlantik pesawat kargo besar komersial pertama yang menggunakan SAF (2011), penerbangan jet militer pertama dengan menggunakan 100% SAF (2016) dan sebelumnya pada tahun ini, penggunaan untuk pertama kalinya power-to-liquid (PtL) yang menggunakan listrik terbarukan untuk memecah air menjadi hidrogen dan oksigen, kemudian H2 yang dihasilkannya digunakan untuk menangkap C02 untuk menyintesis bahan bakar hidrokarbon cair.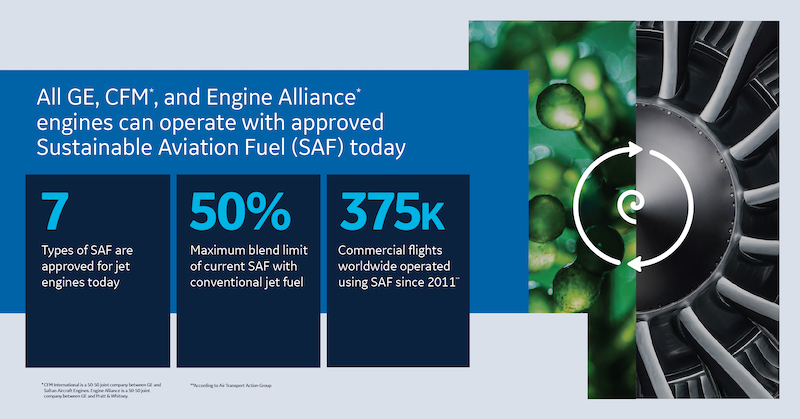 Di samping CFM, pada penerbangan ini United bermitra dengan Boeing, Virent - anak perusahaan Marathon yang teknologinya mampu membuat 100% SAF siap pakai - dan World Energy, yang merupakan produsen SAF komersial pertama di dunia dan satu-satunya di Amerika Utara.
United menyatakan telah membuat komitmen paling besar di antara maskapai lainnya untuk melakukan transisi menuju ke penggunaan SAF. Pada musim semi yang lalu, perusahaan ini meluncurkan program Eco-Skies Alliance. Dalam program tersebut sudah ada daftar 29 perusahaan mitra dan jumlahnya masih terus bertambah yang telah ikut berkontribusi untuk membeli sekitar 5,7 juta galon SAF pada tahun ini saja. Artinya, ada cukup banyak SAF yang dapat menghapus sekitar 53.000 metrik ton emisi gas rumah kaca, atau yang cukup untuk menerbangkan penumpang sejauh lebih dari 372 juta mil.
SAF dapat diproduksi dari 60 material yang berbeda – antara lain minyak nabati, ganggang, gemuk, lemak, sampah buangan, alkohol, gula, tangkapan CO2 dan berbagai sumber dan proses material alternatif lainnya. Kementerian Energi memperkirakan bahwa Amerika Serikat saja memiliki sumber daya untuk memproduksi 50-60 miliar galon SAF setiap tahunnya. Inilah gambaran besarnya: maskapai komersial akan menggunakan sekitar 57 juta galon bahan bakar pada akhir 2021, turun dari puncaknya sebesar 95 miliar galon di tahun 2019, menurut Statista. Dengan beralih dari petroleum ke SAF – jika seluruh siklus hidup dari bahan bakar diperhitungkan – maka industri penerbangan dapat mengurangi kontribusi pembuangan karbon dari bahan bakar hingga 80%, menurut asosiasi industri The Air Transport Action Group dan The International Air Transport Association.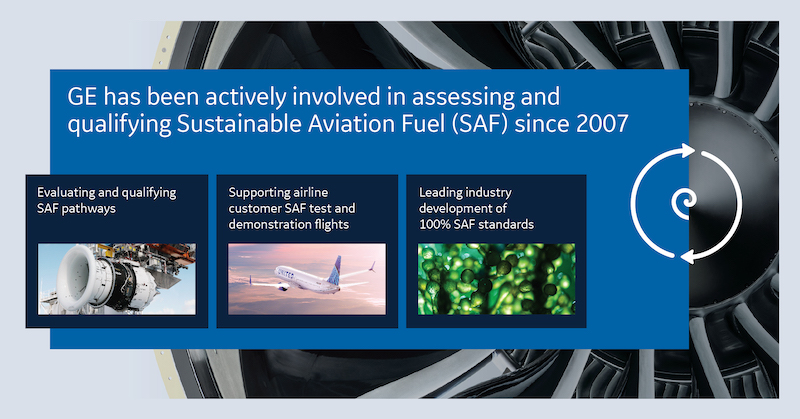 Namun, sejauh ini hanya 1% dari bahan bakar yang dikonsumsi dalam industri penerbangan berupa SAF. Untuk mendorong lebih banyak investasi di SAF dan menciptakan lebih banyak pasokan, maka jumlah permintaan harus bertumbuh terlebih dahulu. Oleh karena itulah United berharap agar penerbangan ini memberikan contoh kepada maskapai lainnya untuk ikut menggunakan SAF. "SAF siap pakai ini dapat diadopsi oleh industri kita sekarang sehingga dapat mulai memberikan dampak pada komitmen bersama untuk menghilangkan sama sekali emisi karbon pada tahun 2050," kata Gaël Méheust, presiden dan CEO CFM International. "Bersama perusahaan induk kami, GE Aviation dan Safran Aircraft Engines, kami memuji United atas inisiatif yang berani ini dan kami berharap adanya kerja sama yang bahkan lebih besar lagi di masa depan."
tags