Driverless transport seems poised to disrupt.
Amazon and pizza companies are conducting early tests to use airborne drones for bringing packages to customers' doors. Google and others are building autonomous cars that don't take sick days or get paid by the hour. Trucking analysts, meanwhile, anticipate the day when convoys of robotic semis haul freight over highways.
But the biggest fish in the sea for unmanned freight delivery is maritime shipping, which carries more than 9.2 million metric tons of goods worth well over $4 trillion around the world annually, the UN says. Already operating the world's most efficient mode of powered transportation, some corners of the shipping industry are starting to take the first delicate steps to further streamline the operation of cargo vessels by installing computers in the captain's chair.
Proponents say putting autonomous systems and remote land-based staff in charge of ships will translate to more efficient and less expensive operations. Getting rid of on-ship crews would certainly simplify ship designs — no need for quarters, kitchens or air conditioning.
Stripping ships of the equipment needed to support crews would lower the vessel's weight by 5 percent and decrease fuel burn by 15 percent, predicts Oskar Levander, vice president of innovation, engineering and technology of Rolls-Royce.
Worried about pirates? That threat is minimized if there's no bridge to commandeer, or captain to take hostage.
But this isn't some far-off, sci-fi world — advocates say most of the necessary technology already exists to put robot ships out to sea. Echoing driverless car proponents, they argue that computers would do a much better job at piloting ships because they don't get tired, bored or distracted. Such systems can also digest big chunks of data and make decisions much faster than people.
"Is it better to have a crew of 20 sailing in a gale in the North Sea, or say five in a control room on shore?" asks Levander in a report exploring the future of marine transport. "Given that the technology is in place, is now the time to move some operations ashore? Sometimes what was unthinkable yesterday is tomorrow's reality."
Rolls-Royce, which is developing a simulator in Norway to test out system designs for unmanned ships, is just one actor in the space. Another, called MUNIN (Maritime Unmanned Navigation through Intelligence in Networks) is a collaborative effort by European research centers and companies that is working get an autonomous and remote-controlled ship system operational. The group is targeting simulated sea trials for a working prototype next year.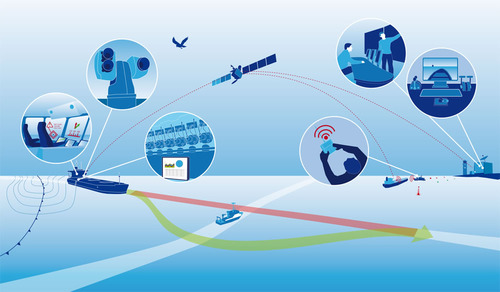 The MUNIN vision of an autonomous and unmanned vessel. Courtesy MUNIN.
Some shipping industry watchers are optimistic. DNV GL, a maritime and oil and gas consultancy, says the first working autonomous ship prototype could be ready by 2015, with unmanned carriers transiting the oceans regularly by 2035.
"Shipping will likely apply these technologies to instrumented machinery first and then gradually to vessel navigation, which will be operated remotely from shore-based centers," DNV GL senior researcher Knut Erik Knutsen told industry magazine The Motorship.
Yet while technologists say the systems and equipment are already available, there's no legal framework for autonomous vessels to operate in international waters. Unmanned ships are currently illegal under international conventions that govern the high seas because they wouldn't meet minimum crew requirements set by those treaties, Simon Bennett, spokesman for the International Chamber of Shipping, an industry association, told Bloomberg. Without meeting those requirements, an unmanned ship wouldn't be classified as seaworthy and couldn't get insurance, leaving the project dead in the water unless new regulations are written.
Skeptics, meanwhile, don't buy the argument that computers would do a better job than seasoned mariners. They caution against letting big ships — which can top 1,300 feet long and hold 2 million barrels of crude oil — roam the seas with only an electronic captain at the helm.
Autonomous systems "cannot and will never replace the eyes, ears and thought processes of professional seafarers," Dave Heindel, chairman of the seafarers' section of the International Transport Workers' Federation, told Bloomberg. Calling the captain and crew the first line of defense in a crisis, he warns, "The dangers posed to the environment by unmanned vessels are too easily imagined."
While all sectors are moving inexorably toward a more robotic world, it remains to be seen whether these first stabs at unmanned ships will stay afloat. There is a pile of money, jobs and other considerations in the balance. And the more the technology behind autonomous shipping proves itself, the more heated the debate will become.
"While the idea of remotely operated vessels remains controversial, the development of such systems will not be limited by technology," say DNV GL analysts. "Rather, the industry will have to weigh the benefits of remote operation, which include reduced manning costs, increased safety and improved vessel condition, against their perceived risks."
Top image: Courtesy of Rolls-Royce
tags