It's the last week of summer. Sunset. You're 3 miles out to sea, 500 feet above the churning waves in a little red helicopter with (you hope) a trusty seatbelt and no door.
Roughly at eye level, a white blade traces a sinuous line across the sky to the nacelle that holds the gears of an offshore wind turbine.

Grip your camera, lean out (but not too far, bucko!) and train it on the turbine backlit by a fiery sun. Find the turbine's reflection in the aircraft's tail. Snap.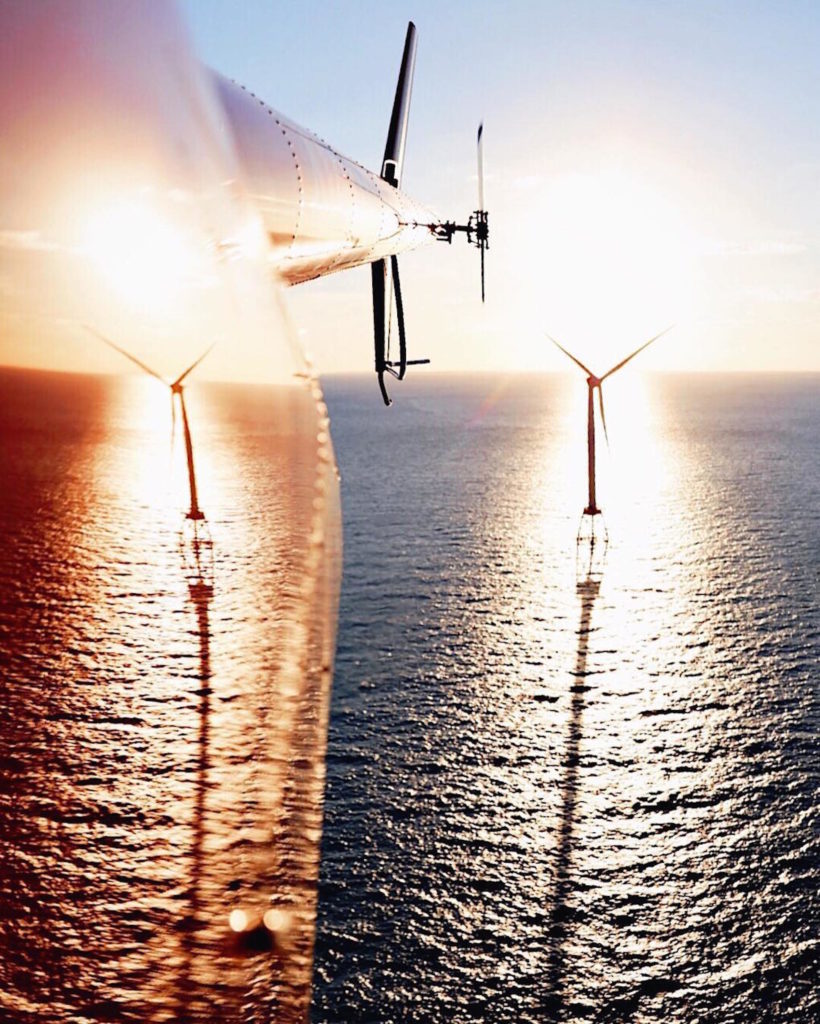 Tyson Wheatley captures a GE Haliade turbine at Deepwater Wind's Block Island Wind Farm reflected against the smooth surface of a helicopter at sunset.

Photographer Tyson Wheatley (@twheat) got this shot at GE's latest InstaWalk, the #OffShoreBlockParty on GE's Instagram channel, which brought together five photographers-slash-Instagram stars to shoot the recently completed Block Island Wind Farm. Deepwater Wind owns and operates the five GE Haliade turbines, which sit just off the coast of Block Island, Rhode Island. The first offshore wind farm in North America will soon start generating 30 megawatts of renewable energy, enough to power the entire island and then some.

It's also a marvel to photograph.

The photographers took the ferry to Block Island last week and shot the turbines morning, noon and night from air, land and sea. They came away with shots from almost every perspective and angle, except underwater—more to follow on that—and in every light. Musician and longtime GE collaborator Reuben Wu (@itsreuben) imported his otherworldly aesthetic to the island and framed up a turbine reaching like a sunset Atlas to hold aloft the moon.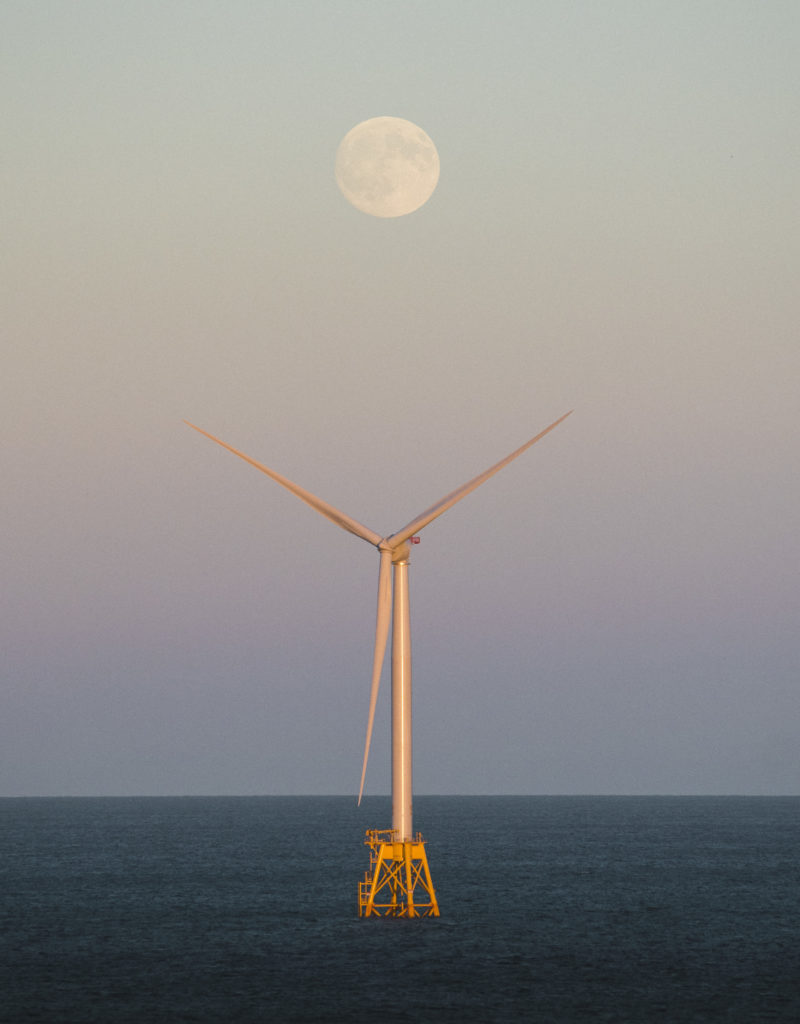 Photographer Reuben Wu snaps the Harvest Moon as it rises over GE's 560-feet tall Haliade wind turbine at Deepwater Wind's Block Island Wind Farm.

Acclaimed aerial photographer Jeffrey Milstein (@jeffreymilstein) captured an optical illusion where the tip of a 240-foot-long blade drooped like a bunny's ear.


The blades on each GE Haliade wind turbine weigh 27 tons each. Aerial photographer Jeffrey Milstein captured the curving blade from a helicopter at GE's #OffshoreBlockParty last week.

Portraitist Sharon Radisch (@cacahuerte_sr) caught a lens flare from the rising sun at Block Island's Mohegan Bluffs as two turbines stood sentinel in the distance.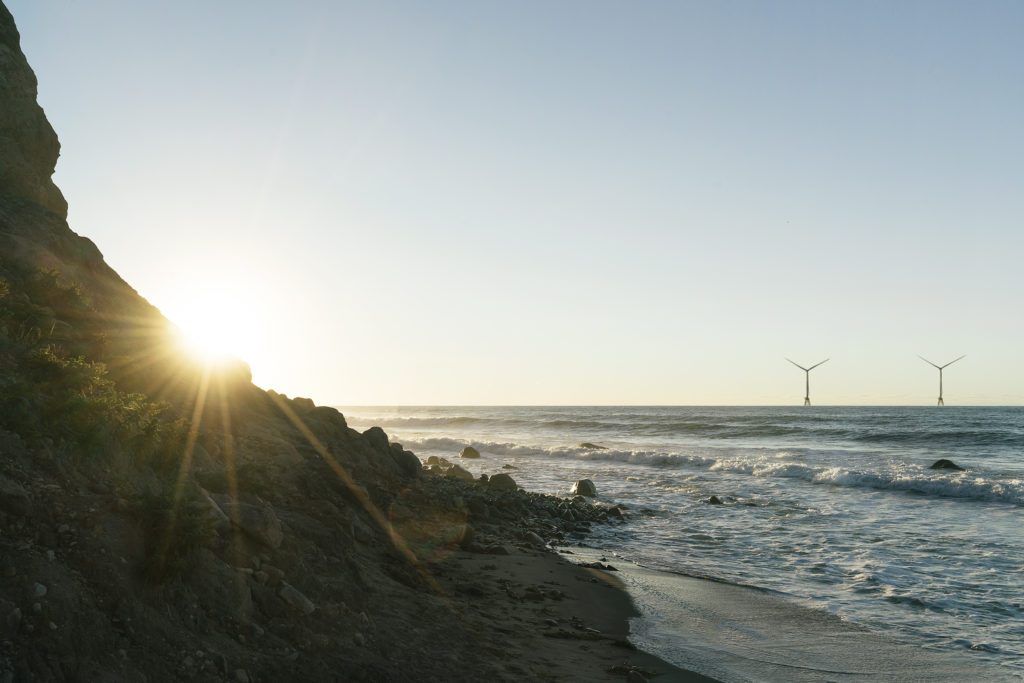 Sharon Radisch made this picture of two GE Haliade wind turbines as the sun rose over Block Island's famed Mohegan Bluffs.

Humza Deas (@humzadeas), the Instagram boy wonder, composed not only the five turbines arrayed like a parenthesis in the white-capped waves below but also his seat (and choice socks) in the sky.


Humza Deas captured the line of GE Haliade wind turbines, with his foot in the foreground, from a helicopter three miles off Block Island.

The InstaWalk continues this week as National Geographic photographer David Doubilet (@daviddoubilet) ventures out to shoot the turbines with his unique split-lens camera that shoots above and below the water at the same time.

The turbines will be commissioned and start spinning later this year.
tags