Not much gets past Chad McClennan and his elite detective squad of owls (yes, you read that right). The "chief executive owl" of the healthcare startup Koios Medical, McClennan explains that several of his engineers were military sleuths before applying their talents to breast cancer detection. "They were working for a U.S. Army defense contractor, using facial recognition technology to catch bad guys in foreign lands," he says. "They realized that the same techniques could be applied to radiology."
Catching dangerous criminals and diagnosing suspicious lesions sound like two very different disciplines, but McClennan says they have something in common: the evidence. Ultrasound — the procedure radiologists use to see inside the deep structures of the human body by recording the echoes of high-frequency soundwaves — generates black and white, or grayscale, images that are visually similar to the grainy satellite images of suspects skulking around in the shadows.
The naked eye cannot quickly make sense of those countless, highly variable shades of gray, but artificial intelligence (AI) can. Computer algorithms that have been trained on hundreds of thousands of similar images, whether they are human faces or body tissue, can instantly zero in on subtle shapes and telltale patterns that can betray wanted criminals or lurking tumors.
That's how Koios — pronounced 'Kee-os' — was born in 2011. Named after the Titan who represented rational intelligence in Greek mythology and headquartered in Chicago, the company chose an owl as its corporate logo, and several of the company's 30 employees have job titles that pay homage to the nocturnal bird. "Owls are wise, and they see in the dark, and radiologists are the same," says McClennan. "They sit in dark rooms with large monitors making interpretations."
It didn't take long for the owls to taste success. After just a few years of experimentation, they found that their smart ultrasound technology was outperforming human radiologists at accurate cancer detection. Hospitals began to enhance their picture archiving and communication systems (PACs) with the company's software. You can see a button bearing Koios's tiny owl on GE Healthcare's LOGIQ E10, the company's premium flagship ultrasound system.
The owl logo is now set to become an even more familiar sight in the world's radiology departments. That's because the company's software Koios DS Breast 2.0 — where 'DS' stands for 'decision support' — has 510(k) clearance from the U.S. Food and Drug Administration as a second opinion. This means it has been approved as safe and effective for deployment in the country. And it might just be a matter of months before the product is available on GE Healthcare's Edison intelligence platform, which McClennan hopes will "extend its reach to customers."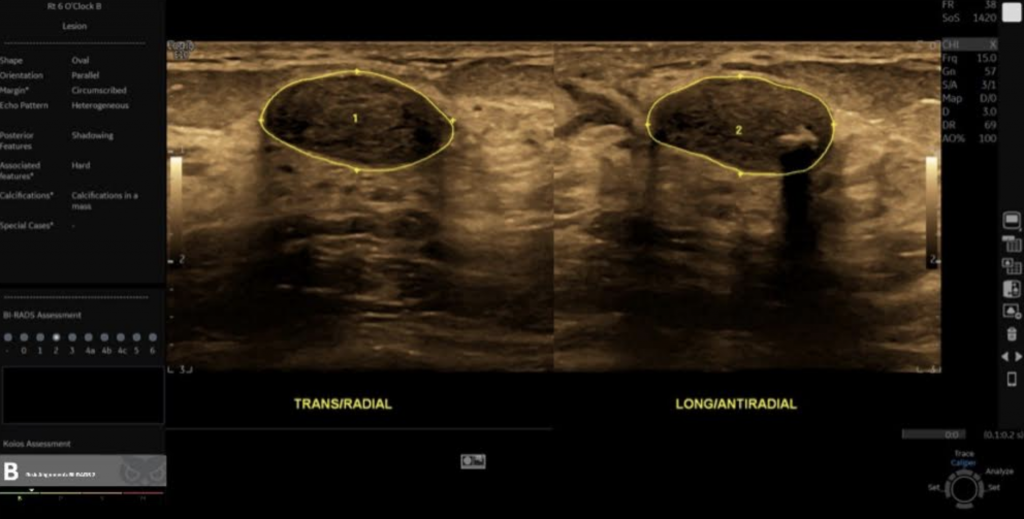 Koios and GE Healthcare brought the technology to the Windy City in December to the Radiological Society of North America (RSNA) annual meeting, the world's largest gathering of radiologists. GE Healthcare is looking to work closely with more companies like Koios as part of the Edison Developer Program, designed to accelerate the adoption of these applications across the health system.


Launched last year, Edison is already a key player in the healthcare industry's rapidly growing digital universe. The platform hosts more than 50 other applications that allow clinicians to do everything from capturing hi-res images of a fetus's brain to measuring a patient's aggregate radiation and iodine exposure.




But Edison is much more than an app store for healthcare providers: It is an entire intelligence platform that gathers and analyzes data from disparate sources — whether from medical records, digital images, monitoring systems, genomics, digital pathology, even wearables and implants. That allows hospitals to unlock their data and squeeze more value from their technology. For example, the platform could gather data from tens of thousands of medical imaging machines, such as magnetic resonance (MR), computerized tomography (CT) and X-rays, to determine that a patient's radiation dose could be safely reduced with zero impact on diagnostic quality.




Widening access to Koios DS Breast 2.0 will help more radiologists significantly reduce the number of false positive ultrasound diagnoses. A false positive diagnosis suggests cancer is present, when, in reality, it is not. Right now, when ultrasound tests appear suspicious or inconclusive, the normal procedure is for oncologists to perform a biopsy, which involves removing some breast tissue for closer examination. But around 80% of the time, that biopsy will indicate that the suspicious lesion or abnormality is benign, or noncancerous.   




Koios's smart ultrasound reduces those anxiety-inducing false alarms, meaning patients will undergo an uncomfortable biopsy only when it is strictly necessary, rather than as a precautionary measure. McClennan says patients are around 30% less likely to undergo a biopsy if radiologists analyze images using the Koios tech. The AI-enhanced software is also far more accurate when it comes to those biopsy results. It correctly diagnoses tissue abnormalities as cancerous and requiring treatment with more than 50% fewer false negatives, or missed cancers, than the average physician. That's huge.




Boosting that positive biopsy hit rate while improving cancer detection is important to McClennan. "The conventional wisdom used to be that the only way to detect cancer was by performing more biopsies, when now you can actually better detect it with fewer," he says, explaining that as well as slashing the rate of false positives, Koios software prevents something far worse: false negatives, or the failure to detect cancer. He says that physicians typically miss 6-7% of cancers when they analyze an ultrasound; Koios DS Breast 2.0 reduces that number to 1-2%. "That's lives saved because more people are treated earlier," says McClennan.




Smart ultrasound will improve a radiologist's job in the same way that cutting-edge aviation software has transformed the work of a commercial pilot, McClennan explains: A modern-day pilot spends just seven minutes manually piloting their plane in a typical flight, because algorithms are working their magic in the background. AI also allows a radiologist to fly on autopilot, he says, because "the software is working to assist and improve their performance, such as prepopulating their reports."




In the meantime, the Koios executive is looking forward to deepening the existing relationship between GE Healthcare and his parliament of owls. He is proud that the Koios button on the LOGIQ E10 already allows radiologists to obtain a color-coded probability of malignancy in just a couple of seconds. Wider distribution via Edison would "give anyone on the platform almost instant access to Koios."




Edison is well-positioned to help advance the future of health. By 2020, approximately 95% of hospitals in the U.S. will be using EHR systems, and around 50% of the country's health systems will have graduated onto second-generation, or app-based, technology. GE projects the healthcare AI market to exceed $6.5 billion by 2021, with nearly 40% of healthcare decision-makers planning to invest in machine learning and predictive analytics for imaging and other clinical applications. Just keep an eye out for the wise little owl.
Categories
tags