GE has been 3D printing parts for jet engines and gas turbines. In the recent years, the technology also entered another field: wind power. GE Renewable Energy, together with leading research centers, national labs and key industrial partners, has been testing such new manufacturing technologies and materials on large components like wind turbine towers 3D-printed from concrete — and more recently, blades.
In January, the company formed a partnership with the U.S. Department of Energy to 3D-print wind turbine blade tips. These critical components cap the hardest working sections of the blade. The last 10 to 15 meters of a modern blade capture 40% of the energy that spins the turbine and the tips can travel at speeds approaching one-quarter of the speed of sound. "Additive manufacturing can bring a step change in cost and performance competitiveness in the wind industry and help GE Renewable Energy support our customers in driving the energy transition farther and faster," says Matteo Bellucci, technology innovation leader with GE Renewable Energy.
The focus of the 25-month, $6.7 million project will be a full-size blade tip made from low-cost thermoplastic skin reinforced with a 3D-printed, skeleton-like structure. The GE team and its partners, the Oakridge National Laboratory and the National Renewable Energy Laboratory, will test the structural properties of one tip in a lab and install another three tips on a wind turbine.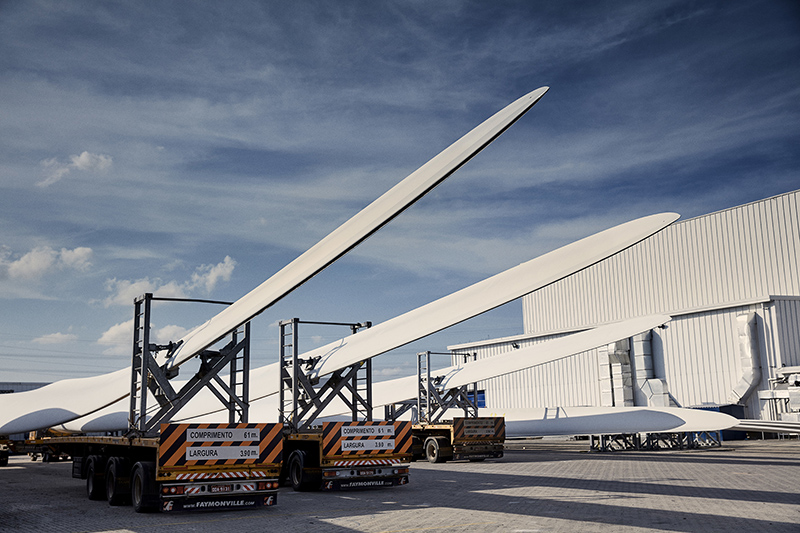 GE has been looking at a step change in the way it makes blade manufacturing, by integrating 3D-printed technology with other advanced processes such as thermoforming, automation and thermoplastic materials for several years. The company and LM Wind Power, a GE Renewable Energy subsidiary that makes blades for onshore and offshore turbines, will use the grant to bring the technologies to industrial scale. "We've aligned our initiative with the Department of Energy to really do this faster and bring it from proof of concept to the next major milestone which is a field prototype — to see this in full scale, on a turbine," says Todd Anderson, wind blade research leader at GE Research.
LM Wind Power is based in Denmark but it has two engineering centers in the U.S.: in Greenville, South Carolina, and at a NASA campus in New Orleans.
But manufacturing at scale is not the only way 3D printing can help lower cost. Materials and efficiency can provide further savings. "At the moment, turbine blades are made of glass and carbon fiber embedded in an epoxy or polyester resin to form a strong composite material," says Torben K. Jacobsen, senior director of advanced technology systems at LM Wind Power. Blade tips 3D-printed from advanced lighter thermoplastic composites could help translate into several benefits. Lighter blade tips could allow larger rotors on turbines to generate more power. They would also ease the strain on the entire turbine, reducing wear and tear on gearboxes, drivetrains, bearings and the turbine foundation, thus lowering overall lifecycle costs. As the cost of producing and maintaining wind turbines drops, and their efficiency increases, the overall cost of electricity will fall as well. 3D-printed thermoplastic blade tips also could be melted down and recycled when they end service, another important goal LM Wind Power is pursuing.
The team says other parts of the blade could be printed next. "We were the first to introduce lightweight composite fan blades in our jet engines more than two decades ago," says Anderson. "Today, with our business partners and leading national laboratories, we're bringing that experience and more to deliver a more advanced wind blade to take wind power to the next level of cost and performance."
Categories
tags