From Jakarta's glittering glass towers—which seem to grow as fast as rattan—to remote fishing villages with no plumbing and electricity, Indonesia is a country of contrasts. Spread across some 18,000 islands—only half of which have been named—its megacities and lush green forests are home to some 255 million people, making it the fourth most populous country in the world after India, China and the United States. The government is now trying to make sure the vast majority of them can turn the lights on at night.
To be sure, electricity reaches some 87 percent of Indonesians already, but some parts of the country—like Papua, it's largest province—have an electrification rate below 50 percent. That's why the country's Minister of Energy and Mineral Resources Sudirman Said announced this April in Maybrat—a remote West Papuan region twice the size of Rhode Island—that he wants to bring power to 97 percent of Indonesians by 2019.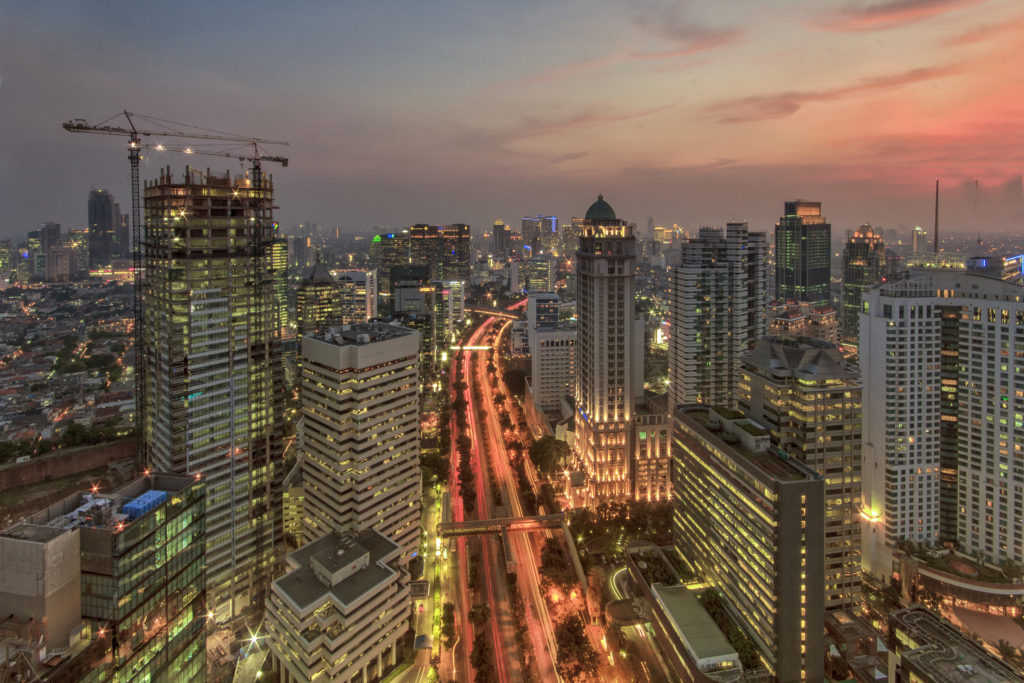 Above: Some 30 million people live in the Jakarta metropolitan area, making it one of the world's largest cities. They all need electricity. Top: The Bromo and Batok volcanoes in East Java. The Indonesian government is bringing power to the country's remote areas. Images credit: Shutterstock

It would be an ambitious goal anywhere, but especially in Indonesia, which can't just build a handful of large new power plants and stretch wires over water. "You really have to look for some ingenious solution that includes a combination of renewables like wind and solar, mobile power plants that can be quickly deployed pretty much anywhere as well software to make traditional power generation sources run more efficiently," says Steve Bolze, CEO of GE Power, who is in Jakarta this week at GE's Future of Electricity conference.

Like many other Asian countries, Indonesia currently relies on fossil fuels such as gas and coal to produce 80 percent of its power. But the country is also seeking to reduce its CO2 emissions by at least 26 percent by 2020 as part of its the COP 21 pledge. This makes the government's electrification drive—called Indonesia Terang—doubly challenging.

Bolze, whose business makes turbines and generators that produce a third of the world's power, believes he can help. Working with PLN, the state electricity company, GE Power recently shipped by barge a pair of mobile power plants to Lombok, an island next to Bali, to boost its power production. Each of the efficient, gas-fired units can generate up to 35 megawatts and start producing power within just 30 days. The machines are a great example of the intra-company synergies GE can draw on—the company calls this the "GE Store." The core of the power plant contains parts from the CF6 jet engine developed by GE Aviation—the same kind that powers many Boeing 747 and 767 planes. GE is also building similar plants in two other locations.

GE also wants to help Indonesia harness more power from renewables—the government's goal is 25 percent of the energy mix. The company is making wind turbines and solar and grid technology. It recently helped electrify with solar panels a remote Himalayan village, a pilot project that if replicated could come in handy in Papua and other remote eastern provinces where PLN wants to bring power to more than 12,600 villages currently cut off from the grid. The power company wants to tap renewables and turn the villages into power islands with their own micro grids.

Bolze is ready to start. He signed a memorandum of understanding with Barata Indonesia, a local state-owned company, to produce parts of GE turbines and other technology here.
Categories
tags