Everything is bigger in Texas, including the state's appetite for electricity. No other state consumes more power, a whopping 10 percent of the national total.
All that demand, however, is straining the local grid. Large power plant owners in Texas have been raising alarm about the possibility of regular rolling blackouts unless the state overhauls its wholesale electric market and adds capacity. But one independent power developer just found a solution: a 20-cylinder gas engine the size of a school bus made by GE in the picturesque Alpine town of Jenbach in Austria.
The J920 is the size of a school bus. Image credit: GE Distributed Power
The engine, called the J920 FleXtra, is the largest and most efficient gas engine GE has ever built. It is making its American debut in Texas. Power developer Sky Global Partners will use six of them to supply 50 megawatts of peak power to the San Bernard Electric Cooperative. The co-op has more than 17,000 members spread across seven counties in South-Central Texas.
The engine is so nimble that it can ramp up to full power in just 5 minutes when preheated. That's warp speed for utilities. It can help stabilize the grid when demand peaks and the price of electricity shoots up, like during a heat wave.
"This project is the center of our power strategy going forward," said Billy Marricle, president and general manager of San Bernard. "It provides us with unprecedented system security, protection from wholesale price spikes and the opportunity to increase the value of our cooperative."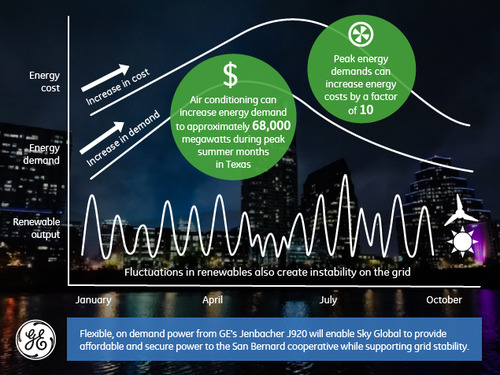 The engine is equipped with turbocharging technology similar to systems used by Formula 1 cars. It helps the engine convert nearly half of the energy from burning gas to electricity. Its combined power and thermal efficiency can reach a chart-topping 90 percent or more.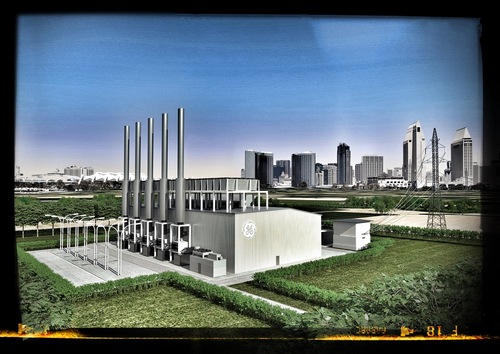 Six Jenbacher engines will generate 50 megawatts of peak power for 17,000 customers. Photo credits: GE Distributed Power
The world's first J920 FleXtra has been commercially operating in Rosenheim, Bavaria, since 2013. It's helping the town meet the strict demands of Energiewende, Germany's power overhaul program. Its goal is to generate 80 percent of all electricity from renewable resources by 2050.
Categories
tags