Sometimes the toughest challenges are the ones right in front of your eyes. Take vision correction. Poor eyesight is one of the world's most common problems, with more than 2 billion people lacking glasses — which inhibits their ability to learn and participate in the workforce.
While trillions of dollars are spent on medical and pharmaceutical research each year, many simpler problems — like the lack of specs — can go unmet. Within the standard frameworks of academia or entrepreneurship, it can be difficult to address broad areas of need such as this with innovative solutions. "For researchers, it's really risky to do something that's outside of your niche. And as every entrepreneur knows, it's hard to do something different," says Martha Gray, a medical engineering professor at Massachusetts Institute of Technology. "In both cases, people are often afraid to take risks."

That's why MIT — along with GE Healthcare and a trio of European medical schools — is forging a new approach to research. Their aim is to enable academic researchers and industry to work together and take these risks to create new paths and develop new solutions to crucial health problems.

Gray and colleagues have developed a research framework called Catalyst. It's based on the idea that many diverse minds — working together but unconstrained by prior conceptions of what appropriate solutions should be — can be the most effective.

From the start, a group of academic and corporate experts identifies broad focus areas for innovation. They then recruit and fund researchers from all sectors of medical research, including university professors, postdoctoral researchers, clinical profiles and corporate scientists. At first, these researchers think broadly about solving the issues within the focus areas. Using input from the academic and corporate advisers, they home in on the most promising ideas. Here, "promising" means ideas that, if successful, will offer a clear benefit by advancing human health in some way. "This is a very, very different model for conceptualizing and executing research than what traditionally happens in the academy, or in industry," Gray adds.

Early results are promising: Take, for instance, the world's vision problem. Around 2012, Gray started a pilot Catalyst project between MIT and a healthcare consortium in Madrid. Vision was identified as one of the big human health problems to be addressed.

One team of researchers brought together by Catalyst — dubbed Team Eye — included two optics Ph.D.s, an electrical engineer and a biomedical engineer. The root problem of most untreated vision, the group realized, is that people don't know their prescription. Glasses can be shipped anywhere, but eye doctors can't — and neither can the heavy equipment they need to assess vision. The fix? A portable, rugged and highly accurate machine that has now tested the vision of 2 million people worldwide. Today it's sold by those original researchers through a company, PlenOptika. "Evidence that this framework for innovation works is that we had 34 fellows come up with 16 projects, eight of which have gotten commercial investment," Gray says, regarding the Madrid pilot effort.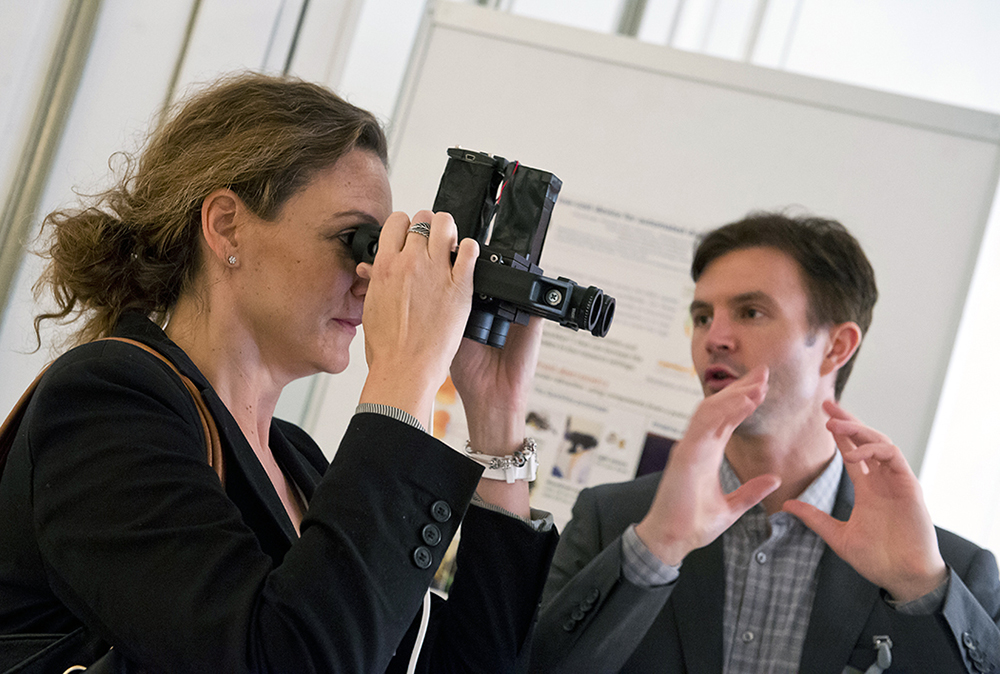 call for researchers interested in participating in Catalyst. Experts anywhere in Europe are able to apply; the resulting teams will have their ideas developed in collaboration with leaders from the schools and GE Healthcare.

Hub universities for the program are Spain's Universidad Politécnica de Madrid, Germany's Friedrich-Alexander-Universität Erlangen-Nürnberg and Hungary's University of Debrecen, which has been a GE research partner for two years. Says Dr. Zoltán Szilvássy, rector of the University of Debrecen: "Need-based research is the driving force of innovation."
Categories
tags