The history of Marshall in East Texas is rich with transportation lore. Several major stagecoach lines stopped there in the 1840s. The crucial Texas & Pacific Railway line originated in Marshall, tied it to major American cities and earned the town its Gateway to Texas sobriquet. But Marshall is still breaking new ground. Last fall the city opened a next-generation compressed natural gas (CNG) fueling station. The system, which was developed by GE, is the first node in a CNG network that could revolutionize transportation and travel, and set the U.S. on a road to energy independence.
GE's Ujjwal Kumar calls this network the Internet of energy. "You cannot create an internet if you custom-design everything site by site," says Kumar, who works as the general manager for unconventional solutions at GE Oil & Gas. "You need a common protocol, a standard technology." He says that in the past truck and car fleet operators built their own CNG filling stations from scratch with off-the-shelf gas compressors, dispensers and other equipment. It wasn't an ideal solution. "If you want to grow, you need to get scale in quality and reliability," he says.

GE calls this new standard technology CNG In A Box*. The plug-and-play system, which is part of GE's ecomagination portfolio, holds a motor, compressor, gas drier, gas cooler and other gear inside a standard 20-foot shipping container. It can be connected to municipal or transit gas pipelines pretty much anywhere. The box links to a GE Wayne dispenser that can pump out natural gas at a fast, six-gallons-per-minute clip. "All of these pieces of the technology are preconfigured and factory tested by GE," Kumar says.

Today, there are seven units operating in the U.S., including the filling station in Marshall, and GE is delivering a new system for installation almost every week. China's Endurance Industry recently signed an agreement to purchase 260 units and Canada's Chelsea Natural Gas just ordered 20. GE sales teams have received calls from customers in the U.S., Europe, Russia and Israel.

This is just the beginning of a larger movement, Kumar says. The technology could create a new ecosystem where other companies from banks to maintenance shops can play. "This is the beauty of the Internet of energy," he says. "Because we can work at scale, the technology becomes predictable and makes it easier to order parts or secure financing and insurance."

The benefits could be huge. CNG could reduce carbon emissions by a quarter per vehicle and fuel costs by as much as 40 percent, compared with gasoline. Even better, the energy expert and MacArthur "genius" Fellow Amory B. Lovins says that if we switched all heavy trucks from diesel to natural gas, it would be "the most important non-automotive way to get the nation off oil by 2050."

*CNG in A Box is a registered trademark of GE Oil & Gas.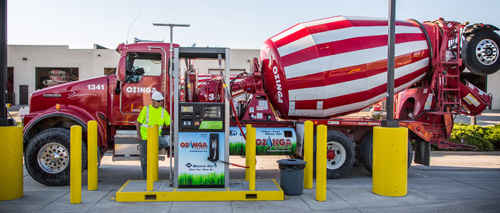 Ozinga Energy is a fourth-generation family business based in Chicago, Illinois. The company is using three CNG in A Box systems to power its fleet of several dozen new CNG concrete mixers. Ozinga's CNG concrete trucks and the fueling systems have been financed by GE Capital. Credit: Ozinga Energy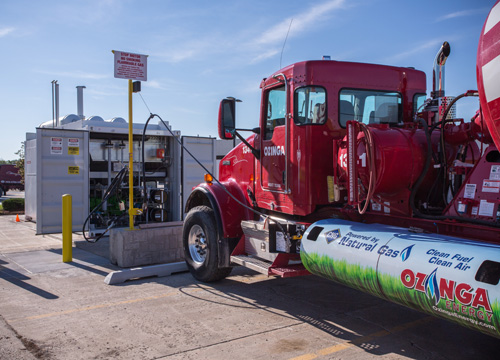 The plug-and-play system, which is part of GE's ecomagination portfolio, holds a motor, compressor, gas drier, gas cooler and other gear inside a standard 20-foot shipping container. It can be connected to municipal or transit gas pipelines pretty much anywhere. The box connects to a GE Wayne dispenser that can pump out natural gas at a fast, six-gallons-per-minute clip. Credit: Ozinga Energy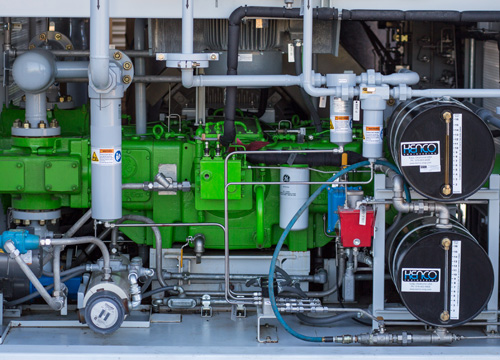 "All of these pieces of the technology are preconfigured and factory tested by GE," says GE's Ujjwal Kumar. "This is the beauty of the Internet of energy," he says. "Because we can work at scale, the technology becomes predictable and makes it easier to order parts or secure financing and insurance." Credit: Ozinga Energy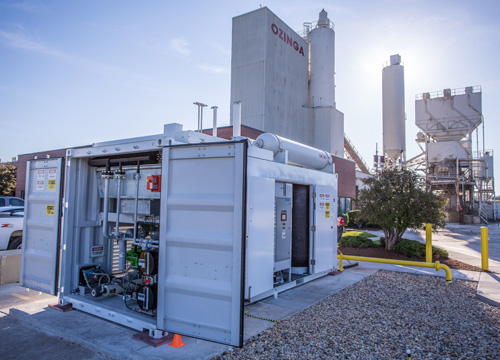 CNG could reduce carbon emissions by a quarter per vehicle and fuel costs by as much as 40 percent, compared with gasoline. Credit: Ozinga Energy
Categories
tags