Looking back at his illustrious career in aviation, Paul Poberezny said that he "didn't think there has been a single day since I was five years old when I didn't say the word 'airplane.'"
Poberezny, who was building and flying planes in high school and flew many different kinds of aircraft during World War II, in 1953 launched from the basement of his home in Milwaukee, Wisconsin, the Experimental Aircraft Association — the EAA. The same year, he invited flying enthusiasts and do-it-yourself airplane builders to show off their skills at the first EAA fly-in. It was a small affair that took place on the sidelines of a larger Milwaukee airshow, attracting just 22 planes and 150 visitors.
But it quickly grew. In 1969 the event, now called EAA AirVenture Oshkosh, found a permanent home at Wittman Regional Airport, whose runways stretch into the corn and grass fields just outside the Wisconsin town. The weeklong show, which takes place every July, has become a kind of Woodstock for pilots. "In the 1970s, it was predominantly a show for people who were building their own airplanes," says Brad Mottier, who runs GE Aviation's Business and General Aviation division. "The certified aircraft manufacturers, who now have a very large presence, fit inside a fairly small space."
This week Oshkosh, as the event is known among pilots, is celebrating 50 years, and EAA organizers are expecting 700,000 visitors and more than 10,000 planes. These planes include small aircraft in the some of the strangest shapes, "Warbirds" — carefully restored vintage World War II-era planes — large passenger and cargo planes, helicopters, air tankers and the latest military fighter jets. Two years ago Jeff Bezos brought his Blue Origin rocket.
Mottier is a pilot — he owns a yellow Aviat Husky two-seater and a sleek Cessna Caravan — and has been flying to Oshkosh since he was a teenager. Like most pilots who come here, he spent many years camping out under the wing of his plane. "I must have been 18 when I first came to Oshkosh with my father in a Cessna 172, which can seat four people," he said. "That was in the 1970s. The next year he bought a 1949 Navion and flew that plane down here for the first time. That was a miserable trip. It rained the whole time, there was standing water in the field and we ended up sleeping in the plane. But that was part of the fun."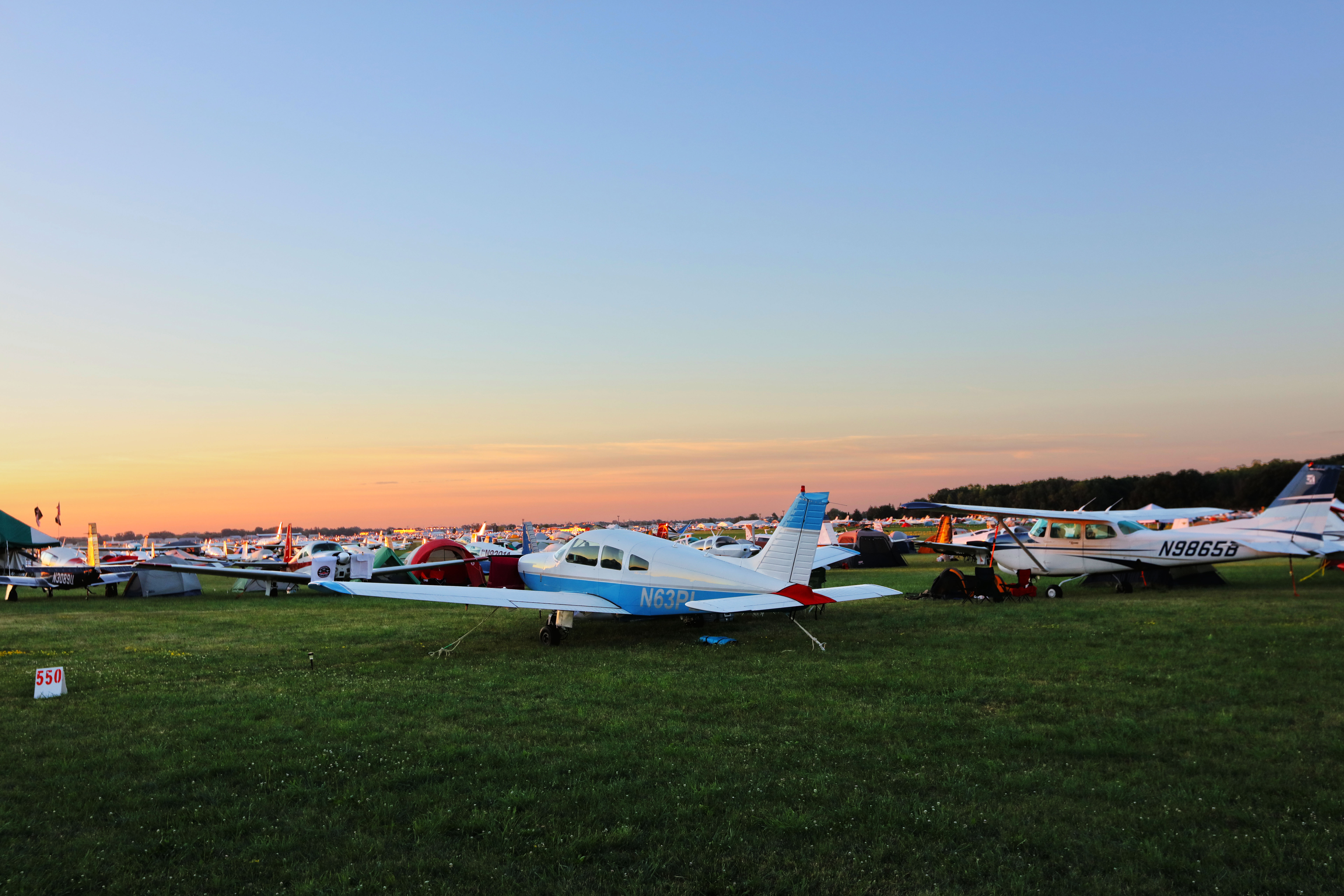 a kind of Woodstock for pilots. "In the 1970s, it was predominantly a show for people who were building their own airplanes," Mottier says. Now certified aircraft manufacturers have a very large presence. Image credit: Rob Butler for GE Reports.


On Sunday, Mottier landed at Oshkosh in his Cessna Caravan — it's a three-hour trip from Cincinnati, the headquarters of GE Aviation — and is staying in a hotel. He may not be sleeping in a tent, but he is still there to have fun. GE Aviation is feeling particularly festive this year — it is celebrating 100 years in business — and brought a full-scale model of the Catalyst, the first new turboprop engine designed from scratch in 30 years. Its designers used 3D printing to reduce the hundreds of complex engine parts to just a dozen or so. The approach enabled them to lower the engine's weight and improve fuel consumption. The engine also features technology called full authority digital engine and propeller control, or FADEPC, which is common in jets but has never been used in commercial turboprop planes. Essentially the engine's digital brain, the technology will allow pilots to control a plane with just a single lever, instead of three. FADEPC will make flying turboprop planes so easy that "my mom could do it," according to GE's Simone Castellani, an Italian aerospace engineer and aviator who helped develop the technology and is also in Oshkosh this year. "Everything is done automatically. In a way, it is just like flying a scooter."


Several Catalyst engines are currently powering through tests in Europe. The first plane to use the engine will be Textron's brand-new Cessna Denali.


The GE pavilion here also contains a working 3D printer for metals from Concept Laser, a German maker of 3D printers that is part of GE Additive, a business focusing on additive manufacturing. Concept Laser machines have been making parts for the Catalyst as well as for the GE9X, the world's largest and most powerful jet engine, and the GEnx, which powers many Boeing 787 Dreamliners, including a jet scheduled to make an appearance in Oshkosh this year.




But yet another aviation legend is celebrating its anniversary in Oshkosh this year: The iconic Boeing 747 is turning 50. GE didn't produce engines for the first batch of 747s, but its workhorse CF6 engines soon took roost under their wings. Today, many jumbo jets in service are using them, including Air Force One and GE's own Flying Test Bed. GE Aviation also developed the GEnx-2B engine for the latest generation of the plane, the 747-8.




Poberezny died in 2013. But his legacy keeps soaring.
Categories
tags