As a young girl, Roxana Leonte remembers feeling awestruck by the white lines of the contrails that airplanes left in the sky as they soared high above her home in Romania. She marveled at everything from the physics that allowed airplanes to take flight to what it would feel like to be a passenger or even the pilot on a jumbo jet.
"I fell in love with aviation from an early age," says Leonte, who managed to turn her dream into a career as a flight attendant with Dubai-based carrier Emirates. But the self-professed "aviation geek" is more than that. She's a kind of rock star among aviation enthusiasts, with more than 17,000 followers on her Instagram account. And from November 14 to 18, Leonte is making her first visit to the Dubai Airshow, where she will be documenting a day-in-the-life by taking over GE Aviation's Instagram account and its nearly 70,000 followers.
"Every time the show happens, I have been working," she says. "I am so excited — like 'not sleeping' excited — that I get to go this year."
It's quite a journey for someone who had to wait until she was an adult and could afford to take her first airplane ride. In 2012, she traveled from Bucharest to Rome to visit her mother on board a Boeing 737. Then in 2016, at age 26, Leonte applied to be a flight attendant for Emirates and was offered her dream job.
She says the opportunity piqued her interest to learn more about jet engines and start her Instagram account, which has attracted thousands of followers thanks to her humor and ability to explain technical concepts. Every Sunday, she posts aviation quizzes to test her audience on what they have learned. "When I am curious about something, I search it, or I ask," she says. "I started by reading and talking to the pilots and engineers [at work]."
Leonte is also a self-described GE Aviation "superfan" and speaks about jet engines with the same passion as an engineer. Her favorite engine is the GE90, which powers the Boeing 777 jets on which she travels as a flight attendant.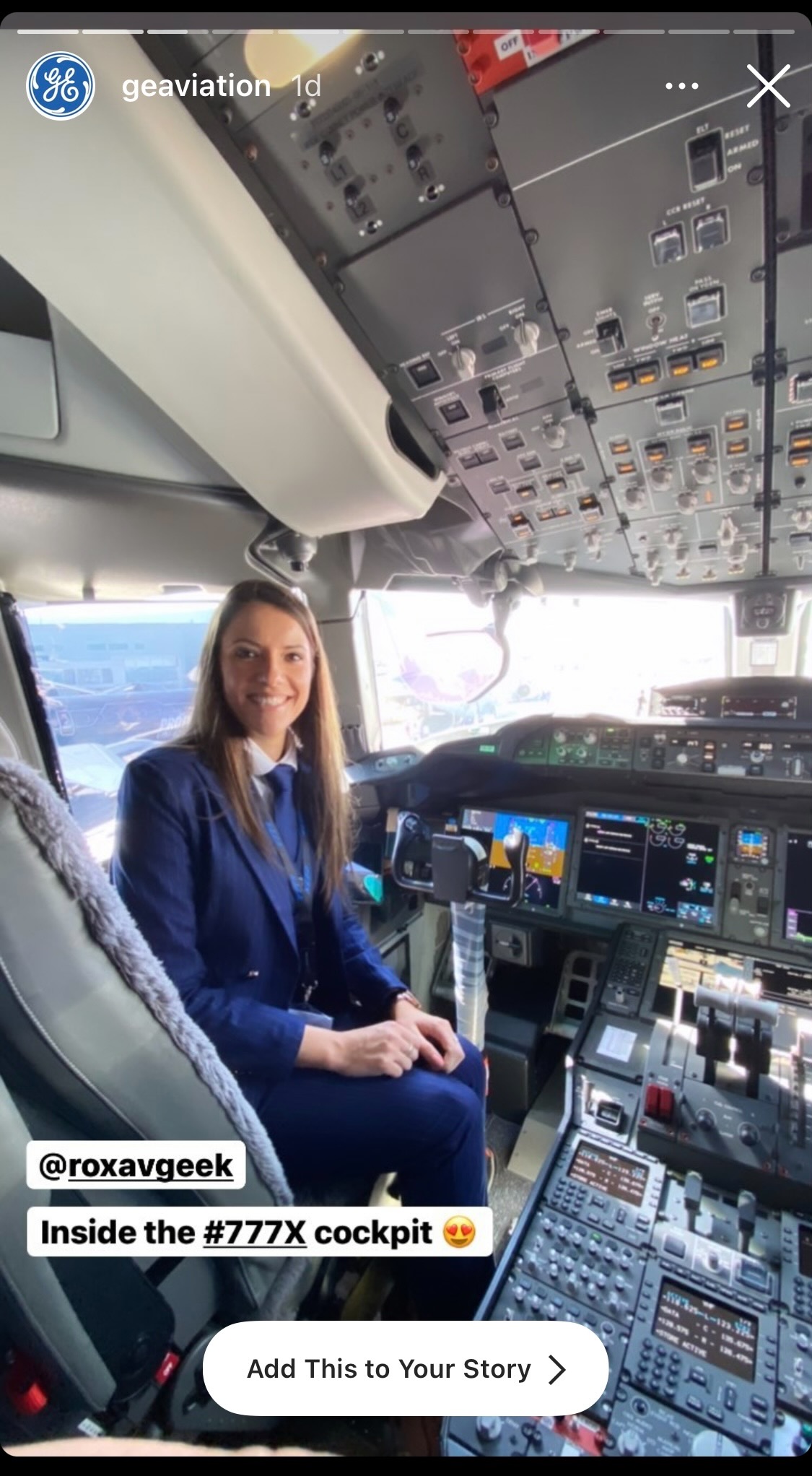 At the airshow, Leonte is most looking forward to seeing the new long-range, wide-body Boeing 777X and the GE9X engines powering that new aircraft. She says that she also has tremendous admiration for Jon Ohman, GE chief test pilot, who was the first person to fly the GE9X, the most powerful engine in the world.
"My dream is now to work with GE Aviation as an engineer," she says. "I want to be the person on the ground working with the engines and making sure every plane is fit and ready to fly."
Categories
tags