World records are often done to assert primacy — but sometimes they're inspired by necessity. The latter was the case with the longest nonstop flight with paying passengers, completed in March by Air Tahiti Nui. With the outbreak of COVID-19, French nationals on the South Pacific island of Tahiti found themselves unable to return home due to international travel bans. The airline, though, realized it had the equipment to get those stranded people back to France in one 9,765-air-mile hop: a Boeing 787-9 Dreamliner equipped with GEnx engines.
Flights between Tahiti and Europe typically stop to refuel at Los Angeles International Airport, where passengers have to get off and clear customs while the plane is serviced. Then they get back on and resume their travels. But a ban on international travelers entering the U.S. meant French citizens couldn't land in California.
Rather than find a stopover in another country, Air Tahiti Nui decided to take advantage of the extended-range capacity of the Boeing 787-9 Dreamliner and beneficial tailwinds, and fly the French citizens home nonstop. Departing at 3:14 a.m. local time on March 14, the flight flew northeast over Mexico, the American Midwest, Ontario and Quebec before soaring out over the North Atlantic, arching back down over the British Isles and finally landing in Paris — 15 hours and 45 minutes after takeoff. Four pilots traded off cockpit duties while safely ferrying an undisclosed number of paying passengers.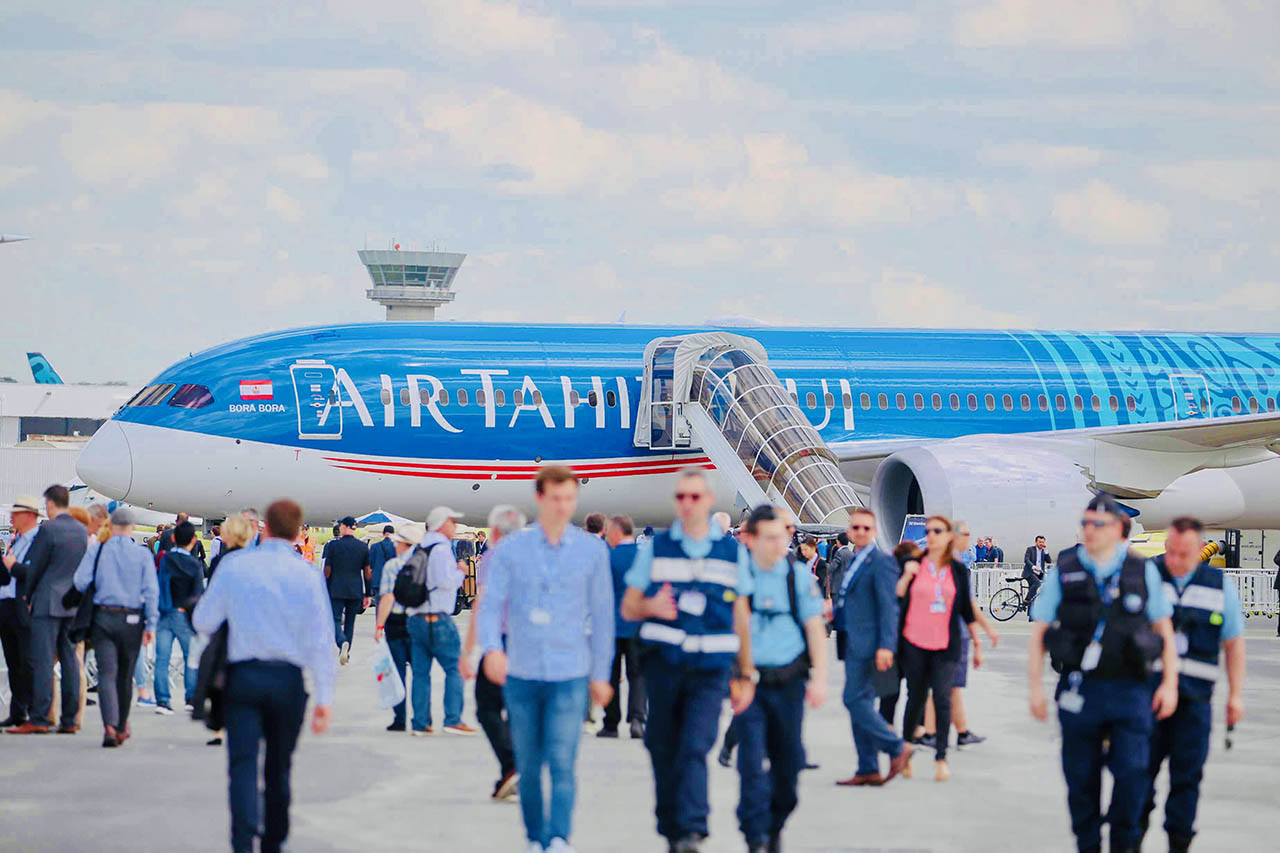 Top and above images: An Air Tahiti Nui Boeing 787 Dreamliner at the 2019 Paris Air Show. A recent March flight in the Boeing 787-9 Dreamliner, powered by GEnx engines, set a longest, nonstop flight record: 9,765 air miles in 15 hours and 45 minutes to transport passengers from the South Pacific island of Tahiti to Paris. Top image credit: Tomas Kellner for GE Reports. Above: Alexander Schroff for GE Reports.
It wasn't the first record-setting flight in recent years to be powered by GE Aviation's GEnx engines. The Australian airline Qantas has flown even further in a series of experimental flights including a 2019 voyage of 10,000 miles between New York City and Sydney. The 49 guests aboard were outfitted with sensors to measure the effects of ultralong air travel. Qantas recently ended those experimental flights, dubbed Project Sunrise, as a result of the COVID-19 pandemic. Still, since 2017, the airline has been using planes with GEnx engines on commercial routes, including scheduled nonstop flights between Perth in Western Australia and London, a trip of 9,010 miles.
The GEnx engines are designed with composite components including carbon fiber and epoxy resin materials, making them lighter than other engines while providing more thrust. The GEnx engine offers up to 15% improved fuel-efficiency and 15% less CO2 compared to its GE predecessor, the CF6 engines. The GEnx also runs about 40% quieter than that engine. There are more than 2,000 GEnx engines in service for 65 GE customers today, including Air Tahiti Nui.
For now, the Tahiti-to-Paris nonstop was a one-off. As long as LA remains closed to international travelers, the carrier is stopping instead in Vancouver, British Columbia, or the Caribbean island of Guadeloupe.
Categories
tags