Last fall, GE announced plans to become three independent and publicly traded businesses focusing on healthcare, energy, and aviation.* Last week, the company unveiled their names: GE HealthCare, GE Vernova, and GE Aerospace. Channeling 130 years of innovation, all three industry leaders will retain the GE name and the company's famous round logo, which spells its initials and dates back to the time of Thomas Edison.
In the future, the Monogram will take on three distinct purple, green, and blue hues — each reflecting the new planned companies' color schemes — but will otherwise look exactly like it does today.
But how did the Monogram come to be one of the most recognizable logos on the planet?
The birth of the design that evolved into the Monogram dates to the company's founding in Schenectady, New York, in 1892. That spring, J.P. Morgan engineered a merger between the Edison General Electric Company, in Schenectady, and Thomson-Houston Electric Company, in Lynn, Massachusetts, which formed GE.
The version of events that was accepted for years was that an employee in GE's catalog department named Arthur L. Rich created the very first design. According to a 1927 article by Rich in GE Monogram magazine, he was gifted with good handwriting skills, so when an acquaintance of his named G.E. Gebest dropped into his town of Zanesville, Ohio, Gebest asked Rich to render his initials on a violin case he was carrying. "One day he brought to me a new bag, asking that I put his initials, G.E.G., in my 'beautiful handwriting,' on the bag."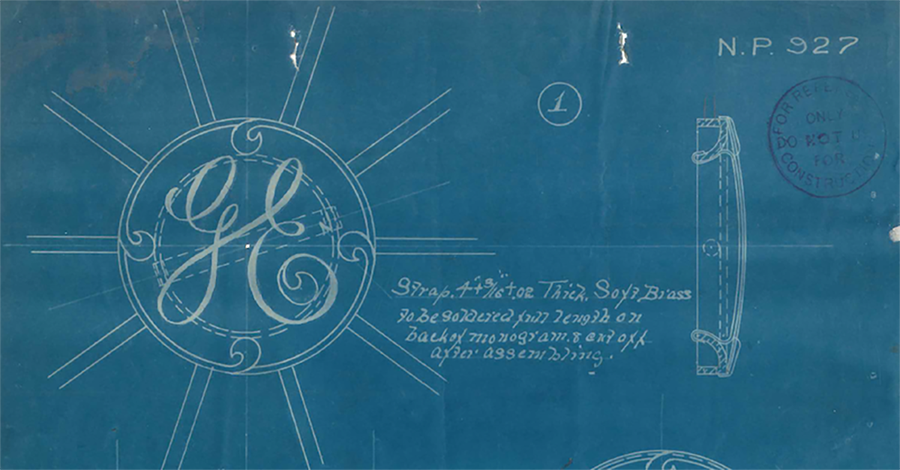 In 1899, when the company wanted to copyright the logo, it tried to track down the originator of the design, but no clear answers arose. Rich recalled that company executives had approached him years earlier to come up with a design to place on the guards that covered the motors on its ceiling fans. "One evening, casting about in my mind as to what would be distinctively 'General Electric,' I unconsciously and in my everyday handwriting wrote the initials, GE, and was immediately reminded of that similar monogram that I had made years before [for Gebest]. So I swept a ring around it in a single stroke, and further engrossed it with four ingrowing dingbats, and it looked good to me."
But over the intervening years, several people expressed doubts about this origin story and competing claims have continued to trickle in, says Chris Hunter, vice president of collections and exhibitions at Schenectady's Museum of Innovation and Science, which holds an archive of GE history. "We even get a new one every once in a while," he says.
Whoever first put pen to paper to inscribe the legendary G and E, the symbol's first known appearance came in 1898, when it was used on a pendant that dangled from a GE ceiling fan. That art nouveau-inspired logo had more or less the same scripted "GE" we see today, encircled by a decorative ring that would be modified over the years.
At that time, GE began selling its lighting and other consumer products, a savvy parallel business to complement the electrical grids that GE was building in the United States and abroad. The company decided it needed an emblem, a "tie-in" between its products and its advertising.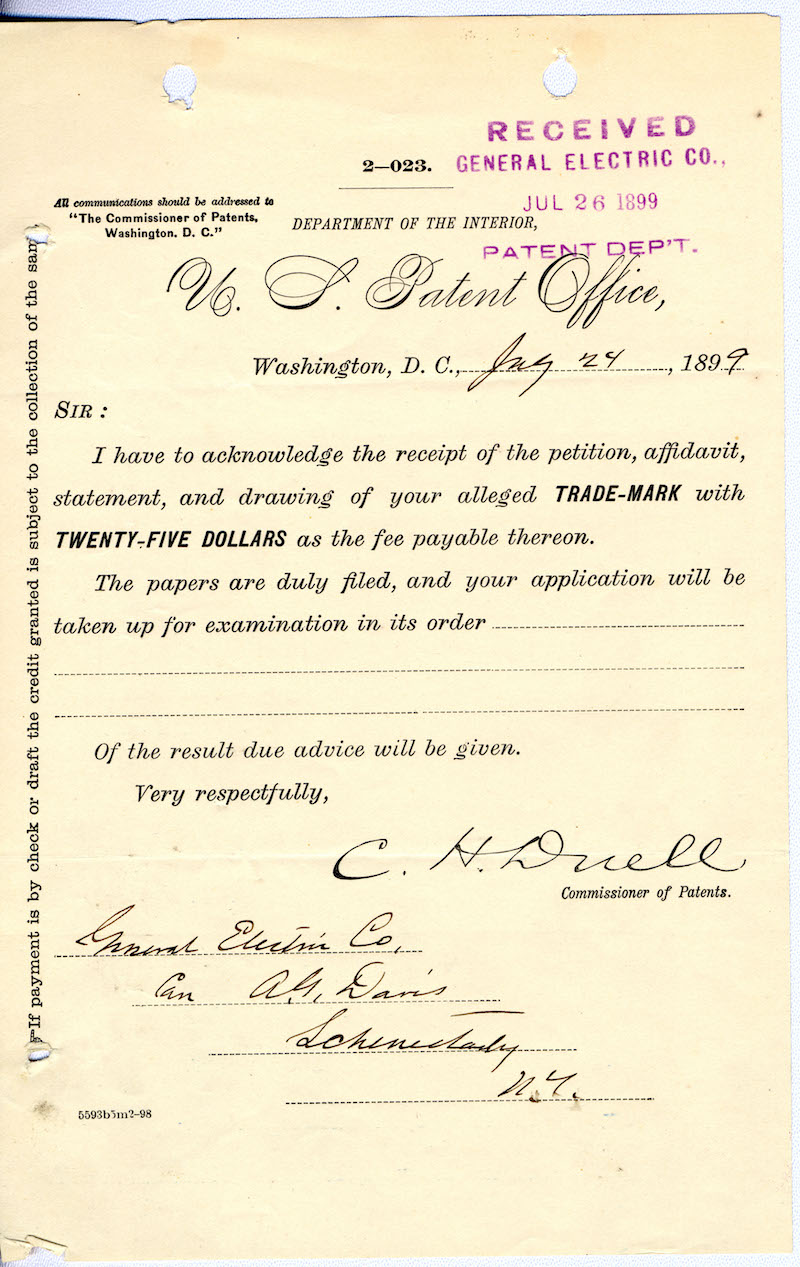 "We are using on the fan motors a simple monogram," J.R. Lovejoy, a founding executive in the company, wrote in 1899, and "it could be used on all apparatus … While the General Company does not need a trade mark, yet in our small supplies handled by dealers and contractors it is desirable and necessary to have a characteristic mark on packages and boxes." The GE logo was submitted to the United States Patent and Trademark Office in 1899 and approved in 1900.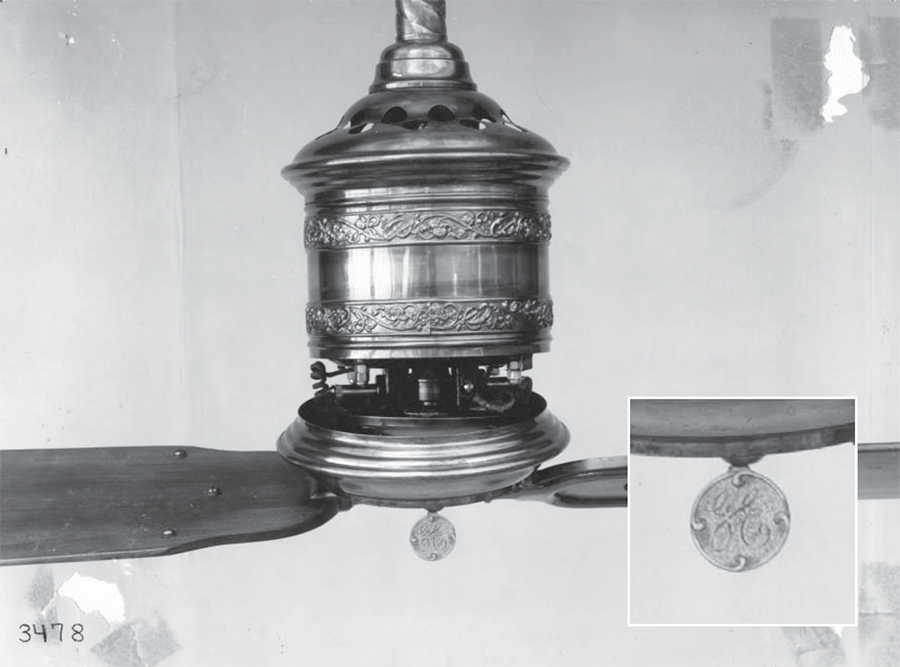 While the Monogram was used in company advertising over the ensuing decades, it didn't really take off until 1923, when Bruce Barton, from the BBDO ad agency, created a magazine ad called "The Initials of a Friend."
"You will find these letters on many tools by which electricity works," went the ad — from lamps to train engines to household appliances. "By such tools electricity dispels the dark and lifts heavy burdens from human shoulders. Hence the letters G-E are more than a trademark. They are an emblem of service — the initials of a friend." And with that, GE's visual identity, in 21st-century terms, went viral.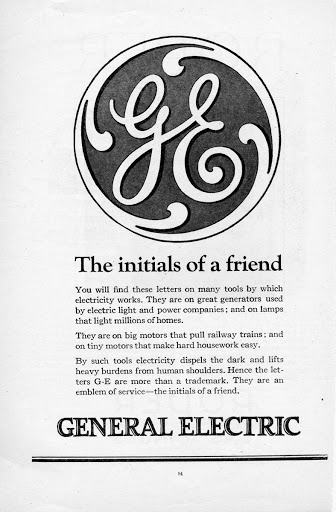 The logo was beamed into suburban homes throughout the 1950s on the General Electric Theater TV series, hosted by Ronald Reagan. It showed up, in red, in a poster for the 1964 World's Fair, promoting a GE-sponsored Disney theme park called Progressland, which never came to fruition but later was an inspiration for Disney's EPCOT Center in Orlando.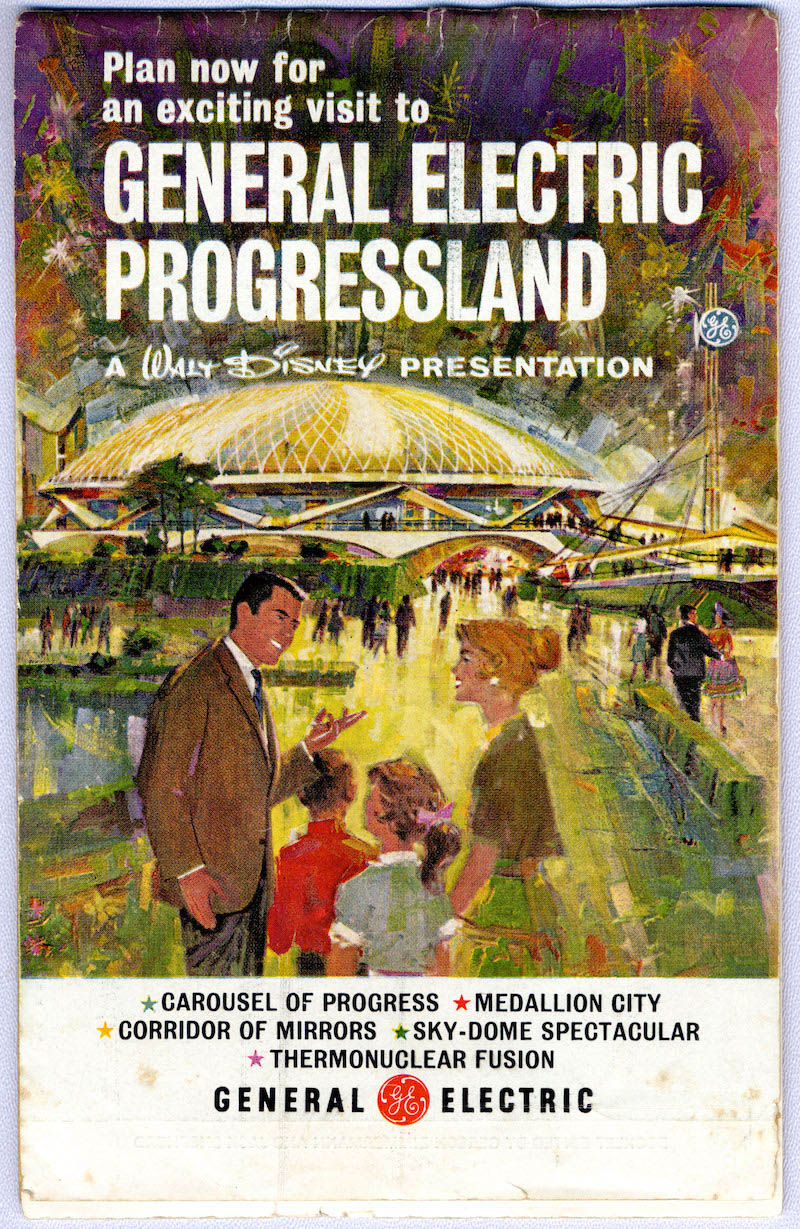 A sure sign of how embedded the company's logo had become in the public imagination came in the 1980s, when it was made into art. In 1985, the Tony Shafrazi Gallery in New York mounted a collaborative show between Andy Warhol and Jean-Michel Basquiat, and among its works was a series featuring the Monogram. For a piece called General Electric with Waiter, Warhol created a silkscreen of the logo and Basquiat added neon-red paint and drew a rudimentary automobile and a waiter carrying a drink tray.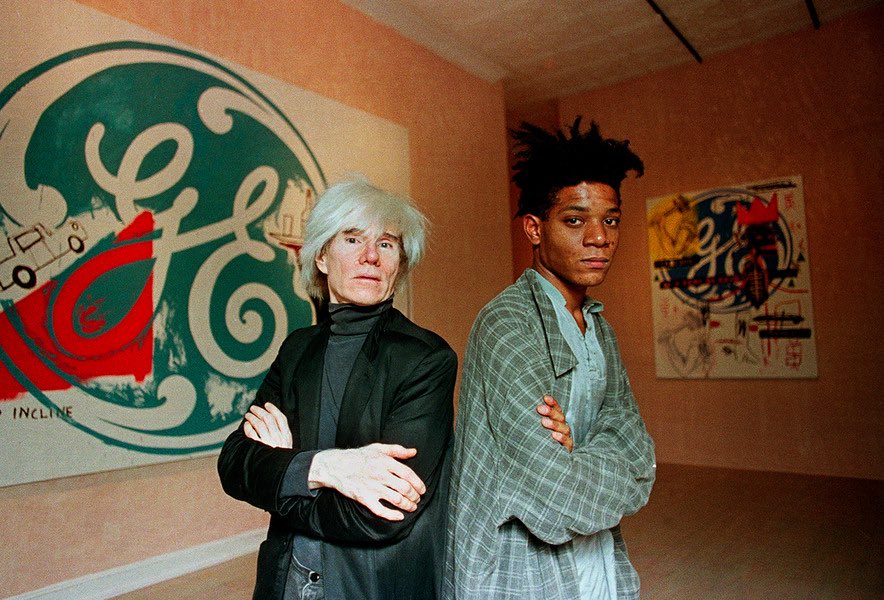 From 1909 until 2004, the Monogram was composed of white script against a black background, with changes made only to the thickness of the lines and the shapes of the "dingbats" around the ring. A 2004 redesign aimed to make the company's image warmer and more relatable, rendering the logo in a range of light and bright colors. The Monogram's form, unchanged since 2004, is now a medium blue, the official design as of 2022.
In this century, the Monogram has found its way onto ever more surfaces as the company has branched into new businesses. And even into the sports world. In 2017, Boston-based GE became the data and analytics partner to the Boston Celtics, and for three seasons the logo appeared in a white patch on the team's green uniforms.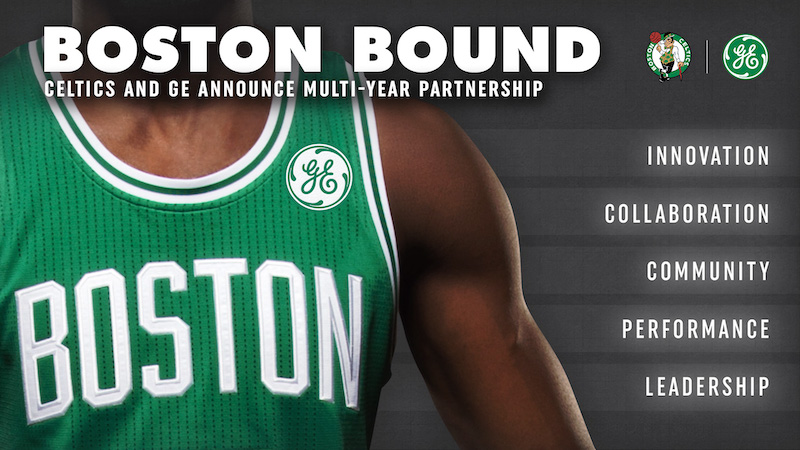 In 2020, GE Chairman and CEO Larry Culp introduced an updated GE purpose: Building a world that works. It's a message that Edison would have approved of, though the founder would have been hard-pressed to envision all the ways it would apply today — and the ways it will apply in the future with GE HealthCare, GE Vernova, and GE Aerospace.
From the forefront of provider and patient care, with more than four million product installations and over two billion patient exams a year, to providing one-third of the world's electricity with a focus on accelerating the path to reliable, affordable, and sustainable energy, to playing a vital role in supporting the aviation industry through a historic recovery while shaping the future of flight, GE may look different today, but it continues to benefit from a storied history and global brand valued at nearly $20 billion.**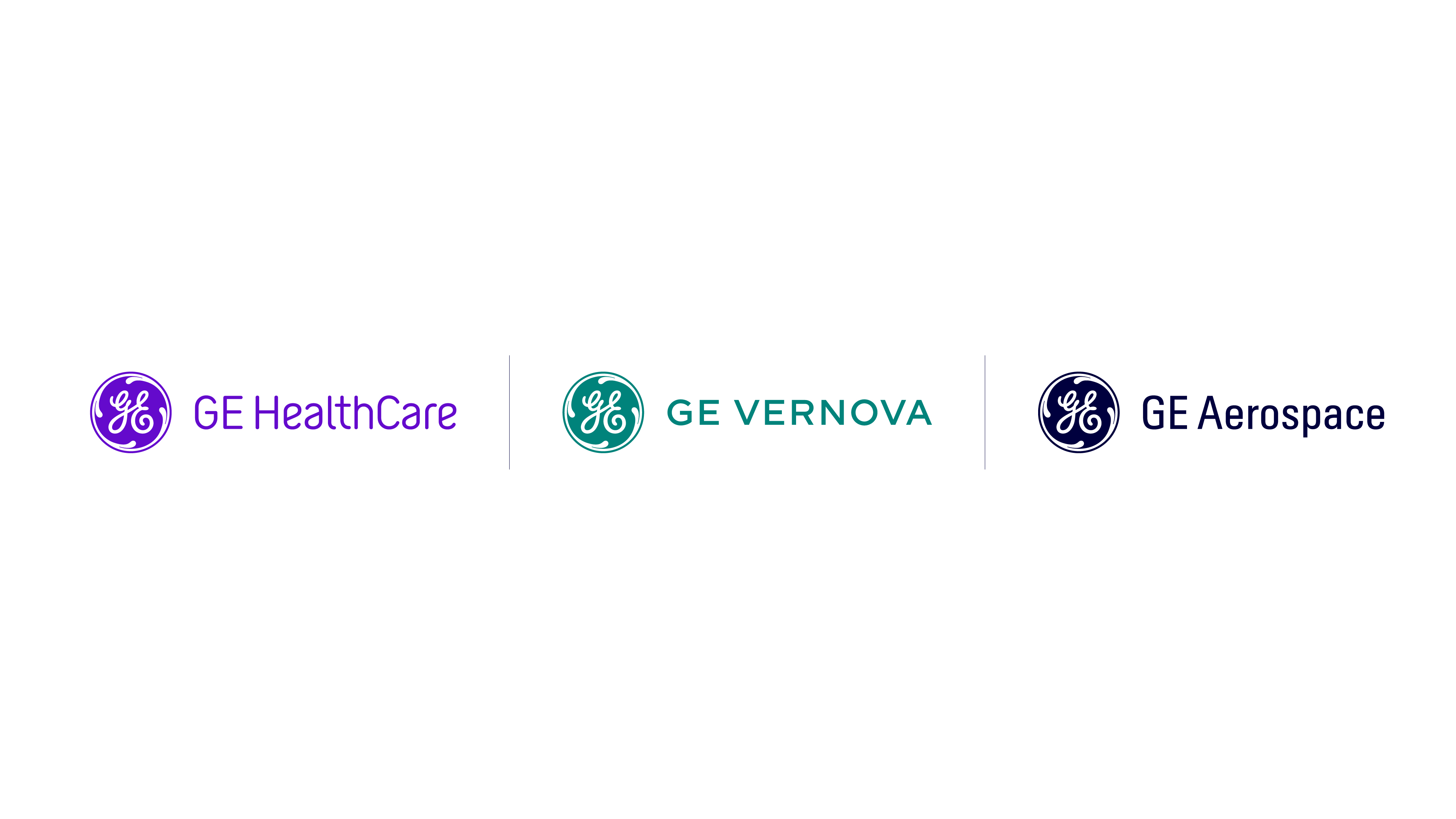 The Monogram front and center in all three planned companies' visuals serves as a strong reinforcement that, even as the company splits into three separate entities, they will always share the same DNA.
Thanks to Glenn Macura for his research and to Chris Hunter of the Museum of Innovation and Science for his assistance with this article.
Images credit: Courtesy of Museum of Innovation and Science, Schenectady, and GE.
*These plans may be subject to the outcome of legally mandated consultation in some parts of the world.
**According to Interbrand Best Global Brands 2021.