Liz Satterfield was looking forward to her future in early 2014. She was planning a wedding with her fiancée, Heather Dooley, in Milwaukee, and she had a good job working in business development (mergers and acquisitions) at GE Healthcare.
But in February that year, a cloud moved over the bright horizon. Satterfield, 41 at the time, had always been diligent about doing at-home breast exams and getting mammograms. That winter, she discovered a lump in her breast that turned out to be stage 3 breast cancer.
Satterfield had long feared that moment. Her mother died of breast cancer in 2012, at age 69, and her grandmother had had the disease as well. "There was part of me that was like, I knew this was my destiny," she says. "But I didn't think it would be so young."
Satterfield and Dooley leapt into action. They got married in Minnesota — same-sex marriage didn't become legal in Wisconsin until the fall of 2014 — spending just one night there before returning home to begin Satterfield's cancer treatment. A former ski racer and rugby player, Satterfield approached the situation like an athletic competition, trying to make the best of what she initially considered a 10-month endurance test.
Dooley, meanwhile, threw her efforts into supporting her new wife, taking detailed notes at doctor's appointments and tracking her treatment plan in a spreadsheet. She also changed jobs, leaving an IT startup company to join GE Healthcare in Wauwatosa, Wisconsin, as a program leader analyzing sales territories for 1,500 salespeople. Satterfield endured six months of chemotherapy, surgery and seven weeks of radiation treatment, battling fatigue, hair loss and pain.
Ten days after Satterfield completed her last round of chemotherapy in August 2014, the couple finally celebrated their marriage with 200 family members and friends in Seattle, where they had met two years earlier. "For the first year, we always had the end goal in mind of her being done with treatment," Dooley says. In December, Satterfield was declared cancer free.
In 2016, still working for GE Healthcare, they planned to move back to Seattle to be closer to Dooley's parents and to start a family. But at a checkup just before the move, Satterfield's doctor had more bad news. A scan and biopsy showed that her cancer returned and metastasized.
The couple realized they had to steel themselves for the long haul. Their future would now center around waiting for test results, revising treatment plans and dealing with unexpected setbacks. "Every day is a practice in resilience," Dooley says.
To help them cope, both women sought out support groups, but Satterfield struggled to relate to older women who talked about wanting to be alive to see their grandchildren. Most co-survivors, as Dooley is called, are older men.
And the support groups couldn't help with the central question in their lives: Should they go ahead with their plans to have a baby? The answer was yes. "We ultimately ended up saying that any parent could die at any time for any reason," Dooley says.
But the disease was unrelenting. A week before Dooley's due date, Satterfield learned that the cancer had spread to her brain. Her doctor recommended she immediately receive a type of radiation therapy called Gamma Knife radiosurgery, which uses radiation to destroy precisely selected areas of tissue. Ten days later, in January 2018, Dooley gave birth to their daughter, Rowan.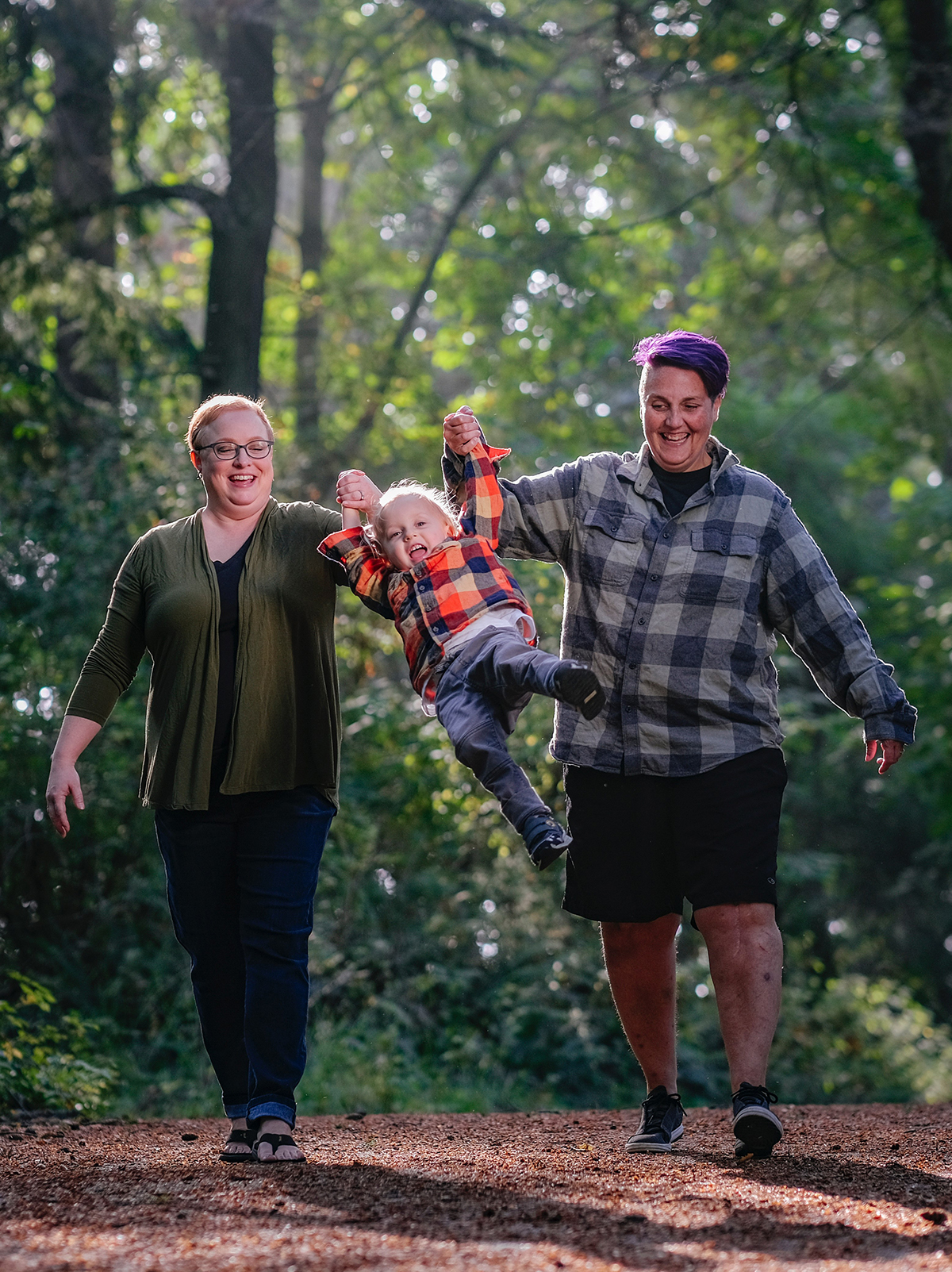 The years since then have been a process of learning to live each day with Satterfield's terminal diagnosis. "The big component is, how long does your treatment last?" she says. "It's not if it's going to stop working, it's when. The roller coaster is hands down the hardest part of this whole journey."
When Rowan was six weeks old, the family traveled to Las Vegas for the Healthcare Information and Management Systems Society conference, which had always been a highlight of the year for Satterfield. It was her last outing as a GE employee. Shortly after, she retired on long-term disability after learning her cancer had mutated to a more aggressive type.
The COVID-19 pandemic has brought new stresses. The family postponed their annual trip to Hawaii. Doctors' visits have taken on heightened risk as they navigate masks and hand sanitizer in addition to the normal precautions. Satterfield's cancer has spread across multiple organs in addition to the brain, though she says she feels good, getting out regularly to run errands and bike their daughter to school.
Rowan, now almost 3 years old, continues to be a source of joy for the couple. Her energetic spirit gives both women another reason to push on and continue to celebrate.
She's the most adventurous, fearless kid," Dooley says. "I try not to say, 'Be careful.' She's just such a cool human."
"I want to see older Rowan," adds Satterfield. "I want to know her."
They take little adventures, like spending time at a beach near their home, and try to educate people about the importance of breast-cancer screenings because finding cancer earlier improves women's outcomes. At GE, Satterfield helped usher in GE Healthcare's Automated Breast Ultrasound imaging device. Ultrasound can help clinicians find tumors more easily, especially in women with dense breasts like Satterfield and her mother before her. "It was very real and personal," Satterfield says of the integration project. "Where could all of us have been if this technology had been around sooner?"
But she doesn't like to dwell on the past, instead focusing on her future.
"The one thing I have control over is my attitude and how I react to things," Satterfield says. "I want what time I have to be as positive and as enjoyable as possible."
Categories
tags