State leaders, powerful executives, prominent philanthropists and influential thinkers are getting together for their annual gathering in Davos this week. As usual, Marco Annunziata, GE's chief economist, is also making the pilgrimage to the snowy Swiss valley. GE Reports caught up with him just as he was packing his bags. We talked about the importance of measuring innovation and GE's Global Innovation Barometer, which the company released in Davos on Tuesday.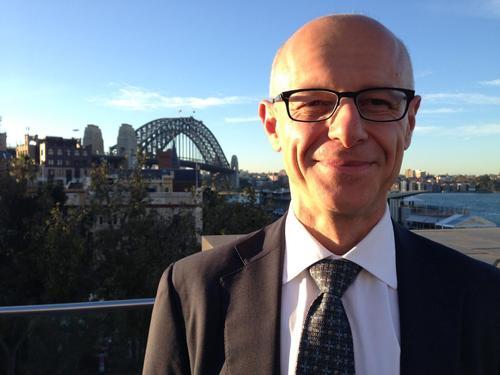 "There is now a much greater understanding that the industry of the future is one where humans and machines will work side by side," says GE's Marco Annunziata. Image credit: GE Reports

GE Reports: GE has been publishing the Innovation Barometer (IB) since 2010. Why?

Marco Annunziata: There is a lot of debate, and a lot of confusion, on the state of innovation: How much of it is happening? Is it helping businesses and society? What holds it back? The IB has enormous value because it gives us an insight — and data — into all these issues.

GER: Who is your audience?

MA: It's really everyone, but there are three groups with whom it resonates the most. Economists like me can get a better sense of how quickly innovation is taking place, in which countries it is likely to move faster, what implications it will have on economic growth, jobs, living standards. Policymakers can better understand how to foster innovation: whether they need to change regulations, strengthen the education system, help facilitate funding. The answer will often vary across countries. They can also benchmark themselves to understand which countries are better at innovation and identify and follow the best practices.

Finally, business leaders can get an invaluable insight into how their peers are doing: Are they making progress on collaborative efforts? Do they see securing top talent as a priority? How much are they already benefiting from innovation? Do they bet on disruptive or incremental innovation? The IB is an unmatched opportunity to benchmark yourself against the competition, to get a broad and deep understanding of how important it is to innovate today, and what it takes to do it successfully.

GER: What jumps out at you from this year's edition?

MA: To me, the most interesting and surprising finding of the 2016 barometer is that people are not as afraid of innovation as most press headlines would have you believe. Nowhere near. Only 17 percent of business executives and 15 percent of the informed public expect digital-industrial innovation to have a negative impact on jobs. This is a stunning result that flies in the face of all the scaremongering articles telling us that innovation will destroy jobs. And I think the reason is that digital industrial innovation is already here, it is already taking place, and people can see that it does not destroy jobs. There is now a much greater understanding that the industry of the future is one where humans and machines will work side by side, and that this will result in more and better jobs. It is part of the more general attitude toward innovation you can see in the barometer, but for me this is the most surprising — and inspiring — result.

GER: Why did GE start tracking innovation?

MA: Measuring innovation sentiment is important for two reasons. From a business perspective, you must invest in innovation if you want to innovate. And investment, ultimately, depends on the "animal spirits" of business leaders and engineers — as Keynes used to call them. It depends on whether they feel optimistic, ready to take the necessary risks. From a policy perspective, it is important to take the pulse of the public's sentiment on innovation because it will help shape the policies and regulations that can facilitate innovation or hold it back.

GER: Are there any other tools like the IB?

MA: As far as I have seen, the Innovation Barometer is a unique instrument. It is unique because it focuses on the perspective of innovation, whereas other indicators and surveys and look at broader issues of competitiveness or economic development. It is unique because it was designed by people who live and breathe innovation, and it surveys business leaders who are directly involved in the strategic innovation efforts of their companies. And it is unique because it is a living instrument, where the questions can adapt from one year to the next to give us the best sense of how the sentiment toward innovation and the environment for innovation are evolving.
Categories
tags