Ask any farmer, and they'll tell you that weather patterns have become erratic. Monsoon seasons, once as predictable as sunrises and taxes, now fluctuate wildly, making it difficult, if not impossible, to prepare. Among the causes implicated: global emissions, which climate-change experts believe could raise Earth's temperature 8 degrees Fahrenheit before the end of the century if left unchecked.
Invisible and odorless, the gases carbon dioxide and its accomplice, methane, are perhaps the best-known villains turning up the heat on the planet and wreaking havoc with our weather. But they are mere pickpockets compared with another secretive conspirator lurking at the fringes of the energy system. If GE engineers have their way, it may be making its last stand.

Electric utilities have relied on it for the last 50 years. Known as sulfur hexafluoride, or SF6, the gas is a good insulator, and the energy industry has been using it to insulate high-voltage components in substations. "It's very good for current interruption and insulation," says Jean-Louis Habert, a senior marketing leader for GE Energy Connections' Grid Solutions business in France. "But the major drawback is global warming." Habert says 1 kilogram of the potent gas is equivalent to 23.5 tons of carbon dioxide in terms of global warming impact.

Four years ago, scientists at a unit of Alstom — now part of GE — began working on a new gas mixture that could replace SF6. The new gas combines carbon dioxide with a new synthetic molecule made by 3M, the American materials company. The gas, called Green Gas for Grid, or g3, is 98 percent less harmful than SF6. G3 is now being used in high-voltage power-transmission equipment such as gas-insulated substations, switchgear and busbars..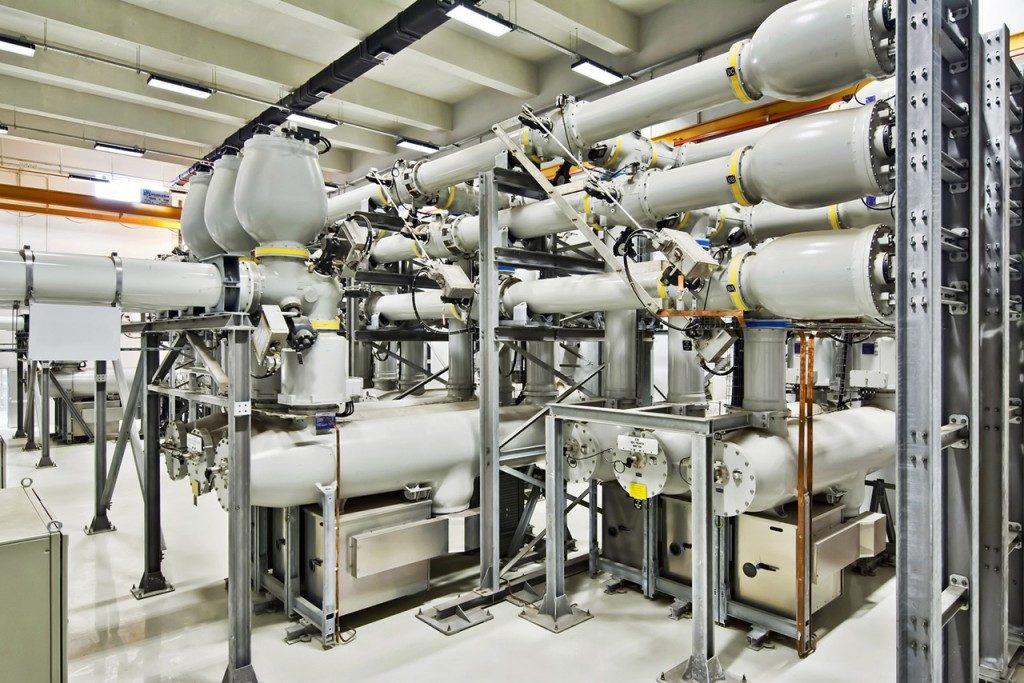 Above: This high voltage substation use sulfur hexafluoride gas for insulation. GE will start replacing the gas with a more climate-friendly alternative. Image credit: GE Power. Top illustration credit: Getty Images

Habert says that g3 will be an important tool for lessening the electrical industry's impact on the global environment, but more immediately it helps utilities start to meet regulatory thresholds for greenhouse gas emissions.

Take the U.K. electric company National Grid. It must meet progressively stricter guidelines for reducing greenhouse gasses, says Mark Waldron, switchgear technical leader for engineer and asset management at the utility.

Those guidelines come with financial incentives and penalties. If the company leaks less than its target, it earns approximately 900 pounds (about $1,132) per saved kilogram of SF6; if it leaks more, National Grid must pay the same amount per extra kilogram that it emits.

"SF6 has a very high global warming potential, and minimizing the release of that gas into the atmosphere is a very important commitment that National Grid has made both to its regulators and to its wider stakeholders," Waldron says.

GE now is working with National Grid to test g3 in a 420 KV gas-insulated substation that is being installed in the village of Sellindge in the southeast of England. The new g3 technology, which should go into operation in 2017, has been fitted into two of the substation's five feeders. It's somewhat more expensive than the older technology, but regulatory incentives have made it possible for National Grid to be an early adopter of g3, Waldron says.

Because g3 is a mixture of two different gases, filling and monitoring the equipment is also more complex than with SF6, which is a pure gas. That's why National Grid is using special handling gear and monitoring software developed by GE. National Grid will monitor the substation over the next few years to make sure the g3 equipment is working the way it should. The utility also plans to build a new substation in the coming years that uses more equipment insulated with g3.

"If we can move to a world where we are not using SF6 at all, that is clearly a better way of managing the problem," Waldron says.

Scottish utility SP Energy Networks also will pilot g3 for gas-insulated lines in Kilmarnoch substation. Several other electric utilities in Germany, Switzerland, France, and South Korea have decided to use g3 or are considering doing so to reduce their own greenhouse gas emissions.

Says Habert: "G3 is a disruptive solution that has started and will not stop."
Categories
tags