It was not long ago that the Saudi Arabian economy had a one-track mind.
"Oil is our one and only chance to build a future," said one of the kingdom's major writers, Abdul Rahman Munif, about his 1984 novel, "Cities of Salt." The book's title was a metaphor for what the author believed was the unsustainability of a crude-based economy: The region's cities would dissolve when the tide of progress washed in.

But the kingdom, which relies on oil for 42% of its GDP and 90% of its export earnings, is learning to stop worrying and love the barrel — witness the planned stock listing of the Saudi state oil company Aramco. But it's also learning how to look beyond it.

"Oil will always be there for us," says Rouiah Bakhsh, an operations leader at the GE Manufacturing & Technology Center (GEMTEC) campus in the Arabian Gulf city of Dammam. "But we also need to diversify and look for alternatives."

The Saudi government is setting out to do exactly that. The kingdom is three years into "Saudi Vision 2030," a plan to reduce the Middle Eastern country's dependence on oil and boost its industrial and manufacturing sectors. Bakhsh, speaking on a break between shifts, explains that it's important to build up these sectors if her country is to reduce its exposure to the crude market and its reliance on imported goods.

There are signs that the kingdom efforts are paying off. In 1974, the country's 206 manufacturing facilities employed just 10,000 people. As of early 2018, Saudi Arabia's industrial and manufacturing ecosystem has 7,630 facilities that provide work to more than 1 million people. The share of the sector in the country's GDP has increased from 3% to 12% over the same period. GE has recently published a white paper on the future of manufacturing in the Kingdom, which dives into the country's manufacturing landscape looking forward.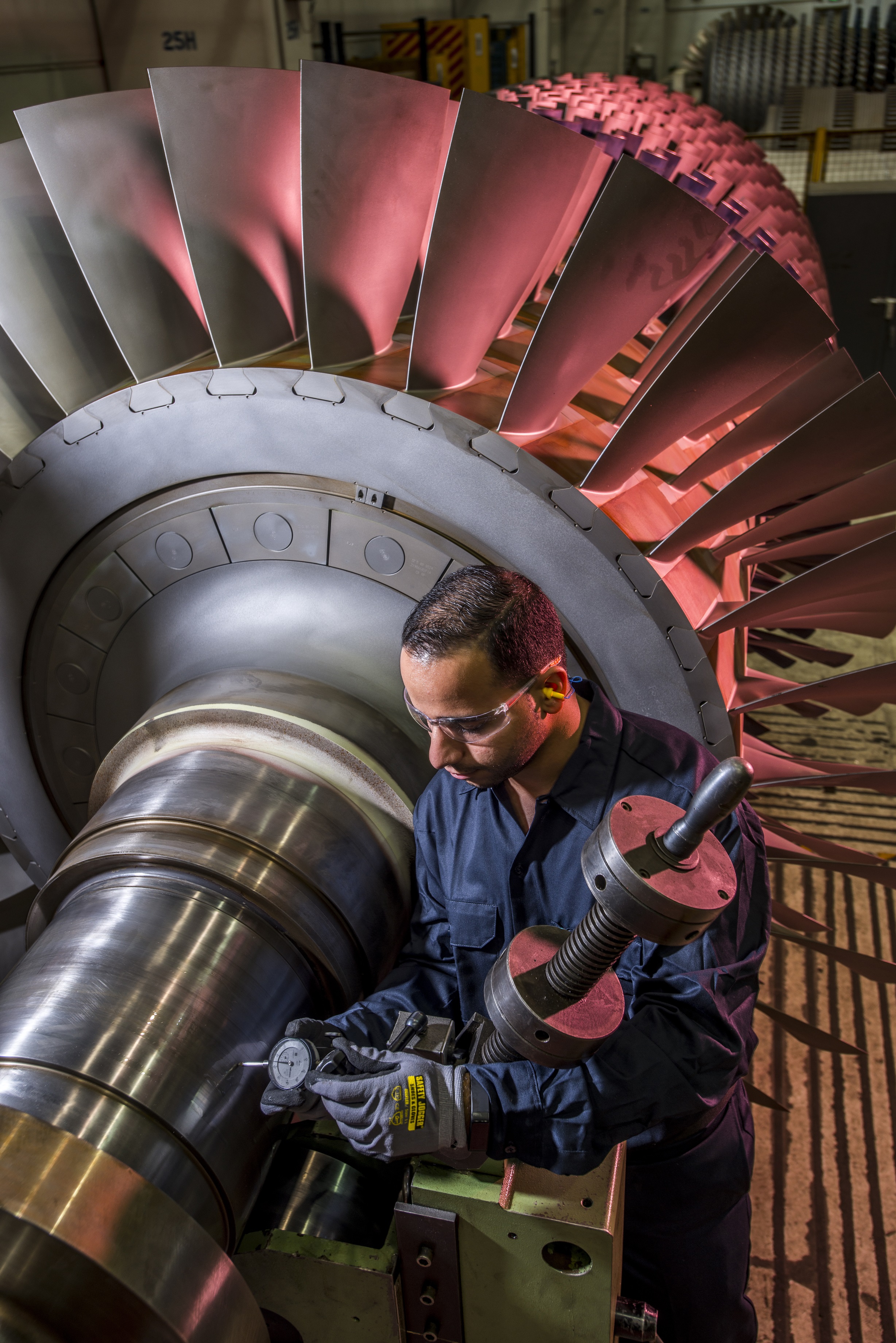 also houses monitoring and diagnostics, manufacturing, and R & D centers).

The center's status as a crucial link in the local and global energy business — GE supplied equipment for the kingdom's first oil refinery and its turbines supply more than half of Saudi electricity — is what drives the local manufacturing scene. This massive gas turbine hub demands a massive catalogue of instantly available spare parts. Saudi suppliers and factories meet the challenge, producing over 150 gas turbine parts for the center, around 80% of which are exported to markets in Europe and the United States.

GEMTEC also stokes the spirit of entrepreneurship: About 140 of these Saudi suppliers are small and medium enterprises (SMEs).

Bakhsh offers a glimpse into the workings of the Dammam nerve center. Her team of expert welders repairs a gas turbine part called the power nozzle, which is the component that directs the flow of hot air into the moving section of the turbine. It withstands temperatures as high as 2,400 degrees Fahrenheit.

Bakhsh, who alternates between morning and night shifts, can take the heat. "I need to be constantly available and reachable for the customer to solve issues and strategically plan jobs in terms of manpower, hours and costs," she says. She is also fiercely proud of her team of technicians and fights for them. "My first priority is to make sure my team and their environment are safe."

The teams juggle jobs from GEMTEC's global customers with demand from the local market. More than 500 GE-made gas turbines are in Saudi Arabia, including about 210 GE-made turbines and centrifugal compressors supporting the country's oil and gas industry. Bakhsh explains that Dammam is perfectly located to service Aramco, the world's most profitable company.

"Most of Saudi's rigs are also on the country's east coast, so we have plenty of volume passing through," Bakhsh says.

Rachel Duan, president and CEO of GE Global, who was in town earlier this week for the Future Investment Initiative, explains that the kingdom's fast-growing manufacturing sector is more than just a foil for oil.

"We see it as a powerful platform to achieve the wider goals of the country — create jobs for young Saudis, build human capital, promote innovation, support SMEs and build a culture of tech entrepreneurship," she says.

Bakhsh also is working hard to dispel the myth that female engineers are rare in Saudi Arabia. She explains that while studying electrical and computer engineering at Jeddah's Effat University, she became increasingly fascinated by robots and control systems. This interest culminated in a capstone project at the King Abdullah University of Science and Technology that sounds like material for a James Bond movie: Bakhsh spent 14 months working on an unmanned underwater vehicle.

"Don't believe everything you read — the government is pushing for female engineers to play a bigger role in the kingdom," she says. "I have never faced any issues with any colleagues or customers, and my leaders have always been supportive."

Bakhsh is keen to see GE promoting female leaders in the kingdom in tandem with the growth of its industrial and manufacturing sectors.

"We are doing a fantastic job, but we need to continue to prepare Saudi women to take on leadership roles," she says. "Success relies on the work of a whole group of people."
Categories
tags