The stakes are high at Science meets Parliament: they encompass the future of research and discovery in Australia; how we, in our splendid geographical isolation can continue to be the architects of our own destiny; and the health and equitable distribution of opportunity in our society.
The stakes are high, yet the interactions are personal and memorable as politicians seek to broaden their understanding of the possibilities by meeting face to face with scientists, technologists, engineers and mathematicians.

This year, 2019, marks the 20th anniversary of the event known as Science meets Parliament (SmP). "Between 200 and 240 STEM professionals participate every year, and around two-thirds of those are new each time, so we calculate that we have connected more than 2,500 passionate practitioners in every field of STEM endeavour, with parliamentarians," says Kylie Walker, CEO of Science & Technology Australia, the organisation behind SmP.

As a leader in industrial technology and a partner on many globally significant scientific research and development projects, GE Australia has a strong affinity with the goals of Science meets Parliament and has become a steadfast Gold sponsor of this transcend-the-barriers event. Says Keren Rambow, head of GE Aviation in the region, "It's important for parliamentarians to understand some of the things that the scientific community struggles with, and also the mind-blowing opportunities. The more exposure they have to actual scientists, the better they can direct policy and legislation."

Walker says that in her role as head of the advocacy body for science and technology in Australia, she now frequently encounters politicians who speak with fondness of their SmP experience. "They' say, 'Oh, I met a terrific biologist last year who brought me a 3D-printed bone. I still have it on my shelf — it's the best thing.' Or, 'As a result of Science meets Parliament, I went to visit this amazing facility that is prefabricating parts for small-scale manufacturing in Australia.'"

The warmth that develops between researchers, technologists and inventors helps forge the recognition, says Walker, that "science and technology are not just cerebral concepts, and they're not the exclusive preserve of academics".

Walker frequently observes understanding unfold at SmP, as politicians who are of necessity sophisticated generalists discover the many ways in which "science and technology contribute to the economy, both directly in terms of creating new knowledge, applying that, and creating new products; but also indirectly through, for example, improving the general health status of the population".

 

The critical role of data in addressing inequalities in health

Kalinda Griffiths, a cancer epidemiologist and Scientia Fellow with the Centre of Big Data Research at the University of New South Wales, has participated in SmP before. Last year, her pollie was then Prime Minister Malcolm Turnbull. "There were five of us in the room with the Prime Minister," she recalls, "And, for me, to be able to have a robust discussion and put something on the radar of the highest person in power in Australia, is critical, because then people become aware of those issues that are playing out on the ground."

Griffiths then, as this year, was discussing issues of data — the first semi-national data collection on Aboriginal cancer ever to be gathered and investigated — and the importance of Indigenous people being at the table when any data concerning their health, well being and socio-economic factors are being analysed, and possible responses are being discussed.

"Science meets Parliament is an opportunity to discuss data democratisation," says this passionate and determined young Aboriginal woman of Yawuru heritage, who began her career in Indigenous health research with a lab traineeship in microbiology and went on to complete a degree in biomedical science, a Masters of Public Health, and a PhD in cancer epidemiology.

 

Mentors and media skills to boost women in STEM

Griffiths acknowledges the role that mentors like Professor Joan Cunningham, have played on her path to working in transformative science. Cunningham is senior principal research fellow at the Menzies School of Health Research, which is one of Griffiths' bases for directing and contributing to research around the country. Griffiths is chief investigator on a number of projects including Targeted Approaches for Aboriginal and Torres Strait Islander People with Cancer — known as TACTICS for short. And at the Ramaciotti Centre for Excellence in Building Regional and Remote Biomedical Capability she's working on a project to provide pathways for young people living in regional and remote communities to engage in science and health related fields, by offering traineeships, cadetships and internships in the regions where they live. Cunningham has been mentoring Griffiths for the past 22 years, helping her channel her drive to enable targeted solutions to Indigenous health challenges.

Griffiths will this year attend SmP as a Superstar of STEM, a program initiated in 2017 by Science & Technology Australia to smash the stereotypes of scientists as men in lab coats, by amplifying the voices and expertise of women working in STEM careers in every part of the economy.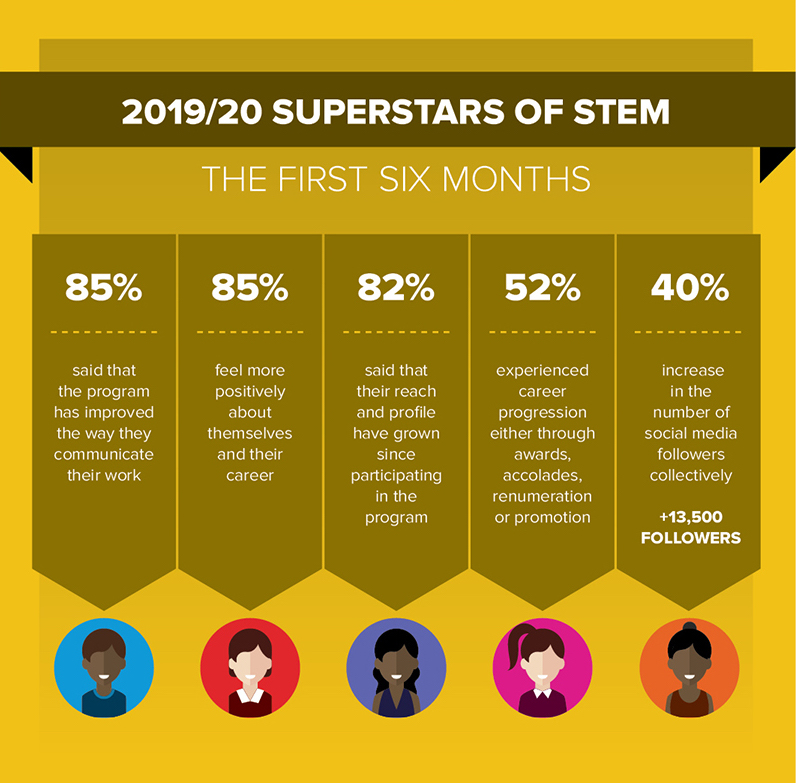 Some of the achievements of the cohort of remarkable women scientists on the 2019/20 Superstars of STEM program. Infographic: Science & Technology Australia

The program which is supported by GE Australia, includes intensive training in media skills, profile building and public speaking as well as career mentoring. The 2017-19 cohort of 30 Superstars made a huge splash, garnering 2,500 media mentions, and giving more than 15,000 in-person presentations in Australian schools. School appearances are organised to inspire students with the diversity of opportunities in STEM careers and to show girls that science is absolutely a field in which they can shine.

The 2019-2020 cohort was expanded to 60 Superstars of STEM, and their training, mentoring and opportunities have been extended over two years.

As a mentor to Dr Verity Normington, project geologist with the Northern Territory Geological Survey, GE's Keren Rambow has been struck by the incredible contribution scientists make to Australia, and she would like to see them receive greater acknowledgment and ease of access to funding. How to better mix science with business and commercial outcomes is just one of the themes Rambow — who started her career as an avionics engineer in the Royal Australian Air Force, developed a successful business in aerospace consulting, and is now general manager of GE's Aviation sales in the South Asia Pacific region — and Normington discuss when they meet.

 

Enabling informed conversations

When Normington attends Science meets Parliament in 2020 (the current cohort of Superstars has split their attendance over their two-year tenure), she wants to communicate some of the incredible advantage that mineral and resource discovery confers on Australia.

The maps and reports she and her colleagues in the Alice Springs office of the Survey produce are used by prospectors looking for a particular commodity, by pastoralists and National Parks' officers seeking to understand water flows, by environmentalists and others. "The work we do, applying new techniques and building on the work done by Federal geologists back in the 1960s, stimulates all kinds of activity," says Normington.

Her SmP meetings will be inspired by a recent ministerial comment that protesters at a mining conference should be thankful for mines "because they pay their welfare cheques". Normington feels that a better-informed parliamentarian with an ongoing connection to a real-life geologist would have made a more persuasive and articulate response: "I thought, 'What about all the good things that mining does for the country?' If it wasn't for the copper and gold and rare earth being mined here, there would be no renewable energy industry, for example."

As the Australian Geoscience Council's Ambassador for Early Career Geoscientists, Normington feels compelled to change perceptions around her field of discovery. Politicians represent an obvious and influential group for spreading enlightenment. "There's not a lot of scientific literacy in the general population, and a better understanding among politicians and senior business people would make a difference," she says.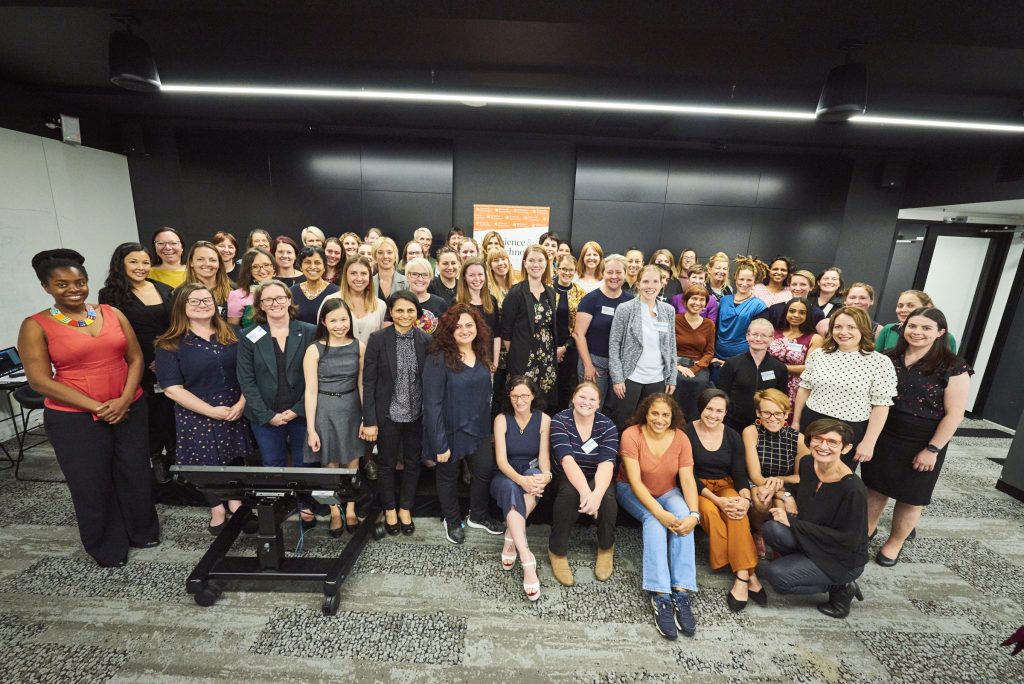 The 60 inspiring Superstars of STEM participating in this year's "amplifying" program come from all parts of Australia and work in a wide variety of science and technology roles. Photo: Science & Technology Australia

Helping scientists and technologists to talk about their work in ways that everybody can understand — one of the aims of the Superstars of STEM workshop, Communicating with Influence — will also open areas views as too complex to people who are interested or simply curious, or who want to better understand the challenges and opportunities of our time.

The stakes are high, the Superstars are primed, and every day Science & Technology Australia's Twitter feed continues to introduce the scientists making their way to Science meets Parliament on November 26-27. Follow them at @ScienceAU.
tags