Crazy about "Star Wars" and space travel as a kid, Lauren Duncan always knew a career in aviation was in her future. But, as someone who identified as transgender, getting the chance to live one day as a woman seemed light years away.
Afraid her parents would disapprove of what they saw as a deviation from a "heteronormative" lifestyle, she lived a closeted life until her university days opened the doors to a wider, more accepting world. At the University of Cincinnati, where she studied mechanical engineering, she became involved in the LGBTQ community and learned how to become a better advocate for herself.
Now a GE Aviation engineer and the global transgender advocate for the company's Gay, Lesbian, Bisexual, Transgender and Ally (GLBTA) alliance, she's helping smooth the way for others to make the same journey. "It's a wild idea to be here, to witness and watch people transition like me, bringing their full self to the table," Duncan says. "Growing up, I didn't think I'd get the chance to transition. It was always viewed as such as negative thing, and we're finally moving the needle."
Duncan joined GE in 2011 and came out as a woman during a job rotation a few years later, after a lot of excitement and planning on her part. Her friends, colleagues and managers were generally supportive, but she sometimes struggled to defend herself to the wider world. "People want to continuously project their gender roles on you," she says. "There's a perception you're never female enough, or for trans men they're not male enough."
It was a colleague who encouraged her at this time to become a strong, visible LGBTQ ambassador. "That really resonated," Duncan says. "I wouldn't say I came out again but I let go of that notion of hiding. This is my journey, I'm not like everyone else, accepting that is OK and makes me who I am."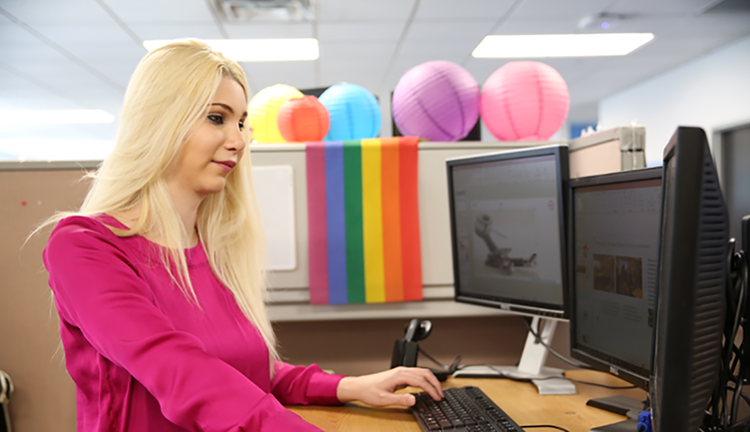 Duncan says GE's strong focus on inclusion and diversity has helped LGBTQ people within the company feel comfortable. "At GE, I've experienced a culture where many people feel comfortable to be 'out' and to transition in the workplace," she says.
Duncan says positive media coverage and education have also helped break down transgender stereotypes, allowing people to re-examine their gender ideas, including her parents. "It took years of self-reflection and a journey of their own to come around to love me for who I am and accept that part of me," Duncan says. "They had to stop and think, 'What is it that I love about my child?' and grow to accept that it wasn't just gender. After a lot of work and time, we have built a better, positive relationship. Today, I think it brings them a lot of joy to see that I'm doing well and thriving, even though it was a long journey for us to get there together."
But more work needs to be done, Duncan says. She says she got involved with the GLBTA after she transitioned and "saw that there was a need for more education on the topic within the company. A lot of people had good questions and wanted to be supportive, but not everyone understands how to be supportive. So, we needed that voice to say, 'Hey, this is what being transgender is and here's how you can be a great ally,'" she says.
She has recounted her story to GE executives and senior managers to help educate them about trans inclusion and ways to provide the best environment for employees who want to transition. "We've eliminated a lot of barriers for people," she says. "It's never going to be easy for someone to go to their colleagues and say, 'By the way, I'm trans,' and then come out and re-establish your identity. Helping managers be more supportive helps the process."
Duncan says being a global transgender advocate for GE "is bringing everyone up to speed on education and working with people around the world to set good policies for people to transition in the workplace and to set good guidelines so people aren't always starting from scratch when they begin that conversation with their manager or HR." Says Duncan: "It's also about creating that network so people have the visibility and they see that they're not alone and feel more comfortable that they can be themselves. Providing visibility to those who have successfully transitioned and are successfully living their lives in the workplace is crucially important."
Despite many Pride Month celebrations being put on hold due to the COVID-19 pandemic, GLBTA has encouraged its members to tell their individual stories about coming out and finding acceptance, Duncan says. "Pride to me means getting together, standing in solidarity, appreciating the progress we've made, embracing who we are, celebrating each other and looking forward to what's next," she says.
Reflecting on Pride Month's history, held every June to commemorate the Stonewall Uprising in Manhattan in 1969, Duncan sees parallels with Black Lives Matter rallies happening around the world. "We owe a lot to those pioneers in the '60s, especially the trans women of color who really made this community what it is today," she says. "So, when it comes to supporting Black lives, it makes perfect sense for the LGBTQ community to march in solidarity because our paths have always been towards equality and right now Black lives and Black transgender lives are the most at risk."
Looking back at her journey, Duncan says she would tell her younger self that "not everyone will accept you, but at the end of the day, you control your own destiny and write your own future. You deserve to be who you are and as long as you love yourself and continue on the path you choose for yourself, you will find the people that accept you and you will get to live your life."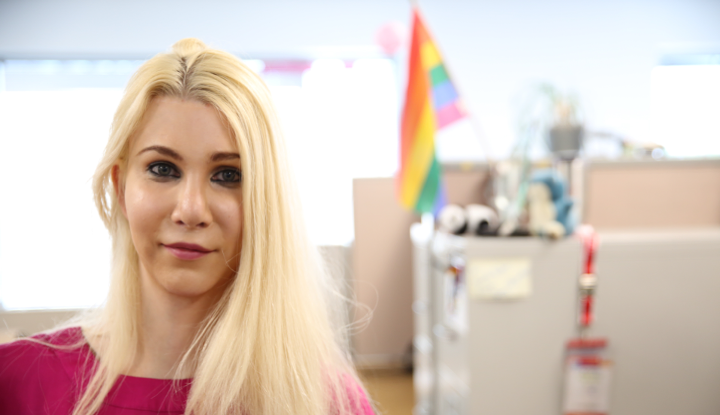 VIDEO: Coming Out, Transitioning & Being Yourself: Lauren Duncan
Categories
tags