For weeks, digital signs on trailers have been parked on arterial roads around Sydney's Northern Beaches, alerting residents that the area's new primary hospital was about to open. What they couldn't express in their limited language, is how Northern Beaches Hospital forms the new cornerstone of cutting-edge care for a district which has been limping along for years on ageing healthcare infrastructure.
The transfer of patients from Manly Hospital and from Mona Vale Hospital took place seamlessly at the end of October, and the contrast for dedicated nurses and clinicians, long accustomed to juggling a patchwork of medical equipment and paper-based records in crumbling buildings, could not be more dramatic.

"It's been fun to watch all the nurses from Mona Vale and Manly hospitals coming in for tours and seeing their reactions to the brand-new light-filled space," says GE Healthcare's Skye Davidson of the months leading up to patient transfer. More fun still to help them realise the dream of not having to maintain paper-based patient charts.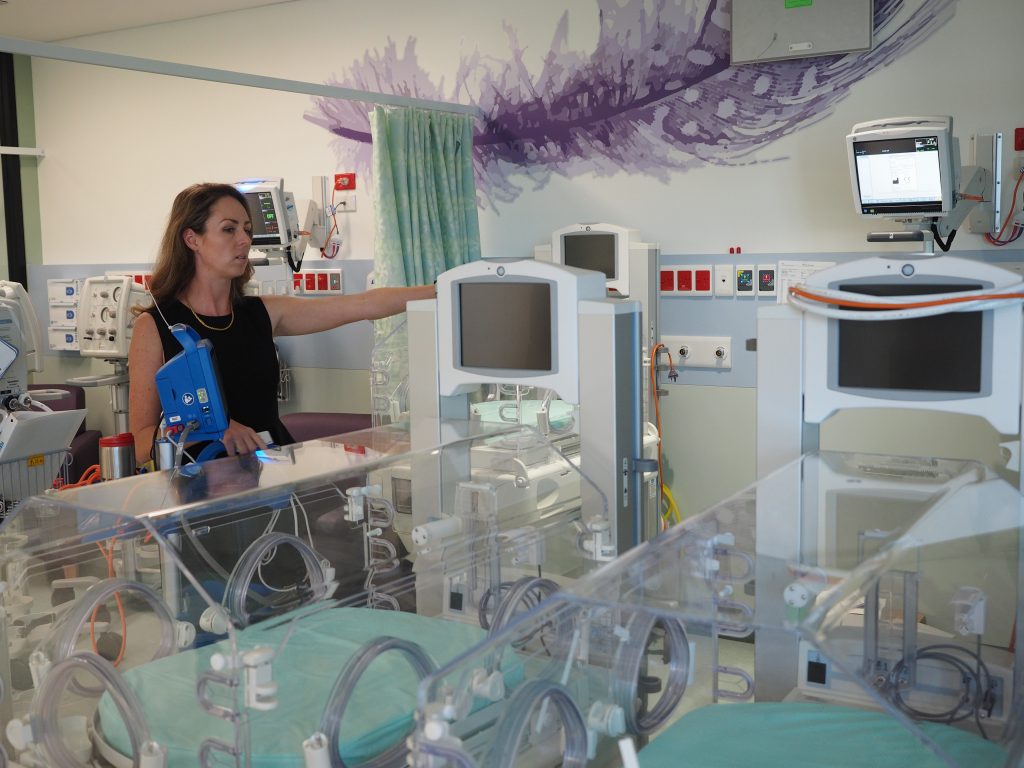 Skye Davidson GE Healthcare's project manager in Northern Beaches Hospital Special Care Nursery shortly after delivery of the facility's several GE Giraffe OmniBed incubators, and Panda Warmers.

As project manager for installation and training on the $5 million worth of GE Healthcare equipment — including patient monitoring, anaesthetic and infant-care technology — at Northern Beaches Hospital, Davidson has played a pivotal role in one of the biggest digitally integrated hospital projects Australia has ever seen.

The 488-bed Northern Beaches Hospital, with its 14 operating theatres, is a partnership between private healthcare provider Healthscope and the NSW Health, and will cater to both private patients funded by their health-insurance providers, and public patients funded by the public purse.

Says Andrew Bott, Healthscope's project manager of operations for the hospital, who has been planning and coordinating the functional and aesthetic design of the facility since 2014, "We've brought many, many things together to support the patient journey, provide the best care, and to make the hospital 'Wow!' for the staff."

It's rare to have a from-the-ground-up opportunity to design workflow and information-management systems for a major hospital. Most hospitals are subject to piecemeal upgrades, which may be effective in the microcosm of each modernised department but are not fully integrated. Even new hospitals can be fractured by the equipment preferences of individual department heads: "I've worked in new hospitals were ICU might have Philips equipment, GE might be in coronary care, and somewhere else it might be Draeger," says Bott.

His team's vision for Northern Beaches Hospital was for consistency, ease of use, and the automatic hospital-wide capture of patient monitoring into an electronic medical record (EMR). "It was important for us to only have one system throughout the hospital, because we wanted information to move around with the patient," he says.

Continuous moving data

For some weeks before the hospital opening, Skye Davidson has herself been moving around the building with her new closest friend, a mobile GE Healthcare Carescape VC150 Vital Signs Monitor. She's been demonstrating its capabilities and testing its configuration by setting up EMRs for anyone who'll stand still long enough to have their temperature, pulse rate and blood pressure recorded and stored via Wi-Fi.

Northern Beaches Hospital is equipped with 159 such GE VC150 mobile monitoring units, which will record thousands of readings a day as they accompany nurses on their daily rounds. The hospital also has more than 200 GE Healthcare Carescape hardwired bedside patient monitors, which can also record 12-lead electrocardiograms (ECGs), thereby reducing the hospital's need for GE Healthcare ECG carts from an estimated 100 units for a facility of this capacity, to just 15.

Every patient monitor can also display the information and vital signs of any patient in the hospital, so that nurses waiting for the return of a patient from theatre to a recovery ward, for example, can view that patient's condition and prepare for their arrival.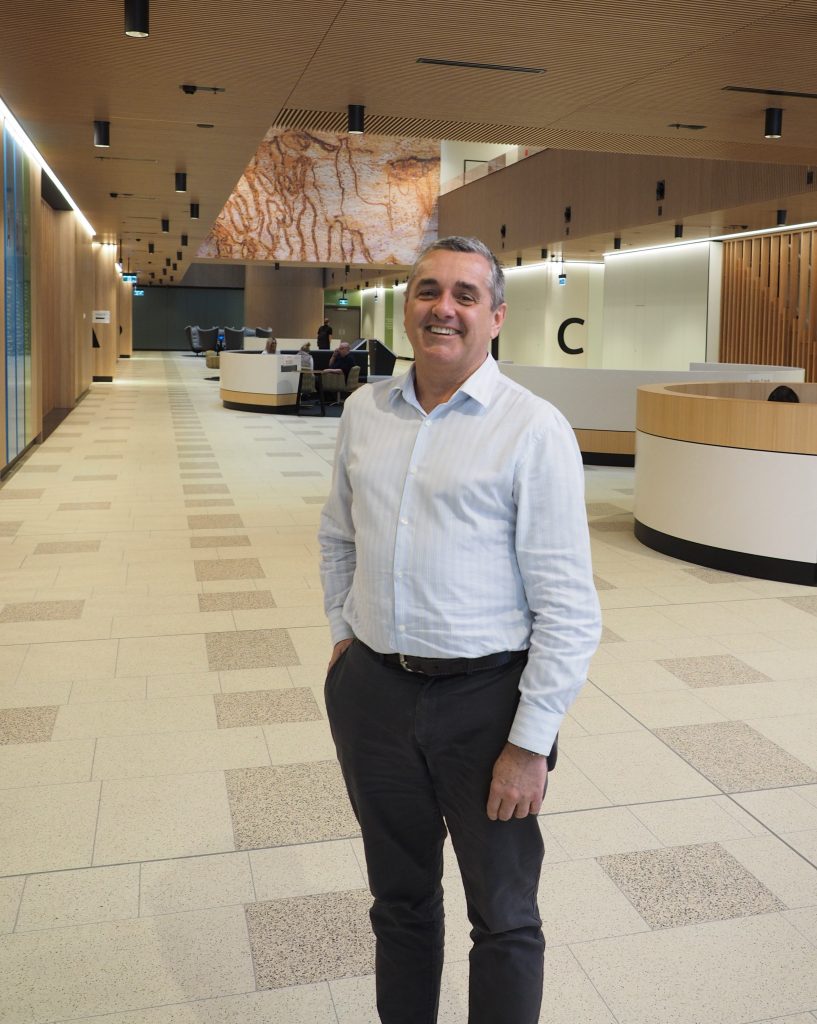 Andrew Bott, project manager of operations for Healthscope in the bright foyer of Northern Beaches Hospital. The artwork on the wall in the atrium is a close-up photo by a local resident of Scribbly Gum bark.

In most Northern Beaches Hospital wards, GE Healthcare's nursing central station, as well as every monitor in that department, also displays alarms triggered by changes in patient condition, so staff at any monitor or bedside can instantly assess the urgency and type of response required at another bed.

Monitors won't miss a heartbeat during ward-to-ward patient transfer: all bedside monitors at Northern Beaches Hospital have a removable unit — the patient data module (PDM) — to which monitoring leads are connected, and which can travel with the transiting patient, taking and storing regular readings all the while, until the PDM is plugged in again to the monitor at the patient's new bed.

Monitored data, transmitted to patient EMRs, will streamline staff workflows, eliminate data-entry errors, and provide more accurate and consistent reflections of each patient's state of health to clinicians making care and treatment decisions. "An anaesthetist in theatre can call up all data recorded on a patient from the point of admission to their arrival in theatre," says Bott.

"We're exceptionally happy with GE," he says.

Winning Healthscope's business, trust, and this ringing endorsement is a testament to the GE Healthcare team: from first responders — the sales executives with clinical experience — to meticulous warehouse staff who painstakingly consolidated, assembled and delivered the several tonnes of equipment; applications experts who configured the equipment to Northern Beaches Hospital needs; and networking heroes who integrated each piece of technology into the hospital's digital network.

The care and attention to detail devoted to installation of the equipment has engendered a high level of trust between the two healthcare organisations, validating Healthscope's decision to award GE the contract for "the lion's share of electromedical equipment". Healthscope was initially won over by the cost effectiveness, outstanding features and combined benefits of GE Healthcare's solutions.

Digitally displaying the strongest cardiology hand

"MUSE was a big step forward for Healthscope," says Bott of GE Healthcare's cardiology information system, which has been integrated into the hospital's EMR. "Generally," explains Bott, "ECG recordings and reporting are provided by pathology services, and they're often paper based. MUSE gives us absolute control, with our staff recording the ECGs, our cardiologists reading the ECGs, and the ECGs being held in the EMR," for subsequent instant access and comparison as required.

People frequently ask Bott what the biggest innovation is in the new hospital, but he explains that the synergy of systems will have the greatest impact. He points out that MUSE has been around for a while. Such technologies, which have been thoughtfully developed over time, increase in brilliance when linked to other systems such as the EMR. "That's when it starts to compound," says Bott. "Functionality like that affects nurses and clinicians every day."

Building on experience

Coordinated systems are easier to incorporate in a new build than in an established hospital, agrees Bott. "But you also have to have the vision to do it right from the start," adds this former ICU and cardiac nurse, previous general manager of Royal North Shore Hospital, and project manager on numerous hospital designs such as that of Perth Children's Hospital.

"Our whole philosophy has been to engage with clinicians about equipment, and ask what functionality was important to them, but ultimately we made the decision."

Bott's team also drew on years of experience to position departments for patient convenience. At Northern Beaches Hospital, renal-dialysis patients, for example, can be driven to within metres of the ground-floor unit that will look after their needs. And the hospital's emergency department (ED) is adjacent to a medical centre staffed by general practitioners, so that the ED can dedicate itself to genuine emergencies while people seeking urgent prescriptions or attention to minor injuries can consult with a GP.

For Northern Beaches residents, accessibility to superb primary care is now a reality. Private and public patients who are sick, injured or in need of surgery, expectant mothers, and victims of serious accidents or trauma no longer need to travel outside the locality for treatment. "We've consulted with about 15,000 people and community groups over the past three to four years," says Bott, "and the overwhelming message is that they want care close to home."

From the hospital's high point in the landscape, its light and airy rooms offer patients views across their domain, over national parks and leafy suburbs, northwards up the peninsula, or south towards the city skyline. In coming months, many incoming patients will recognise doctors and nurses they've trusted from Mona Vale or Manly hospitals, who are now applying their skills and passion for delivering the best patient outcomes in a supportive modern environment.

Says Joanne Watts, until now the nurse unit manager at Manly Hospital emergency department, "The bottom line is we'll be able to provide better patient care. Patients who we would probably once have sent to our tertiary facility, we'll be able to look after at the new hospital. That's a really exciting prospect, not only for the patients first and foremost, but for the staff and the opportunities they will have to develop."
tags