Anil Duggal has always had a knack for invention — the GE Global Research chief scientist has 98 U.S. patents to his name. Now, with the support of his colleagues Jeff Ashe and Azar Alizadeh, Duggal is on the verge of turning years of abandoned research into what might be the world's most advanced skin-surface medical sensors.
The slim, wireless devices, which GE is developing with the support of the Nano-Bio Manufacturing Consortium and the U.S. Air Force Research Laboratory, stick to the wrist like Band-Aids. They remotely analyze sweat, check vital signs and even keep track of patients' medical progress after treatment. "This will really improve patient experience and get doctors better data about patients," Duggal says.

The sensors will also be able to track heart rate, blood pressure and blood-oxygen saturation levels, and potentially make EKG go wireless. You could wear GE's sensors under a business suit and allow your doctor to check your heart activity while you work in the office or play at home.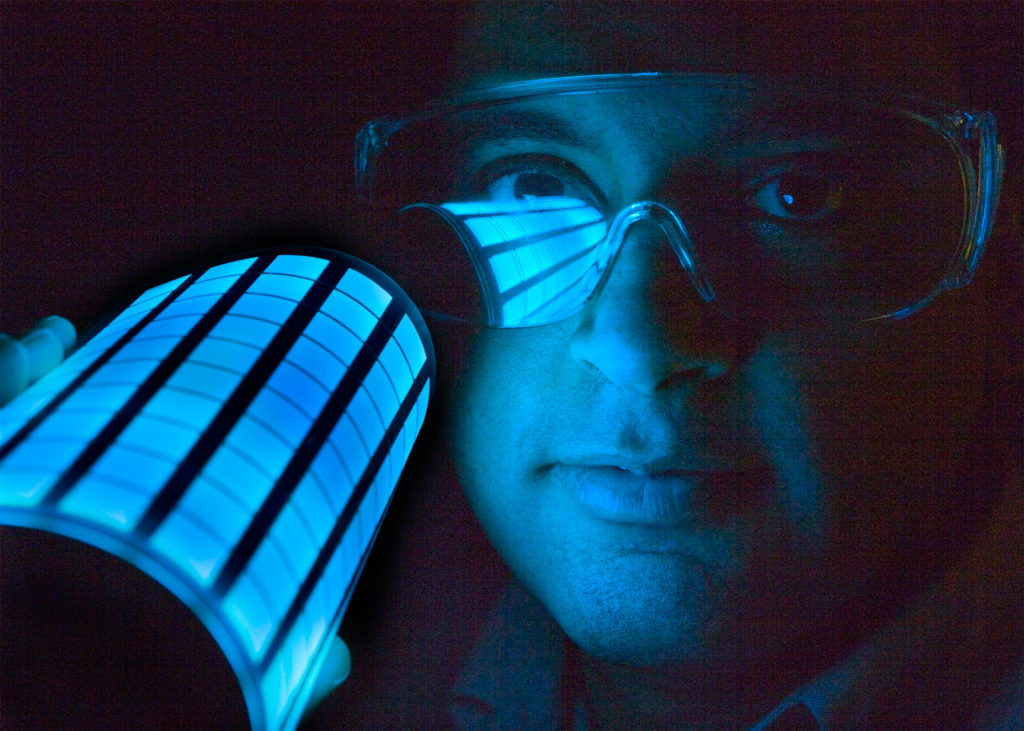 Top image: A prototype of a wireless sensor. Above: Anil Duggal with a sheet of OLEDs. Images credit: GE Global Research

The story of this project starts miles from any medical research lab. To power these sensors, Duggal and team resurrected a moon-shot idea that never quite reached orbit: organic light-emitting diodes (OLEDs).

OLEDs were once the next big thing in lighting for GE. They glow when electricity flows through specialized organic polymers and could be embedded in printed rolls of flexible sheets. Energy-efficient? Check. Pliable? Check. Innovative? And how. We'd leap beyond single-point bulb illumination in favor of glowing furniture, wallpaper or ceilings. The technology looked like it was going to revolutionize lighting.

Except it didn't. GE engineers realized that in order to fully develop and commercialize OLEDs, they would have had to pull resources from another approach the company invented and had invested heavily in: LEDs. So five years ago, GE made the wrenching decision to cut the cord on OLEDs.

Duggal has experienced something similar in his own life. At Princeton University, he briefly considered leaving science for religion and philosophy. He wanted to try out different things and "follow my nose." But the science bug didn't let go. "I realized I was much better at science than religion and philosophy, and it made for a better career too," he says. "As a scientist in an industrial lab, you have an opportunity to change the world, so when that goal gets set back, it's disappointing. But then you ask yourself: How else can I use this research? We figured out we could use all this technology in reverse, as a detector."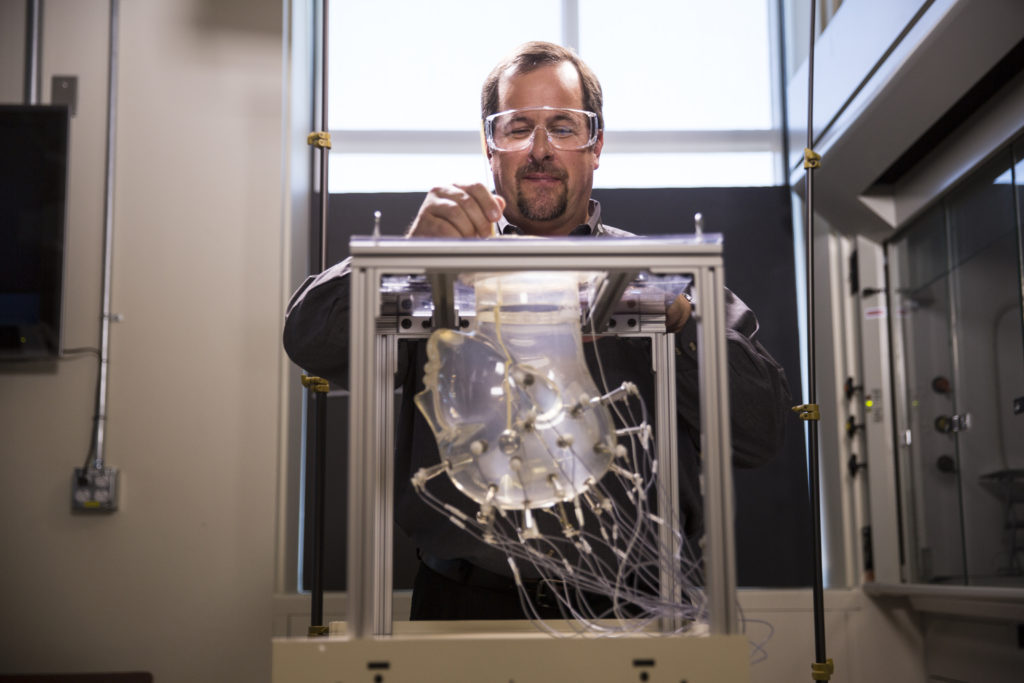 GE's Jeff Ashe is building brain sensors. Image credit: GE Reports

Like Duggal's passion for science, the OLED research didn't die. It ended up on the shelf of the GE Store, GE's internal exchange for people and know-how. It's now helping the company create a new world of possibilities for sensor technology.

Most talk about sensors today revolves around Fitbits or Apple Watches. But the team's new flexible sensors and the lessons from OLEDs have implications for healthcare and beyond. They are being tested in clinical trials to monitor hydration levels of people during intense exercise. The team is working to expand this testing to measure stress as well.

This research is closely connected to GE's efforts to digitize medicine and upload medical information into the cloud. GE engineers in Helsinki are looking for ways to constantly stream heartbeat, blood pressure, respiration and other information into massive data banks, where software can analyze it, alert doctors to anomalies and looming crises, and effectively create our digital twins.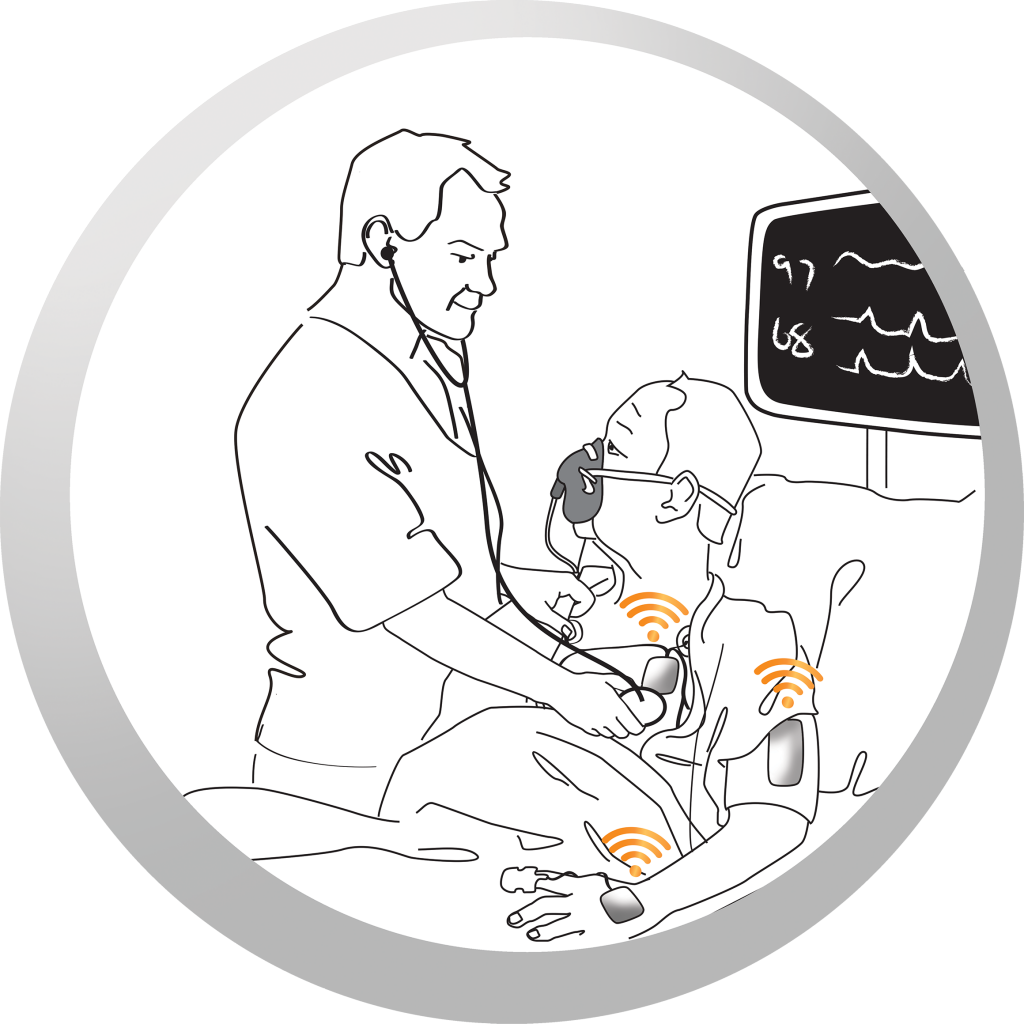 Within five years, medical body sensors could enable patient monitoring over a wireless network that will allow doctors to learn what's happening with a patient from any connected device. Image credit: GE Healthcare"The same transformation that happened with mobile phones is taking place in patient monitoring," Erno Muuranto, the engineer leading the effort, told GE Reports. "The world is going wireless and wearable. We could run hospitals like smart factories. Wireless sensors and data analytics will help correctly diagnose patients in the ambulance. It will allow us to administer correct treatment faster, which could lead to faster discharge. It will also allow us to monitor people remotely from home. All of this will help improve care and costs."

But GE's flexible-electronics research applies to machines as well as bodies. Duggal and his team can turn the sensors into flexible X-ray detectors that can conform to the shape of pipes and inspect them for cracks to support the oil and gas business.

Duggal isn't done inventing. He and colleagues like Ashe want to explore whether soft, organic semiconductors can interact with human tissue, merging electronics with biological tissue — an approach that could be used in neural implants to treat epilepsy, for example, or in helping electronics interact with your skin. Duggal wants to figure out how to blend the advantages of OLEDs — principally their size and flexibility — with the computing power of a traditional small, inflexible silicon chip.

While Duggal's career might still have plenty of highs and lows, he's not planning on letting future disappointments get in his way. "I like to think that my brief foray into religion and philosophy gave me a perspective and wisdom that disappointments are not the end of the world," he says.
Categories
tags