"Service to others is the rent you pay for your room here on earth."

These simple yet powerfully commanding words of Muhammad Ali remain impactful to a person's conscience until this day. Even more so can be said for the team of GE Volunteers in the Philippines who decided to take a stand and help the victims of the Taal Volcano natural disaster in the country.

As the unrest enters its third month since the volcano's eruption in January, the communities affected in the Batangas Province remain strong and determined, ready to put the past behind them once and for all. But that was not the case at first.

"I was in transit to Manila from the U.S. when the Taal eruption prevented me from connecting in Narita," said Jocot de Dios, CEO, GE Philippines. "The anxiety and inconvenience I felt even then could not compare to the life-threatening situation that the affected residents were likely experiencing. The subsequent stories and images that greeted me when I finally landed in Manila were simply gut wrenching. It pained us to see so much helplessness, suffering and pain. We just needed to help."

Every year natural disasters kill around 90,000 people and affect close to 160 million people worldwide. As one of the Philippines's most active and dangerous volcanos, Taal Volcano has had some of the country's deadliest eruptions, with over six eruptions since 1572. A 15x20 kilometer-wide lake sits in the middle of the volcano presents more dangers upon eruption; notably tsunamis produced in the crater lake.

The recent eruption left a desolate landscape on Taal Island and its surrounding communities, with significant impact on agricultural land, livestock and the livelihood of families surrounding the volcano. Houses were buried, access to drinking water and air quality became a cause for concern.

As a developing country, the Philippine government also needs the support from the private sector to reach these isolated areas. Businesses across the country must learn to adapt to the emerging natural disasters and GE Philippines is not an exception to this.

"Our employees have been working across energy and healthcare projects in Batangas to provide accessible electricity and healthcare to the community," said de Dios. "The health and safety of our employees and the surrounding residents is important to us and we're working closely with the local authorities to ensure the basic needs of the communities that we operate in are taken care of."

Putting actions into motion

Impacting over 134,520 families in the provinces of Batangas, Cavite, Laguna and Quezon, the effects of this volcano cannot be understated. It didn't take long for GE Volunteers to step into the picture. With most in close contact with the survivors of the eruption, it was only too clear that they needed to lend a helping hand, and preferably a fast one.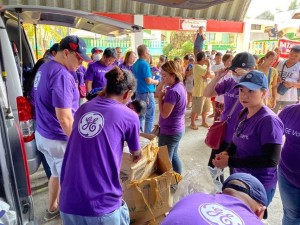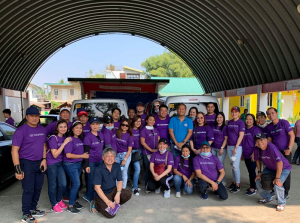 tags