For now, Abdulsattar Mohammed can't go home.
The mechanical field engineer is living in a hotel room in Kuwait where, like so many people, he is sheltering in place and helping to reduce the spread of COVID-19, the disease caused by the novel coronavirus that has swept the globe. In between remotely supporting colleagues on other outages — not only in Kuwait but across Africa, India and the Middle East — Mohammed spends his days praying and working out in the hallways. When he's hungry, he orders food from the hotel restaurant or takeout. And every day he gets on a video call with his wife and two sons back in the United Arab Emirates, where the oldest child is just learning how to read.
Mohammed made the choice to stay away from home. In early February, he and a group of other engineers and expert technicians from the Middle East, Asia, Europe and Africa headed to Kuwait to do regular maintenance on two power plants that GE operates in the country. They were meant to be home within six weeks. But as the COVID-19 pandemic picked up in the Middle East, they had a small window in mid-March where they all could have returned home. However, the work they had flown in to execute in Kuwait was still in progress so instead, they decided to stay to help keep the lights on in this country of 4 million.
The team is part of FieldCore, GE's field services maintenance teams that work on equipment at power plants around the world. In mid-March as Kuwait was shutting down, Ibrahim Zein, service manager for Kuwait and Qatar at FieldCore, and GE Gas Power's team of three contract performance managers (CPMs) — Abdulla Alshalabi, Mohamed Abulfetoh and Djamel Bouhali — faced a difficult decision.
The men were in a sense the "field commanders." As service manager, Zein was ultimately responsible for the FieldCore team and their activities on the ground. The CPMs are the local experts on the ground in Kuwait, GE's primary point of contact with its customers, responsible for ensuring that customer requirements are met. They work hand in hand with FieldCore: Helping to plan activities on the ground; liaising with the power plant owners and operators; assisting with obtaining permits and visas for the movement of tools, equipment and people; and other activities so that various services can be executed safely and on time.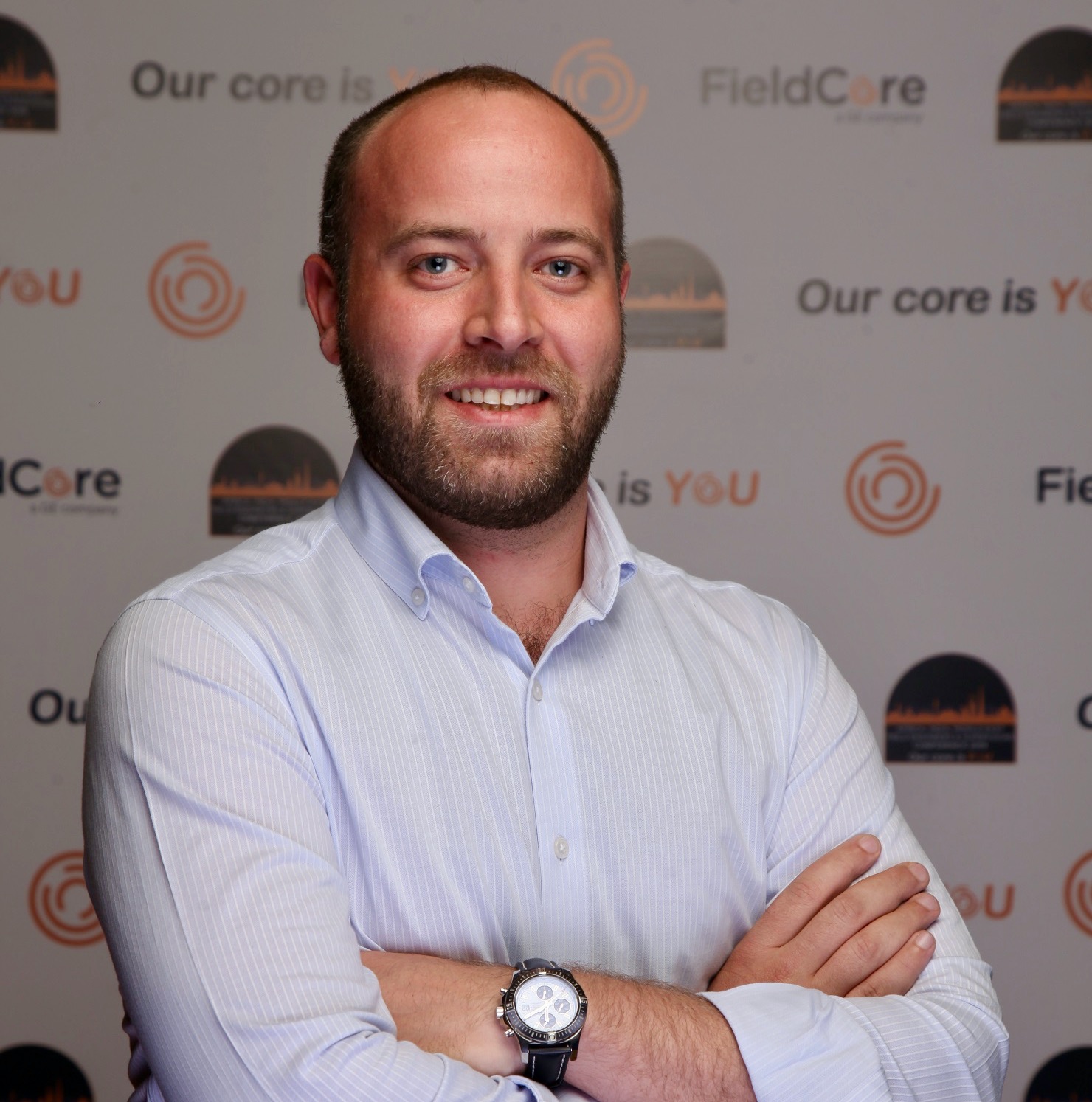 Top image: Abdulsattar Mohammed, far right, a field engineer currently under lockdown in his hotel room in Kuwait, will only be able to wrap his arms around his family again in Sharjah, one of the emirates of the United Arab Emirates, when the region's travel restrictions are lifted. He stays upbeat and connected with his loved ones by making regular daily video calls. Image credit: Abdulsattar Mohammed. Above: Ibrahim Zein, FieldCore service manager for Kuwait and Qatar, and his crew of engineers and expert technicians opted to stay in Kuwait during the global pandemic and continue servicing customers. Image credit: FieldCore.
Should they try and get the crew out of the country and risk Kuwait being without essential electricity supplies right at the onset of the summer months when temperatures routinely exceed 110 degrees Fahrenheit and power demand is at its peak? Or could they ask the workers to stay, isolating them far from their loved ones for who knew how long?
So they gave the team a choice. "You have an opportunity to leave," Zein told them. All of them opted to stay and continue servicing customers alongside another group of FieldCore employees who had already been in the country prior to travel restrictions being introduced.
As the weeks went by, the team did not just execute the services they had originally planned to work on at the two power plants but also took on other planned, as well as emergency service, work across another two sites. "We were determined to help our customers because we knew other experts couldn't fly into the country to take on these jobs," says Zein.
In less than a month, the men have logged more than 7,000 work hours. "If we did not have these people in the country, we could have up to 1,500 megawatts down, which is 10% to 15% of the power in Kuwait," Zein says. In all, GE-built technologies can generate over 40% of Kuwait's electricity and GE's teams help to service and maintain this equipment.
The engineers sometimes had to learn on the job. For example, during routine maintenance the field team would normally shut down power generation equipment such as gas or steam turbines and generators, inspect and service the equipment, update software and run diagnostic tests to ensure the plant was operating properly. Then, they'd turn the project over to a separate 3-person team of commissioning engineers, who would bring the equipment back online.
But that commissioning team couldn't make it to the plants, so the field engineers stuck in Kuwait had to do their jobs as well. Typically, one commissioning engineer would monitor the software and readouts. A second would check the turbines, the motors and the valves, calibrating them and making sure everything worked correctly. Finally, an emissions engineer would set up tools to measure the plant emissions to ensure compliance with local regulations and confirm the plant was operating as it should. Now, the commissioning work fell to the field engineers working via phone and video calls with colleagues outside Kuwait.
Although the team is now mostly confined to their hotels, they are still doing what they can, working remotely with the skeleton crews at electricity plants around Kuwait to help them monitor and repair any issues that come up.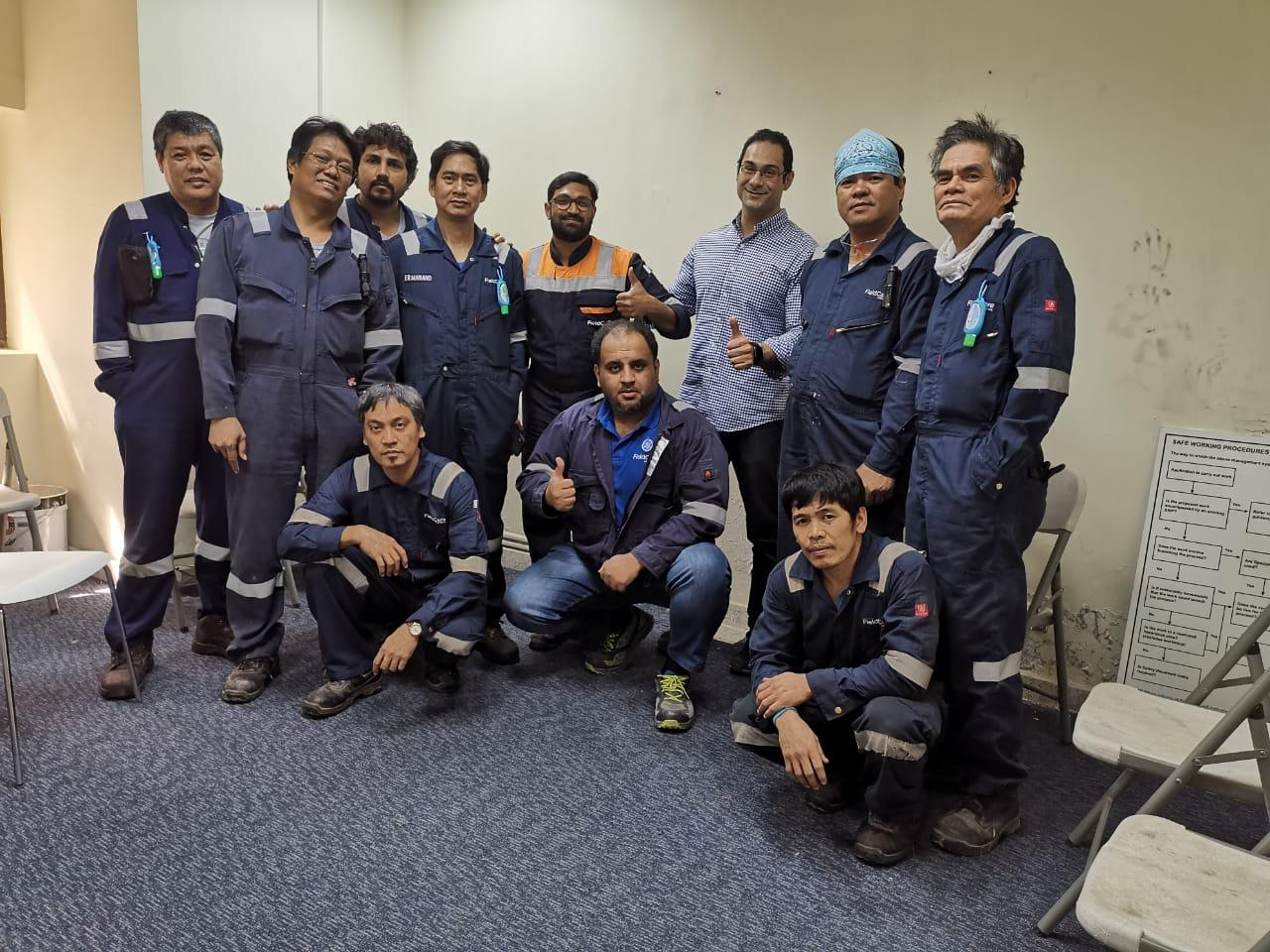 Some of the FieldCore field services team members after a successful outage in Kuwait. The image was taken before social distancing measures came into effect: Mechanical field engineers – Muntasser Alhassani & Mohammed Abdulsattar, Control field engineer – Mohammed Khedr; Crew – Bernie Villamor, Hirankumar Balkrushna Gajjar, Richard Cortes, Randy Arombo, Pedro Gomez, Abner Manzolim, Victor Peradilla, Edgar Mariano. Image credit: FieldCore.
But it was not only on the frontline that the solidarity of team members was evident. When the Egyptian-born FieldCore engineer Mohamed Khedr was confined to his hotel room because of the lockdown, he was dismayed that he would be unable to stick to his daily exercise regime — a habit he had developed more than a decade-and-a-half ago. Even the hotel gym was a restricted area. But when his GE Gas Power colleague Abdulla Alshalabi, a resident in Kuwait, heard about Khedr's plight, he quickly arranged for a set of dumbbells to be delivered to the hotel. This act of camaraderie allowed Khedr to keep some form of exercise routine in between video calls with his family and offering remote assistance to other sites where field teams were still engaged in outages.
Prior to the lockdown, Khedr managed eight startups since Feb. 28 until his hotel confinement on March 29. During that period, he was responsible for testing and verifying valve calibrations and monitoring crucial signals to ensure the units could be started up safely within the prescribed manufacturing parameters and handed over to the customers with zero defects. Khedr explained that the "intensity of the work" was unusual. He recalled an incident where he was summoned to a site around midday to conduct a tuning. However, the job that could normally take up to 12 hours had to be completed before the 5 p.m. curfew. He handed over the unit to the customer team in 4 hours, 20 minutes after starting the job — with barely enough time to make the 30-minute journey back to his hotel.
"At this point, it's not clear what will happen next," Zein says. "We don't know when the airports will officially open. It's a difficult situation but we are extremely proud of our team members on the ground, who are more than willing to face any challenge."
Categories
tags