In about two decades, companies and governments will invest between $7 trillion and $11 trillion in renewable energy. Carlos Pascual, senior vice president at IHS, Ecomagination Advisory Board member and former U.S. ambassador to Ukraine and Mexico, describes four guideposts for stakeholders when it comes to this market's viability.
 

 

Whether your interest is environmental advocacy or growing the economy, we need a new narrative on clean and renewable energy that focuses on commercial opportunity. Both the environment and business will benefit.

By 2040 companies and governments around the world will invest between $7 trillion and $11 trillion in renewable energy – more, says the International Energy Agency (IEA), than new additions to coal, gas and nuclear power generation combined. Advocates on either side of the environmental or economic debate should embrace such a business opportunity. Here are four guideposts to move us in the right direction.

First, target investment on cost-effective solutions to meet de-carbonization goals and let the market drive specific technologies. Since December 2015, when over 190 countries unanimously approved the Paris Climate Accord, 132 countries have ratified the agreement, brought it into full effect, and established voluntary national-level targets to reduce their CO2 emissions. That de-carbonization will move forward is beyond doubt. The issue is the pace, and that will depend on investment. For governments, this means creating public policies that incentivize investment in the cheapest energy mix to achieve their goals. Some technologies will have zero-carbon, others will not, and the mix will change over time – but even under the IEA's most aggressive de-carbonization scenario, fossil fuels are expected to meet 60 percent of primary energy demand. The fastest way to meet these goals is to let the market find the commercially viable solution sets.

Second, apply digital technologies that increase renewable energy efficiencies, that in turn revolutionize financial models that can drive investments in wind and solar. Digital technologies have already demonstrated that they can increase wind farm efficiencies on the scale of 8-12 percent. In practical terms, that means that means generating more power for a given level of investment and increasing every project's benefit flow. If companies can make benefit flows more predictable, banks can offer cheaper and more competitive financing. In regions such as Southeast Asia, where the use of coal is projected to grow from 28 percent to 45 percent of the fuel mix through 2040, cheaper financing can bring greater renewables penetration into the commercially competitive mix of investments.

Third, increase the efficiency of the existing base of power technologies – including coal – because these assets will continue to generate power for decades. Consider the importance of this approach in China, which is putting 70 percent of its new power investments into renewable energy – more in dollar terms than any other country in the world. Today, coal-fired plants generate about two thirds of China's power. Even with this rabid pace of investments in renewables, the IEA estimates that coal will still generate about 40 percent of China's power in 2040. The trends are similar in India. Making the base of coal power cleaner and more efficient in the two most populous countries in the world will be critical to solving their pollution and climate challenges.

Fourth, intensify the application of digital technologies to reduce energy consumption in buildings – especially in developing countries. The World Bank estimates that urbanization in Africa will grow from 36 percent in 2010 to 50 percent in 2030. Urbanization in Asia and Latin America is expected to reach levels of 64 percent and 86 percent respectively by 2050. The UN Environmental Program estimates that residential and commercial buildings consume about 60 percent of the world's electricity and 40 percent of global energy. Available technologies can reduce electricity consumption in residential and commercial buildings by 10-25 percent by 2040. Again, this is a window of business opportunity: the IEA estimates that global annual investment in buildings energy efficiency is more than $80 billion.

Focusing on cost-effective solutions is an approach everyone can understand: you achieve more for less, and that gives you a greater chance to succeed, whether you measure success in climate or business metrics.   The fact that 1.2 billion people in the world do not have access to electricity, and that we will add another 2 billion people to the planet in the coming decades, adds urgency to the investment challenge. Commercial opportunity should be our "watch word" for solutions that incentivize business and make sense for the environment.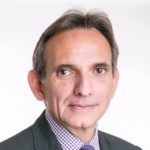 tags