Nearly one out of every five shipping container units — filled with furniture, electronics, clothing and other goods coming from or going to Asia — passes through the Port of Long Beach every year. This port, the second-largest in America, handles an average of $194 billion worth of cargo annually. Combine Long Beach with its neighbor the Port of Los Angeles and you're looking at more than 16 million container units moving through the area every year. Add in antiquated software systems and Los Angeles traffic and it's the perfect recipe for what could be a logistical nightmare, especially for the truck drivers who pick up and deliver those packed containers.
Truck drivers often don't know the details of the job until the moment they enter the port. On a typical day, they arrive hauling an empty 40-foot shipping container and have to peruse as many as 12 websites — one or more for each port terminal — to find a place where they can leave it and pick up a new one loaded with goods.

Because this is LA, the process is always a race against time as well as traffic. If a trucker gets slowed down on the freeway or at the port, a shipping company may go ahead and assign the cargo to another driver who's closer. "Truckers want to return the empty, pick up a full container and get on the highway as quickly as possible so they can do multiple runs," says Jennifer Schopfer, vice president of transport logistics at GE Transportation. "The logistic problems really hurt their productivity."

That challenge has been a central focus at the Port of Los Angeles, where they are expanding usage of GE's Port Optimizer software across the full port. The software gives every person involved in port logistics — from the ship captain to the port manager to the truck driver — a clear picture of where each container is at any time, visible on a single unified platform.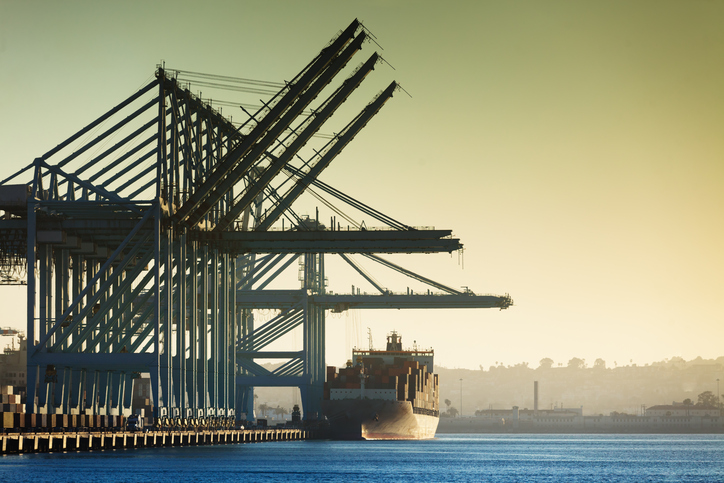 rolling out a similar pilot project with GE. Images credit: Getty Images.

In Los Angeles, Port Optimizer has been taking streams of data from different sources and harmonizing them so they can all work on one platform. For example, different companies might use different abbreviations to refer to St. Louis. One might use the full name while another might use "STL." Port Optimizer takes advantage of machine-learning algorithms to clean and standardize the incoming data so it all reads the same.

The system, which GE designed for secure, individualized access by users, also hides crucial competitive information such as pricing details. This was a key part of persuading companies that are normally competitors to work together on the pilot. "We had to make clear that the people giving us the data own the data," Schopfer says. "We won't try to sell it or anything like that. It's exclusively for Port Optimizer."

The result of the initial pilot program: The LA port can now see ships as early as two weeks before they enter the port, as opposed to just two days before arrival in the past. This transparency improves coordination, and GE anticipates efficiency gains of 8 to 12 percent across the entire community at the Port of LA — with trucks being able to reduce their turn times, railroads being able to plan their train schedules better, cargo moving faster overall and fewer "touches" per container throughout the process.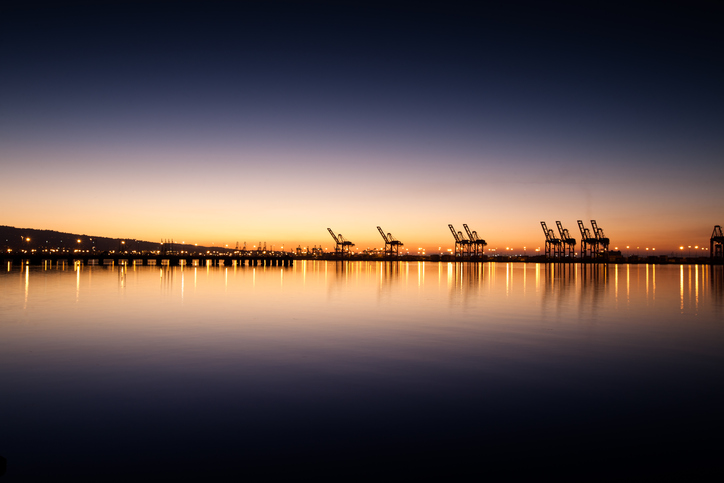 rolling out a similar pilot project with GE. Three of the six terminals at Long Beach are participating in the two-month trial, which will feature some software upgrades from the Los Angeles pilot program. GE is partnering with MatchBack Systems, a cloud-based software platform that helps match shipments to empty containers to limit the number of empty containers going in and out of a port, and GeoStamp, an Internet of Things platform that will help give operators better knowledge of where trucks are at any given moment.

That means trucking companies will be able to use one dashboard to get an instant, real-time picture of logistics at both the Port of LA and the participating terminals at the Port of Long Beach.

"We welcome the opportunity to have this exciting technology demonstrated here in our port," said Mario Cordero, executive director of the Port of Long Beach. "We are always searching for new means toward improving operational efficiencies in the supply chain as it moves through this port complex. We look forward to observing Port Optimizer in action."

The ports in LA and Long Beach account for 40 percent of all U.S. containerized imports. But Schopfer says GE is talking to other ports about implementing Port Optimizer. Eventually, all the ports could be sharing information that would give Target, Walmart, Amazon and thousands of other customers the ability to see where their goods are. "Our goal is to have a significant portion of ports around the world using this," Schopfer says. "The more participation we have, the richer the data and the more value and efficiencies we can deliver to the global supply chain."

And the less likely port operators will see lone truck drivers trying to figure out where to park.
Categories
tags