When Hong Kong started planning a road tunnel 50 meters (164 feet) below sea level in 2012, local engineers had to find a way to keep the cutters in the massive boring shield in shape and the blades sharp enough to cut stone. Workers would squeeze between the shield, which is 17 meters in diameter, and the living rock to inspect the business end of the machine — a tight spot the Hong Kong team wanted to avoid as much as possible.

The founders of OC Robotics, a U.K.-based builder of "snake arm" robots, thought they could help. They suggested replacing the human inspectors entirely with OC's innovative machines that can thread their 6-foot-long mechanical limbs into tight spots.

Today, an OC robot not only inspects the shield but also cleans it with a high-pressure water jet and measures the sharpness of the cutting surface with a laser. "This is faster and easier, and it keeps people safe," says Andrew Graham, OC Robotics co-founder.

The robot's dexterity and skills so impressed engineers from GE Aviation that they acquired OC Robotics last summer. The company believes snake-arm robots will be useful for jet engine maintenance, allowing workers to do as much work with the engine still on the wing as possible. That's because removing an engine not only takes time, but also could take a plane out of service for days, impacting an airline's bottom line.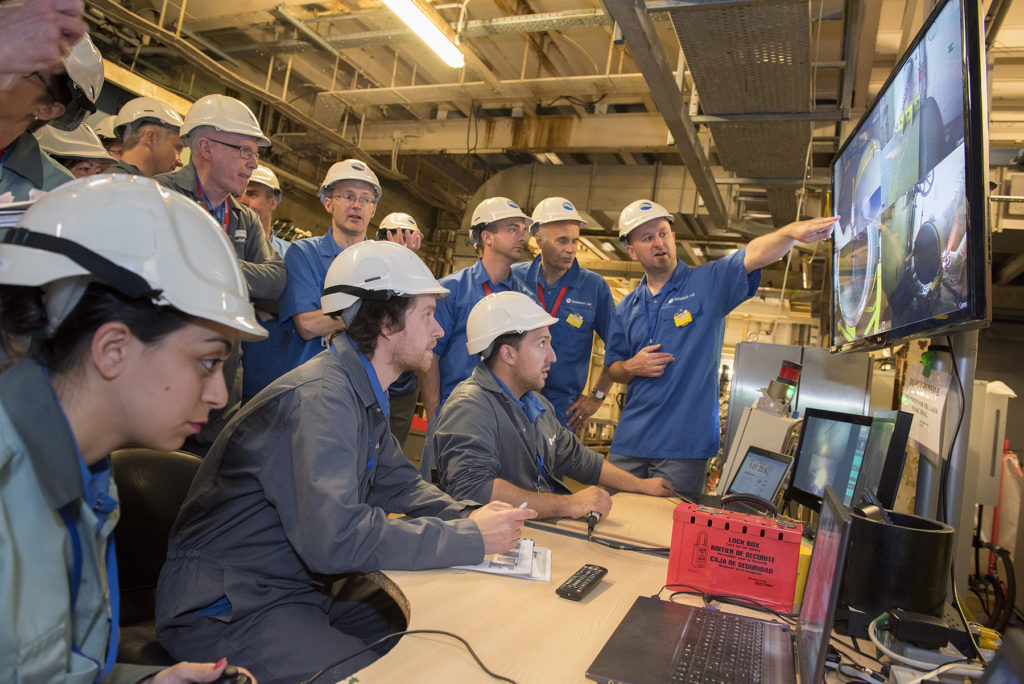 Top: OC Robotics designs "snake arm" robots that can inspect areas that are hard for humans to reach. Above: The machines also can clean and cut surfaces in locations as varied as underground tunnels and nuclear facilities — with human operators controlling them from more comfortable environs. Images credit: OC Robotics.

Other GE businesses also could use the robots — to inspect power plants and trains, for example, or even for uses in healthcare. "Aviation applications will just be the starting point for this incredible technology," says Lance Herrington, a leader at GE Aviation Services.

OC's Graham developed an interest in robotics while working on his master's degree in mechanical engineering. He developed a primitive control system for snake-arm robots for his thesis. "It was the most interesting-looking project on the notice board," he laughs. "I'd never done anything like that, and it was pretty cool." So far, Graham has 11 patents relating to snake-arm robotics.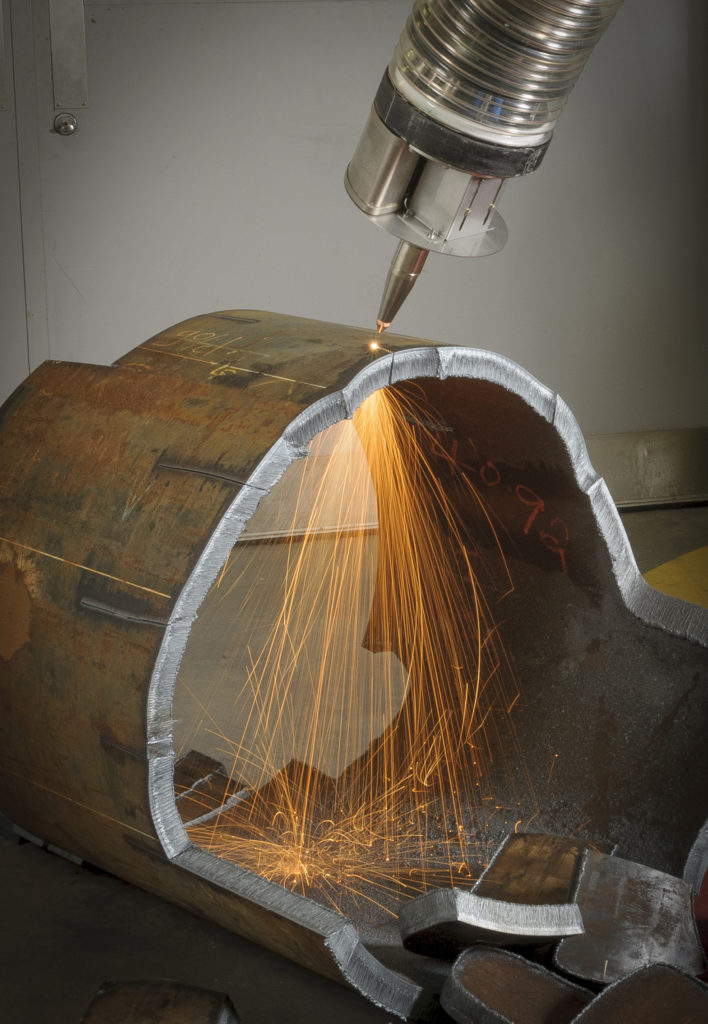 Behold: "LaserSnake," which packs a 5kw laser cutter that can chew through 1.5-inch-thick steel. Image credit: OC Robotics.

He co-founded OC Robotics in Bristol, U.K., in 1997 with a college friend.

Although it wasn't the first company to design a snake-arm robot, their robot could support itself. Most similar robots are crawling or swimming snakes that rely on the ground or buoyancy to move around.

OC Robotics' snake-arm robots "live" in a cigar-tube-shaped garage. They use a 10-pound motor to move interchangeable arms that can be as long as 14 feet.

The machines aren't afraid of any jobs. Last year Craig Wilson, the company's managing director, led the deployment of "LaserSnake" — an integrated snake-arm robot and 5kw laser cutter — to successfully disassemble parts of a nuclear fuel processing facility in the U.K. LaserSnake cut a 5-ton, 1.5-inch-thick stainless steel tank into 40-pound pieces. It took only four weeks to do what would have taken human workers, each wearing single-use $2,500 protective suits, years to complete. The team won a prestigious award from the U.K.'s Nuclear Decommissioning Authority for their innovation and technology.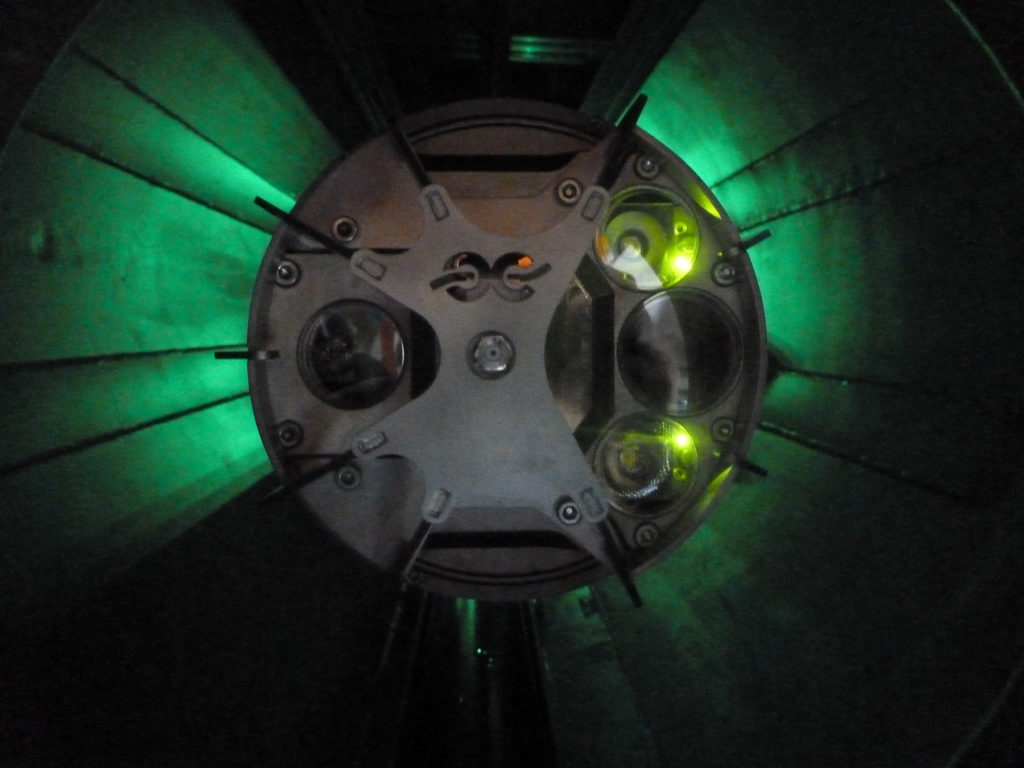 GE Aviation expects the snake-arm robots to help maintenance crews do more of the work with the engines still on the plane, limiting costly downtime for airlines. Image credit: OC Robotics.


Categories
tags