Inspecting the dimly lit belly of a chemicals storage tank can be a pretty grim task. But one industrious soul does it with grace and ease — and certainly without complaint.
The brave worker we're talking about is a snake robot equipped with special magnetic tracks that allow it to inch up and down the smooth metal walls and across the slimy floor. Avoiding broken pieces of pipes, bolts, hose sections and whatever other debris might be scattered in pools of standing liquid and grime on the bottom, the robot can use sensors embedded in its head and tail to inspect the vessel, detect leaks and beam the data it collects back outside, where human workers can safely analyze it on their tablets. If it needs to take a better look, it can rise up on its hind section like a cobra and take photos. It also can right itself when it rolls over.

It's a dirty job, but somebody has to do it. When the robot finally climbs out, workers hose off any muck with jets of water.

To say that the 4-foot-long robot simplifies the inspection is an understatement. Sending a person down into the tank to do the same job would require a crew of paramedics and an ambulance standing by in case of injury, for example. But the machine, called Guardian S, doesn't need a rescue plan. As a result, companies eager to improve safety and boost efficiency are starting to deploy these robots and reassign humans to do less dangerous jobs. "We are really focused on the part of robotics that is about human augmentation, as opposed to human replacement," says Fraser Smith, president and co-founder of Sarcos Robotics, the company that makes the snake robot.

Sarcos Robotics is developing robots for tasks that are too difficult or dangerous for humans. In addition to the snake-shaped Guardian S, the company makes the Guardian GT, a pair of robotic arms on a tank-like track, to help lift heavy things. Sarcos is also working on a robotic exoskeleton, the Guardian XO.

Following a GE Ventures investment in the company two years ago, GE is now testing the robots in the field, the first step in a plan to increase efficiency and decrease risk to employees.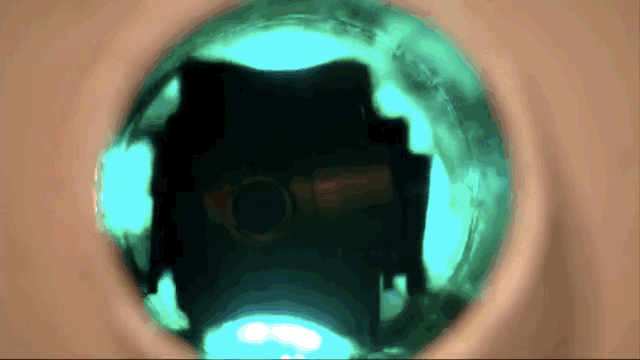 Avitas Systems, a robotic inspection company launched last year by GE, is also kitting out three Guardian S robots with ultrasonic thickness measurement sensors and boom-mounted cameras to inspect oil storage tanks and pipelines.

Sarcos, based in Salt Lake City, has a roster of big-industrial investors in addition to GE, including Schlumberger, Caterpillar and Microsoft. They are all part of an advisory group looking into new ways to use the robots in factories, mines, oil fields and other sites.

The technology behind the robots originally was spun out of defense contractor Raytheon to help the military lift the many heavy things it brings into battle, like barrels of diesel and gas, as well as weapons and food. "It's really robust, solid, and battle-tested," Taylor-Smith says. "They are taking that same technology and developing industrial and commercial analogs."

With the track-mounted Guardian GT robotic arms, for instance, workers can lift much heavier weights than they could unassisted. Workers also could use an exoskeleton to augment their strength on the job (think Iron Man). "Rather than using cranes or forklift trucks, you can use some of these kinds of things in the field," Taylor-Smith says.

The future-of-work conversation around robots, Murley says, centers on whether they will replace people or whether people will become more like them. In reality, he says, both scenarios are happening. Robots will improve the way industry operates, and people will use the robotic enhancements, like an exoskeleton, to perform tasks impossible for humans now. Behind it all will be the power of human designers.
Categories
tags