In manufacturing, a minute saved is money earned. Which is why building complex machines like gas turbines can be frustrating.
One of the trickiest parts of the process involves assembling the turbine's compressor and wheels. Workers at GE Power's plant in Greenville, South Carolina, stack the components together one at a time. Depending on the build, they heat some pieces, fit them onto the assembly and then cool them at a uniform rate, creating a tight fit that binds the pieces together.

It's not easy. To achieve proper component "mating," the assembly and cooling process requires a uniform-temperature environment. It lasts between 12 and 36 hours, and unsteady temperatures can create defects that require costly rework. "If they had the temperature data to watch as the parts were being assembled and cooled, they could prevent some of that extra work," says GE's Libby Wayman.

Wayman, who leads GE's Ecomagination partnerships, teamed up with Intel to find a solution.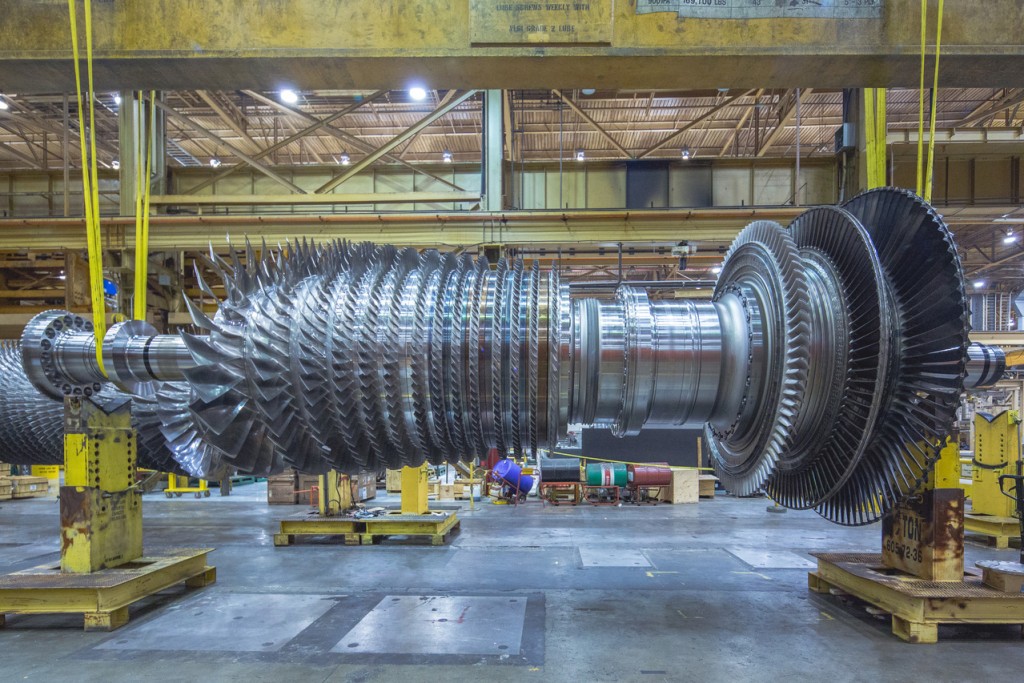 Above: A gas turbine assembly line at GE Power's factory in Greenville, South Carolina. The turbines are made from multiple turbine and compressor wheels. Top image: A close-up of a turbine wheel. Images credit: GE Reports/Chris New

Intel and GE came up with the idea of using "intelligent" LED lights capable of collecting temperature data from locations near the turbine assembly stand. A third partner, Tata Consultancy Services, built a Predix app that connects the intelligent LEDs in the factory to the cloud and provides data visualization and analytics for the project.

The engineers had a head start on the project because Current, a GE startup, had already developed LEDs that can connect to the Industrial Internet. Next, they reach out to a team at GE Digital to help them stream the temperature information from the sensors to Predix, a GE-developed operating system for the Industrial Internet running in the cloud that uses an Intel software gateway.

The system will makes it possible to analyze temperatures at various points on the metal turbine parts as they are assembled and cool, allowing employees to know when it's safe to continue working with the components.

The pilot could save weeks of rework and hundreds of thousands of dollars, says Wade Herrin, who leads GE's Manufacturing Engineering and Technology Center of Excellence.

Why embed sensors in lights? Because lighting is so ubiquitous. The U.S. has 300 million smartphones but more than 7 billion light fixtures. "You already have a fixed location with power running through it where it's easy to add sensors, and they're already in every place you'd want to collect data," says Tony Neal-Graves, vice president of Intel's industry Internet of Things Group.

Wayman says that industry accounts for 33 percent of the world's energy consumption. Saving energy in manufacturing could mean a major boost for the environment. "The thesis was that economics and the business case don't need to compete with better environmental outcomes," she says.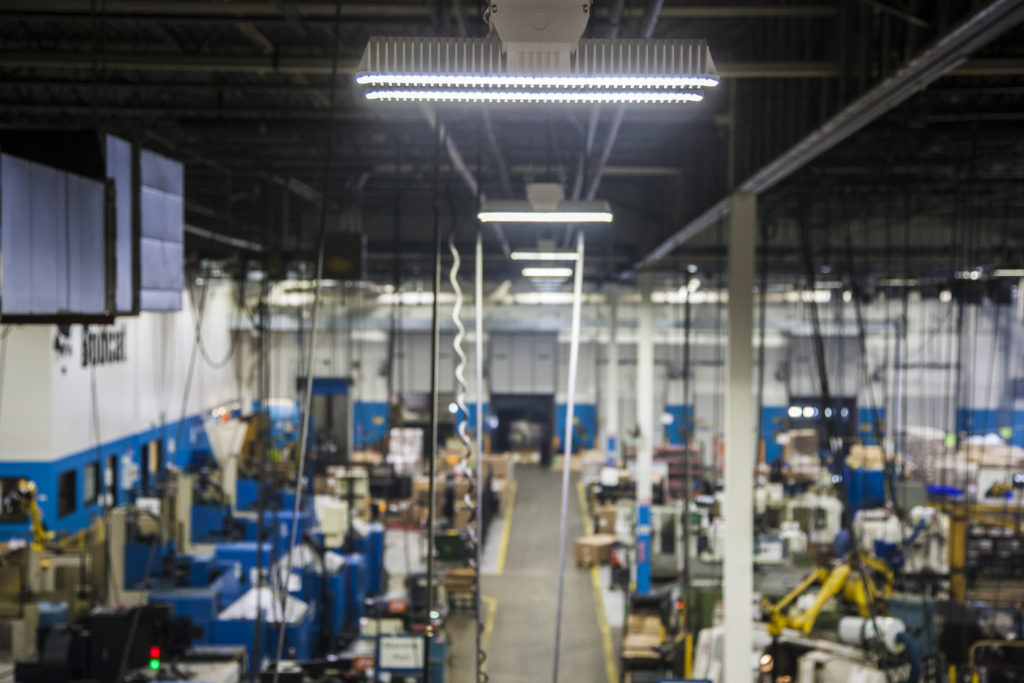 One turbine workshop in Greenville is using intelligent LEDs to gather production data. Image credit: GE Power

GE launched Ecomagination in 2005. The program focuses on using GE technology to attack environmental problems and deliver business value to customers, all while building new revenue streams. The program has contributed $230 billion in revenues in its first 10 years.

Last year, after a decade of Ecomagination within the company, GE partnered with eight other companies — Intel, Walmart, BHP Billiton, Total, Statoil, Goldman Sachs, MWH Global and Masdar — to solve bigger problems than any one company can handle alone. The Greenville lighting pilot is the first partnership project.

The pilot involves just one turbine workstation, so the energy savings are fairly small, Wayman says. Next, the Intel and GE teams are working on rolling out remote sensors attached to LED lights in an Intel office, based on the same technology.

By early 2017, Intel and GE expect to sell lighting-based sensors to other companies for use in factories and offices, Neal-Graves says. When installed, the sensors will be able to detect ambient temperature, humidity, carbon monoxide and occupancy, among other things. If, for example, the system doesn't see people at their desks, it could mark desks as free in a company's flex-space database. Or it could adjust the lighting based on how many people are present, or turn the air-conditioning down for comfort.

That's a real light bulb moment!

[embed width="800"]https://www.youtube.com/watch?v=kN_IlC75ov4[/embed]
Categories
tags