In 2011, a group of students at Aalto University in Helsinki grew frustrated that startups in the Finnish capital were having a hard time finding each other. "There was no ecosystem for them and for the people who wanted to work for them," says Riku Mäkelä, who studies business and engineering at Aalto. "But when they started talking to young entrepreneurs, they realized that this was a Europe-wide problem. They decided to do something about it."
That thing was Slush, an annual conference where startups can pitch ideas to venture funds and scout for employees. Makela, who now heads the nonprofit that runs the event, says the founders decided to call it Slush to make it stand out. "There are many other conferences that draw visitors because they're held in warm locations with beaches and palm trees," he says. "But nobody comes to Helsinki in November when it's dark, cold and slushy. Our whole point was not to play pretty, but focus on content."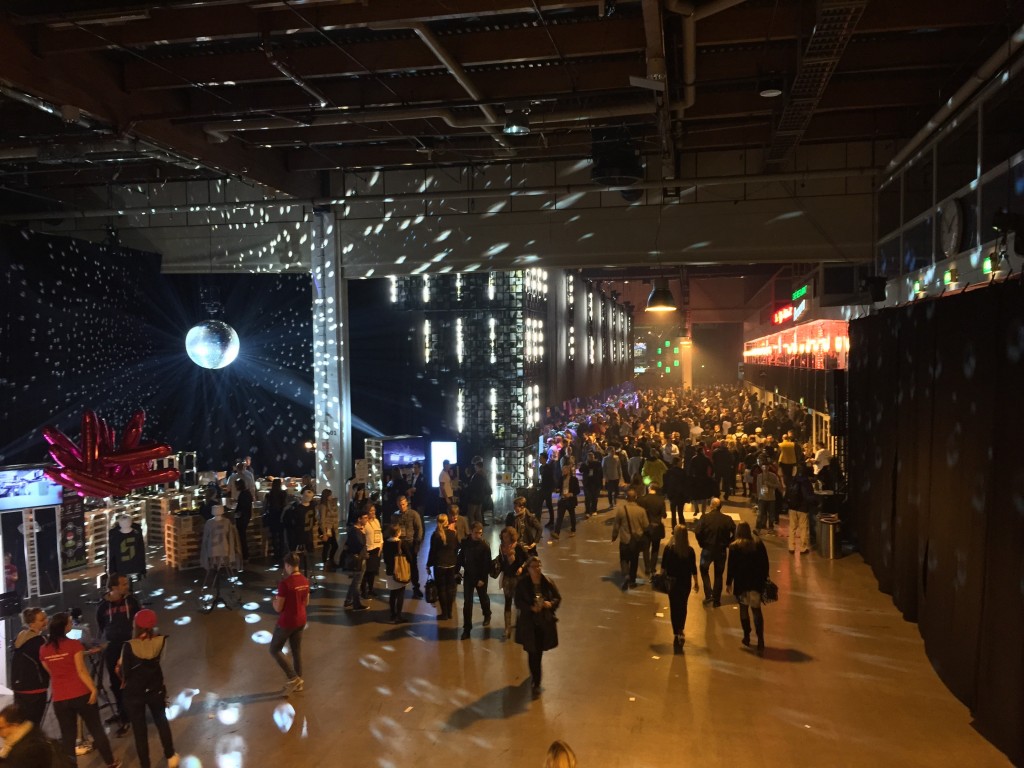 Thousands of startups, venture capitalists, journalists and visitors have packed Slush, held at Helsinki's cavernous convention center, today. Image credit: GE Reports

They certainly succeeded. With local offshoots in Tokyo and Beijing, Slush is now one of the world's largest gathering of tech startups, investors and journalists. This year the sold-out event, which started in Helsinki on Wednesday, will draw more than 1,700 companies. Most of them are technology hatchlings, but giants like GE, Google, Samsung and Nokia are here too. They will be joined by  250 venture capital firms, journalists from publications including Forbes, The Economist, and TechCrunch, as well as 15,000 visitors.

"Slush is doing the important work of bridging the continent's disparate tech hubs by mashing together an unbeatable mix of  investors and entrepreneurs," says Forbes managing editor Bruce Upbin, who flew here from New York to interview on stage a number of executives and VCs, including Nokia chairman 

Risto Silasmaa.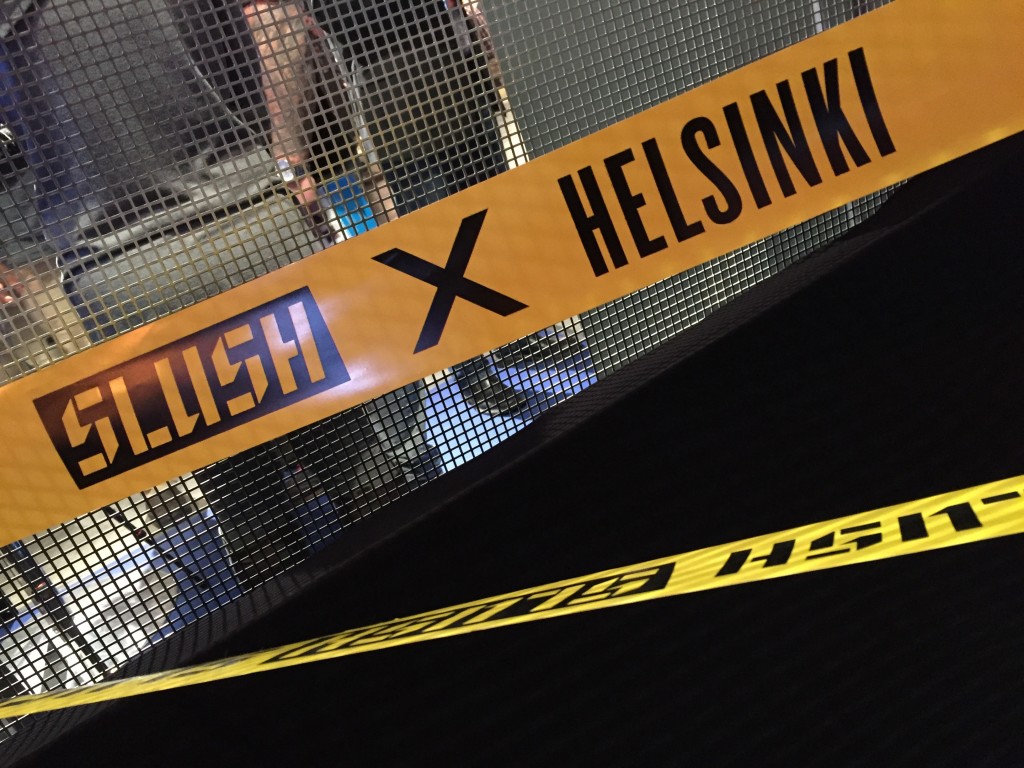 Looking for startups in Helsinki may seem odd, but consider the nation's tech record. With just 5.4 million people, Finland gave birth to companies ranging from giant Nokia to Rovio Entertainment, which hatched Angry Birds.

Companies at Slush 2015 will also include startups from the Health Innovation Village, a two-year "digital health ecosystem hub" that is quickly taking over an entire floor at GE Healthcare's Finnish headquarters, located in Helsinki's "Silicon Vallila" district.

There are currently 26 companies with founders from all over Europe inside the village. They are developing everything from non-invasive brain stimulation devices for treatment of neurological and psychiatric disorders like depression (Sooma Oy) to Big Data systems that monitor environmental factors in the office like acoustics and air quality and help customers design the ideal workspace (720 degrees). There's even an artisanal coffee house in the basement called Warrior Coffee staffed by tattooed baristas serving perfect espressos and piping Nirvana and Joy Division into the seating area.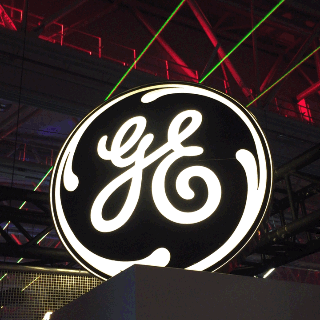 GE's Slush booth is the home of several Health Innovation Village startups focusing of software and data analysis in healthcare and other industries. Image credit: GE Reports

TheHealth Innovation Village has also just partnered with StartUp Health, the world's largest digital health hub based in the U.S.. StartUp Health will establish its first base outside of the U.S. in Helsinki — sharing a floor inside the GE Healthcare building with the village — and host regular programming and community events for entrepreneurs, innovators and people working to transform health care. "We are superexcited to add StartUp Health into our Health Innovation Village open innovation platform," says GE's Mikko Kauppinen. "It will empower the entrepreneurs and innovators to transform health care and build a bridge to global markets and investors."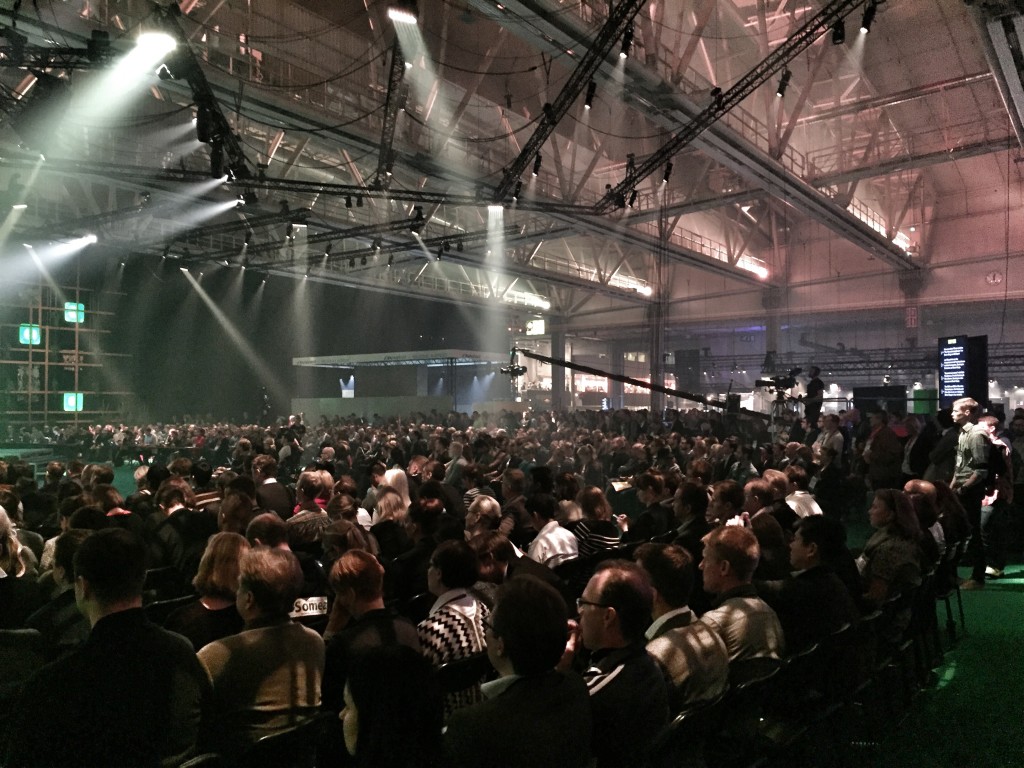 Steven Krein, co-founder of StartUp Health, talked on Thursday at Slush about the digital future of healthcare and drew and a standing-room-only crowd. Image credit: GE Reports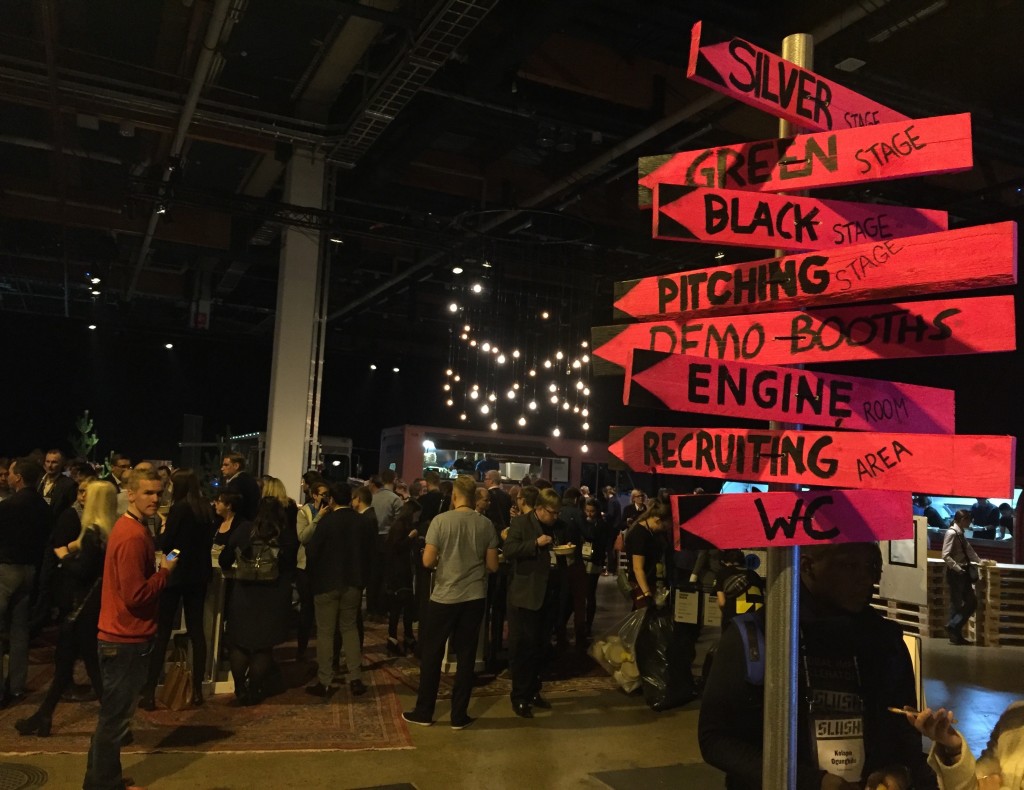 GE, Google, Samsung and Finland's Nokia are present at Slush. Tom Hulme, a general partner at Google Ventures said at Slush he was most excited about artificial intelligence and genomics. While speakers like Hulme and Krein attract large audiences, startups get to pitch ideas and demo their products to potential investors. Image credit: GE Reports

This year GE is also one of the sponsors of the conference. "We need large players that can share with young entrepreneurs expertise they never had and also help them find financing," Mäkelä says. "GE has been a great match."

GE Ventures, a unit that has invested in everything from precision medicine and non-invasive brain technology to robotics and drone software, is coming to Slush this year as well, and so is geniusLink, another GE outfit, that which helps customers and internal teams with open and collaborative innovation.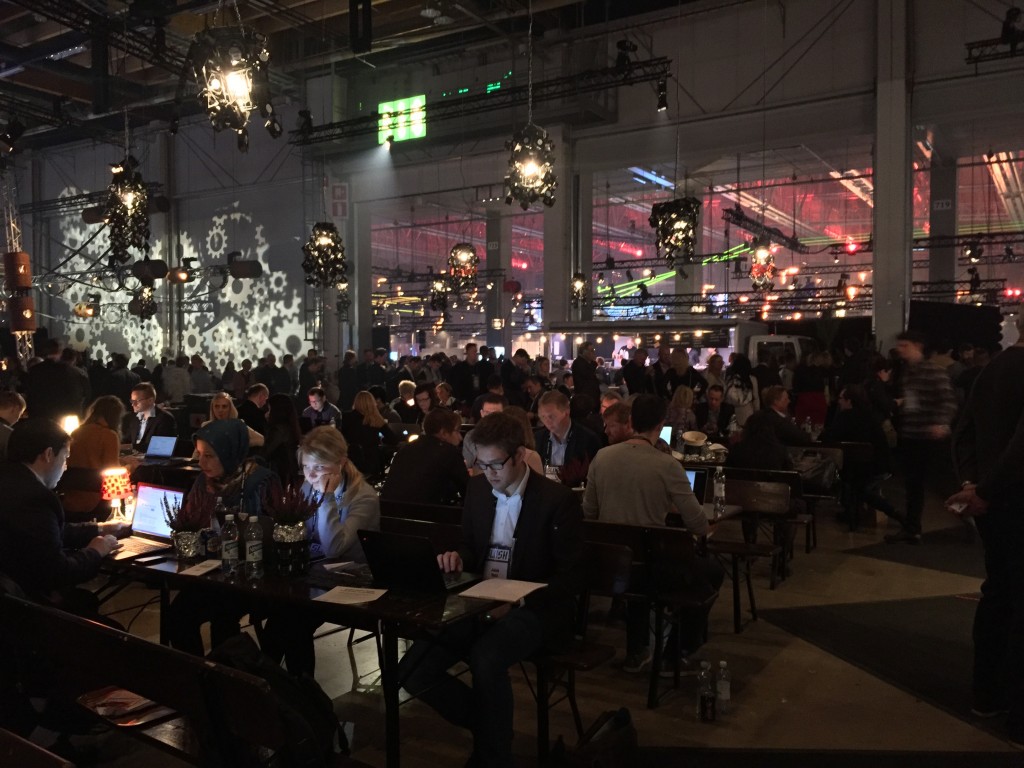 Startups and entrepreneurs stay busy at Slush. Image credit: GE Reports

For GE, working with innovators is a two-way street. They get access to experience and GE gets access to new ideas. One Health Innovation Village resident, the startup Injeq, is developing a needle guidance system that could improve the precision and safety of liver biopsies. Injeq's guidance system uses ultrasound rather than computed tomography (CT), which emits radiation. One day it could work with GE ultrasound machines. Injeq will soon start a clinical study at the Helsinki University Hospital, one of the leading research hospitals in Northern Europe, which has helped GE Healthcare co-develop a number of products.

"The collaboration started with GE as we talked about [how] our technology applied in rheumatological injections and spinal anesthesia, and they came up with this clinical need their customers are facing," says Kai Kronström, CEO of Injeq.

Despite the business promise of Slush, it's set up as a not-for-profit. In early October, Mäkelä hosted a party in a downtown Helsinki club for the 1,500 volunteers — mostly students — who will be working the show for free. "We are one big community here," Mäkelä says. "We are helping each other to build something big."

GE Reports will be present at Slush for the first time this year. Follow us on Twitter and Periscope @ge_reports for more coverage.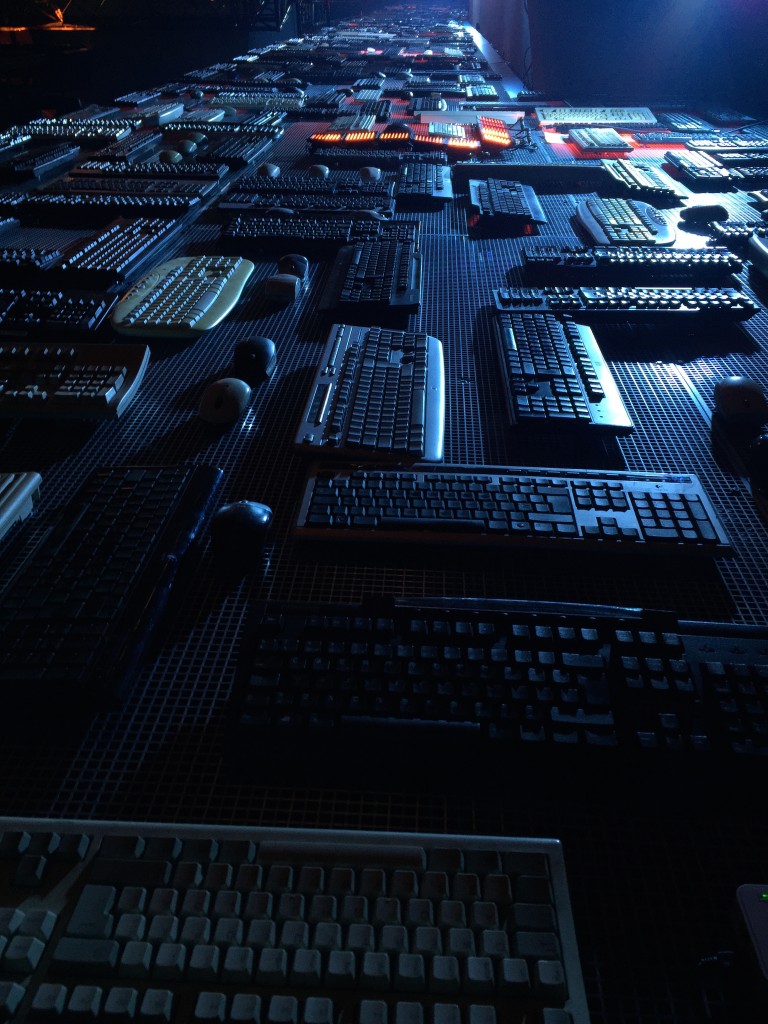 Despite the big names here, Slush still feels pleasantly "underground" and embraces Blade Runner esthetics. Image credit: GE Reports
tags